Ketanji Brown Jackson Nomination Hearing: 5 Key Takeaways From Day One
Supreme Court nominee Ketanji Brown Jackson faced her first round of hearings with lawmakers on Monday.
The 22 members of the Senate Judiciary Committee delivered close to four hours of opening statements, followed by Jackson's own remarks on her background and experience. Jackson will face direct questions from senators over the next two days before the panel holds a vote on whether to advance her nomination to the full chamber.
If the Senate approves of her nomination, Jackson will be the first Black woman to serve on the Supreme Court in its 233-year history. President Joe Biden tapped Jackson to replace retiring Associate Justice Stephen Breyer.
"If I am confirmed, I commit to you that I will work productively to support and defend the Constitution and the grand experiment of American democracy that has endured over these past 246 years," she told the Judiciary Committee on Monday.
Here are five takeaways from the first day of hearings:
'Proud Day for America'
Senators on both sides of the aisle celebrated the historic aspect of Jackson's nomination. Judiciary chairman Dick Durbin said in his opening statement it was a "proud day for America."
"Not a single justice has been a Black woman," Durbin said, "You, Judge Jackson, can be the first. It's not easy being the first. Often you have to be the best and in some ways the bravest."
New Jersey Democrat Cory Booker, one of just three Black senators, said he felt a "sense of overwhelming joy" on the first day of hearings. "This is not a normal day for America, we have never had this moment before," he said.
Republicans Air Grievances on Kavanaugh Hearings
Several GOP members of the committee took time Monday to lament the treatment of Brett Kavanaugh, Robert Bork and other conservative nominees during their own confirmation hearings. Kavanaugh's contentious hearing in 2018 was centered on accusations of sexual misconduct, allegations Kavanaugh denied before being confirmed to the bench.
Senator Lindsey Graham said the panel was already off to a better start with Jackson, stating lawmakers "couldn't go back to our offices during Kavanaugh without getting spit on."
Senator Ted Cruz called Kavanaugh's hearings "one of the lowest moments" in the committee's history and told Jackson "no one is going to ask you, with mock severity, 'Do you like beer?'"
Democrats Defend Jackson Amid 'Soft on Crime' Accusations
Democrats took an opportunity Monday to rally around Jackson amid accusations from members of the GOP that she has been "soft on crime."
Durbin called the allegations "baseless" and "unfair" while Amy Klobuchar, Patrick Leahy and others took time to highlight Jackson's endorsement from the Fraternal Order of Police and her family's law enforcement background. Jackson's brother and uncles served as police officers.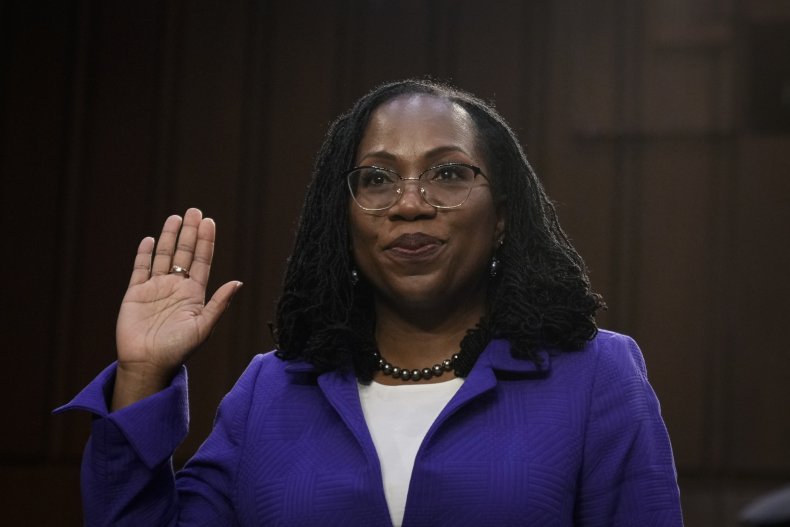 Legitimacy of the Supreme Court in 'Crisis'
Lawmakers from both sides of the aisle expressed concerns of the legitimacy of the Supreme Court.
"The court needs a bridge builder now more than ever," said Connecticut Senator Richard Blumenthal. "It has become more polarized, more politicized, more divided than at any point in our history. And it faces a crisis of legitimacy."
Utah Senator Mike Lee said it was important that the committee not engage in "speech or behavior that would undermine the legitimacy of the Supreme Court."
Jackson Touts Transparency
In her opening statement, Jackson said her tendency to write long opinions stems from her belief in transparency.
"That is because I also believe in transparency. That people should know precisely what I think and the basis for my decision," she said. "In all of my professional experiences, including my work as a public defender and as a trial judge, have instilled in me the importance of having each litigant know that the judge in their case has heard them whether or not their arguments prevail in court."
Jackson has issued hundreds of judicial decisions as a federal judge, including well over 500 opinions as a district court judge.