Five Times Competitive Prince William and Kate Middleton Went Head-to-Head
Prince William and Kate Middleton have frequently displayed their competitive nature when out on royal engagements during the course of their married lives, whether it be in the realms of sports and physical endurance to cake decorating and pancake flipping.
This competitive nature also spreads to sports events where they are simply spectators. A prime example of this occurred in February when both William and Kate attended the Six Nations Rugby match between England and Wales supporting different teams. Kate is the patron of England rugby and William, Wales.
Speaking before the match, the prince told a group, per The Daily Telegraph, that whoever won it would be an awkward journey home for the competitive couple.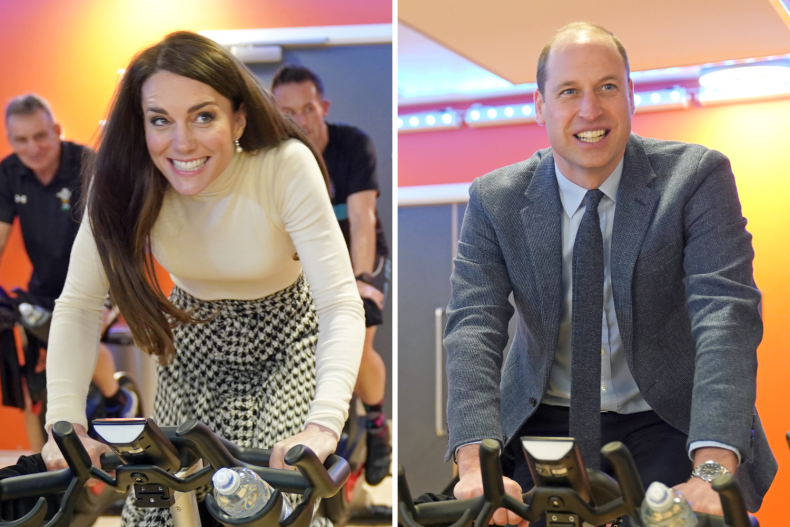 "It's going to be a tense car journey home for whoever wins," he said. "If we win today my wife won't speak to me. It will be a tense evening."
Here, Newsweek looks at five times Britain's Prince and Princess of Wales went head-to-head in competition.
Spin Race in Wales, February 2023
The most recent event which saw William and Kate compete took place in Port Talbot, Wales, where they participated in a spin battle at a local fitness center.
Challenged to a 45-second endurance race, the couple sweated it out as they were cheered on by journalists covering the engagement.
Kate ultimately took the win, being awarded a small trophy for besting her husband as she gave him a conciliatory pat.
Sailing in The Bahamas, 2022
Sailing is a sport that William and Kate have gone head-to-head in on a number of occasions, chiefly during the King's Cup regatta in 2019 where William's team was victorious.
In March 2022, the couple raced off Montagu Beach in The Bahamas during their polarizing Platinum Jubilee tour of the Caribbean.
The couple faced down a rain storm as they took part in the regatta held to honor Queen Elizabeth II's 70th year on the throne, with William's crew again beating Kate's.
At a reception closing their visit to The Bahamas, William referenced his win, saying how the island's sailing reminded him of his grandfather, the late Prince Philip.
"Catherine and I were thinking about him today as we celebrated the return of sloop sailing here by racing off Montagu Beach. He would have been in his element!" he said. "As for the race result? Discretion is the better part of valor. Particularly if you have won, and your wife has come last."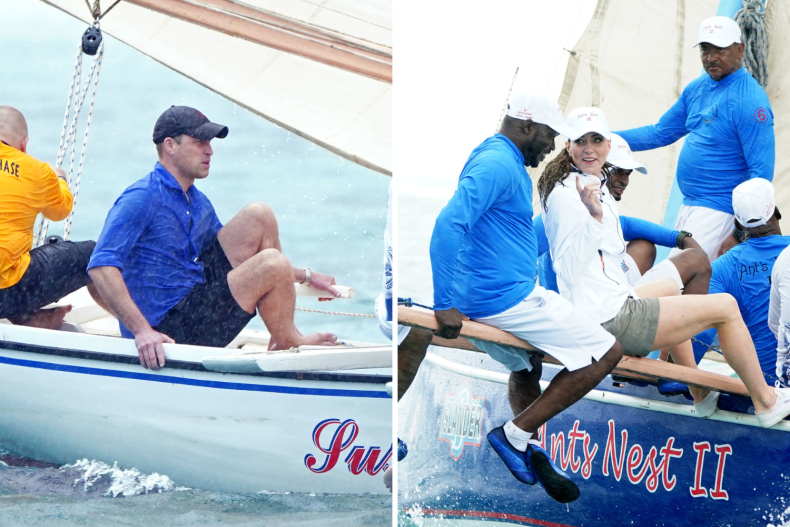 Christmas Baking, 2019
Away from the realms of physical endurance, the couple maintains their competitive edge.
During a special Christmas cooking program hosted by The Great British Baking Show's Mary Berry, William and Kate went head-to-head to see who could decorate the perfect festive roulade.
William appeared to jokingly bend the rules with additional help from baker Nadiya Hussain, though ultimately Berry opted for a safe result, declaring a tie.
Marathon Training in London, 2017
In 2017, William, Kate and Prince Harry announced their Heads Together mental health initiative alongside the London Marathon.
At a special joint engagement meeting with athletes training for the marathon at a London sports arena, the royal trio took part in a friendly relay race to see who was the fastest.
Despite William's attempt to distract his brother as the race started, Harry took the win, with Kate coming in last place.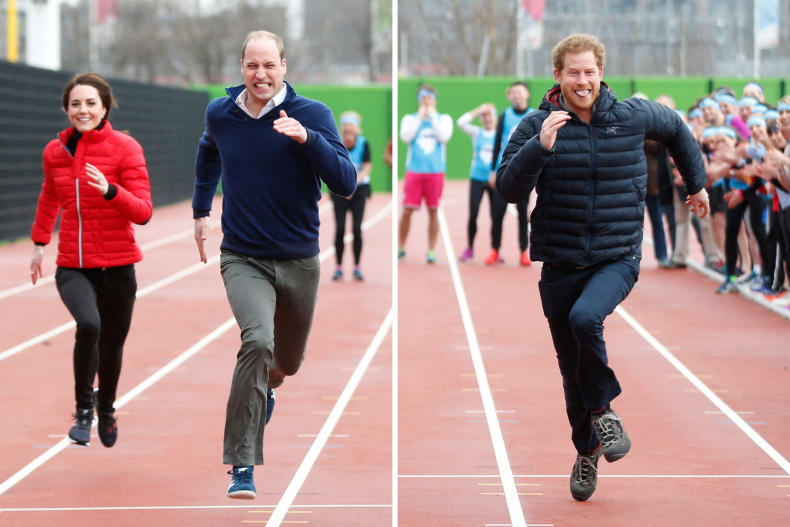 Pancake Flipping in Northern Ireland, 2011
On a visit to Northern Ireland just a month before their royal wedding, William and Kate tried their hands at pancake flipping with the Northern Ireland Cancer Fund for Children.
William, ahead of Kate in the walkabout, went first mastering a double flip before eagerly waiting to see if his wife-to-be would fare.
Kate managed a single flip which won the approval of the waiting crowds. However, in 2023 the princess did not equal her 2011 effort. While on a visit to a nursing home in Slough, England, she was asked to flip again, though after a cumbersome effort jokingly apologized to the organizers.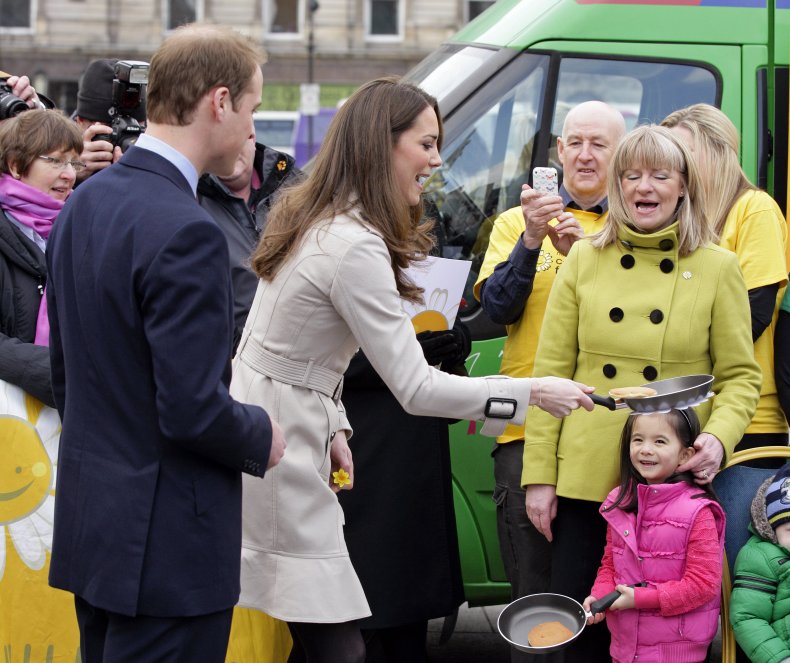 James Crawford-Smith is Newsweek's royal reporter based in London. You can find him on Twitter at @jrcrawfordsmith and read his stories on Newsweek's The Royals Facebook page.
Do you have a question about King Charles III, William and Kate, Meghan and Harry or their family that you would like our experienced royal correspondents to answer? Email royals@newsweek.com. We'd love to hear from you.