Flight Attendant Shows Hilarious Difference in Drinks on Vegas Flights
More than a million TikTok users were left laughing after one flight attendant exposed the hilarious difference in drink orders for those flying into Las Vegas—and those who are flying out.
In a short video posted on June 24, TikTok user and flight attendant @nicksfromdetroit rushes to fill a tray of plastic cups with mini bottles of tequila requested by a flight full of passengers looking to kick off their wild weekend in Sin City before touching the tarmac.
Accompanied by text overlay reading: "Full flight to Vegas when everyone orders [a] double tequila marg with extra lime, water on the side, and snacks," the video takes an abrupt turn halfway through.
Holding just one cup of Diet Coke and a cocktail napkin as peaceful music replaces the first half's chaotic soundtrack, @nicksfromdetroit makes it clear that for most people leaving Las Vegas, more alcohol is not on the menu.
"Flight home from Vegas [and] only two people want diet coke," a new text overlay reads.
Posted with the caption, "I laughed so hard when I thought of this video," the TikTok has racked up close to 86,000 likes and has been seen more than 1.4 million times.
Airport beers, supposedly better than beers purchased and consumed anywhere else besides the ballpark, are one of the internet's favorite beverages.
Where the online phenomenon ends, however, the actual drinking culture attached to flying begins.
In a CheapFlights survey of more than 1,000 American adults, nearly 40 percent admitted to drinking while flying. And while 20 percent of adults are adamant they only drink on planes when alcohol is free, another 39 percent said they start drinking earlier in the day while at the airport or in the air.
Although drinking on the plane is prevalent on most flights around the country, flights to Las Vegas are often on a whole other level.
Last decade, the Los Angeles Times reported that passengers headed to Sin City spend an average of $116 on beer, wine and liquor, marking the highest per-flight expenditure in the lower 48 states.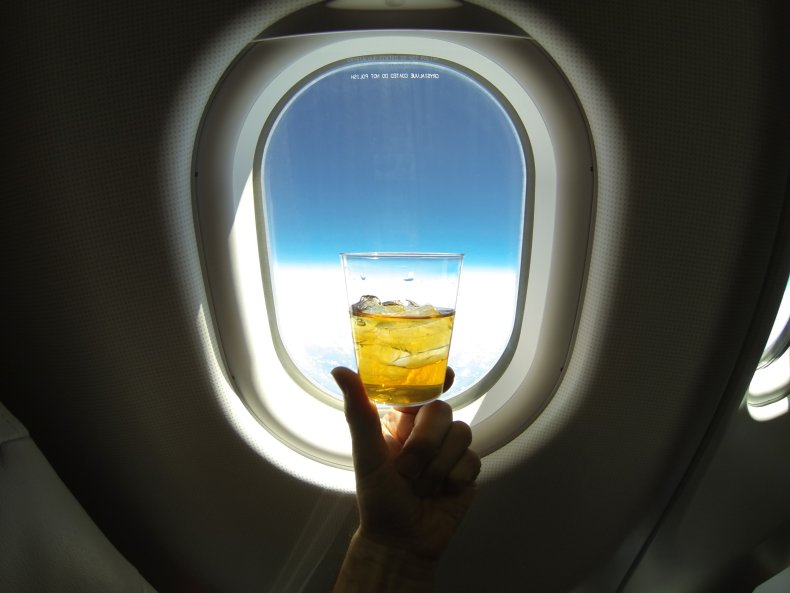 But like in the TikTok posted by @nicksfromdetroit, the Los Angeles Times also reported that after days of gambling and high-priced drinks, departing passengers spend far less on alcohol compared to the trip in.
Throughout the comment section of the viral video, TikTok users echoed this sentiment and shared their best tips for hungover flights out of party cities like Las Vegas.
"You are not lying," TikTok user @themuggle0 commented, adding a crying-laughing emoji. "I'll take a water please."
"Ginger ale no ice with a side [of] Advil," @mk079011 chimed in.
In a separate response, TikTok user @kariannann shed light on the volume level—or lack thereof—on flights leaving Las Vegas.
"Ah Vegas," they wrote. "you earn your money going but they have none going back so it's the quietest flight in the game."
Newsweek reached out to @nicksfromdetroit for comment.