Flight Attendant Shares Just How Bad Flying is Right Now: 'I'm Not Kidding'
A purported flight attendant went viral after sharing a list of travel tips designed to help fliers navigate the impending "rough" summer months.
Posting to Facebook, Kristie Koerbel wrote: "Flying this summer is ROUGH!!! I feel like as a Flight Attendant I should attempt to share some tips to get you through airline travel for the foreseeable future." The post has amassed over 21,000 likes, 101,000 shares and dozens of comments from travelers who thanked Koerbel for sharing her expert advice.
According to CBS News, thousands of flights were canceled over Father's Day weekend. And sadly, due to staffing shortages, routine maintenance and the inevitable bad weather, flight cancelations and delays are expected to persist throughout the summer months. In fact, these problems may even get worse.
"Right now, when you have normal things like airplane maintenance or weather, delays are much more severely felt. There are no reserved extra pilots, planes, flight attendants—and the chain is only good as the weakest link," Kit Darby, the founder of Kit Darby Aviation Consulting, told CBS.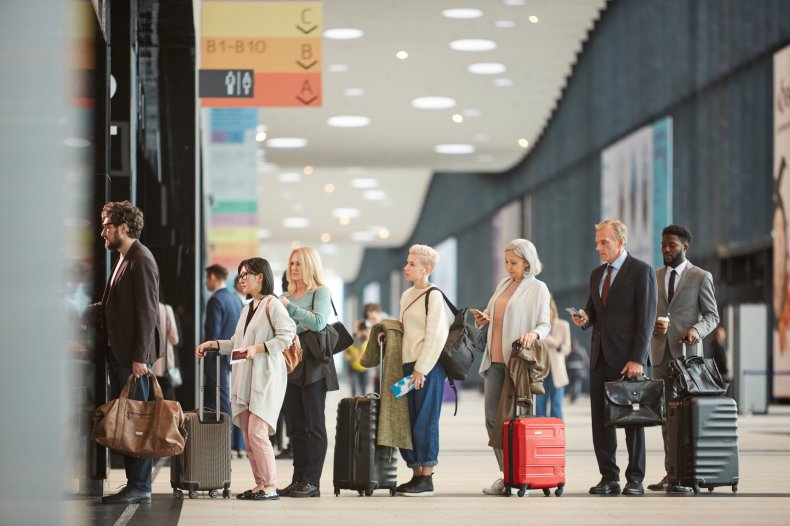 Speaking to NPR, travel analyst Henry Harteveldt added: "Any of us who are planning to travel this summer need to go in with the assumption that something will go wrong and be thrilled when it doesn't."
With all this in mind, Koerbel first advised travelers to avoid airports altogether, if possible.
"If it's less than 7 hours—DRIVE! I'm not kidding. There is nothing enjoyable about flying right now. On any airline," she wrote.
Of course, Koerbel understands not everyone can avoid the airport, so she compiled a list of over 15 useful tips designed to make the journey easier. Here are some standouts:
Use Airline Apps
"Download and use the app of the airline you are flying," Koerbel advised. "You can do everything on it—get your boarding pass, track your bags, see your incoming plane, and change a flight...Usually, these apps will tell you a flight is canceled before the crew even knows!"
Budget Extra Time
Due to flight cancelations and delays, Koerbel says travelers should not only travel "early" but should also "schedule long layovers."
"Fly MUCH earlier than you need to—a whole day early if it's important!! This week I saw many people miss important things like weddings, funerals, cruises, international connections, and graduations. The tears were very real, for very real reasons, and there was nothing I could do!" she pleaded.
She added that one-hour layovers are "NOT enough," and encouraged fliers to book layovers of three hours or more.
Take the First Flight of the Day
"ALWAYS fly the first flight in the morning so you have all day to be rebooked if the s**t hits the fan. Yes, that means it might be a 3:00 a.m. alarm, but morning flights don't cancel nearly as often," Koerbel said.
Book Directly Through the Airline
"Flights are FULL," Koerbel explained. "If a flight is oversold, and no one volunteers to give up their seats, who do you think is the first to be bumped? [It's] the family that saved a few $$ by using sites like Expedia, Kayak, Hotwire, etc."
According to travel expert Willis Orlando, another added benefit of booking directly through an airline includes less red tape.
"[Third-party sites] have less robust customer service operations than an airline does," Orlando told CBS. "With online travel sites, there is an extra layer of communication and policies, and you're not always owed the same as what you are if you booked through the airline."
For more travel tips, visit Koerbel's Facebook page.
Online Reaction
Commenters were appreciative of Koerbel's advice and thanked her for sharing her expert knowledge.
"Good points. I'm so thankful for all of you who keep us safe as we fly," wrote Sandra Shortt.
"Many thanks for generously sharing this advice and your heart in this much-needed post. You work hard and truly care about your profession and your guests," added Stephene Moyer Thompson.
Newsweek has reached out to Kristie Koerbel for comment.
Other Viral Moments
Last month, a flight attendant went viral on TikTok after sharing the detailed steps she takes to protect herself in a hotel room. Also in May, a Southwest Airlines stewardess made headlines for singing to her passengers during their flight.
And in September, one flight attendant's speech about mask rules amassed over 2 million views on TikTok.