'I Mean She Killed It': Stewardess Who Sang During Flight Delay Goes Viral
A flight attendant provided some entertainment to Southwest Airlines passengers who were reportedly experiencing a delay, and the clip has since gone viral.
Summer Lowe posted the video on April 3, which was viewed nearly 800,000 times, to her TikTok account @shawty.got.lowe. Commenters chimed in to share their thoughts, many of whom applauded the flight attendant.
"I can't make this up," the text over Lowe's video read. "This is our flight right now after being delayed for 4 hours."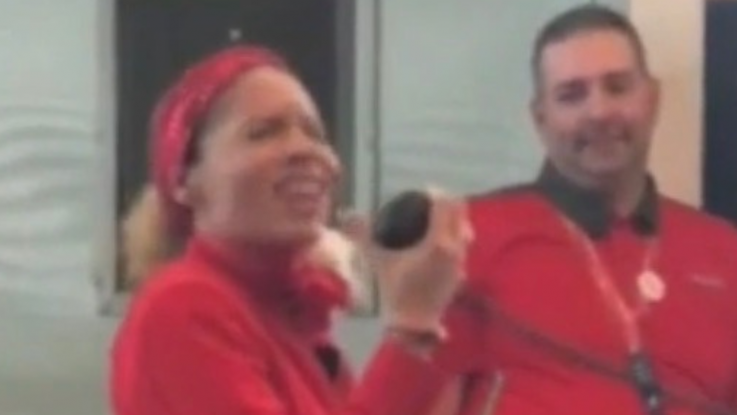 Charise Miles, a flight attendant for Southwest Airlines, is pictured singing above.
Photo Courtesy of Charise Miles
According to the Bureau of Transportation Statistics, a number of things may contribute to a flight delay, including extreme weather, security, the air carrier or an aircraft that arrives late.
The video focuses on Lowe's face as the flight attendant, Newsweek confirmed as Charise Miles, is heard singing If You're Happy and You Know It.
A number of the passengers can be heard participating in the song and they clap along when prompted.
Miles continued to belt out the song, much to the delight of many passengers who cheered for her when she finished singing.
"You better sing!" one passenger off-camera said.
Miles has previously gone viral for her singing, notably in 2017 after performing I'll Be Home For Christmas.
She told Newsweek she has worked as a flight attendant for 23 years and strives to make her passengers' days better.
Miles said that she prays before starting her day, and the song If You're Happy And You Know It came to her that day before she left for work.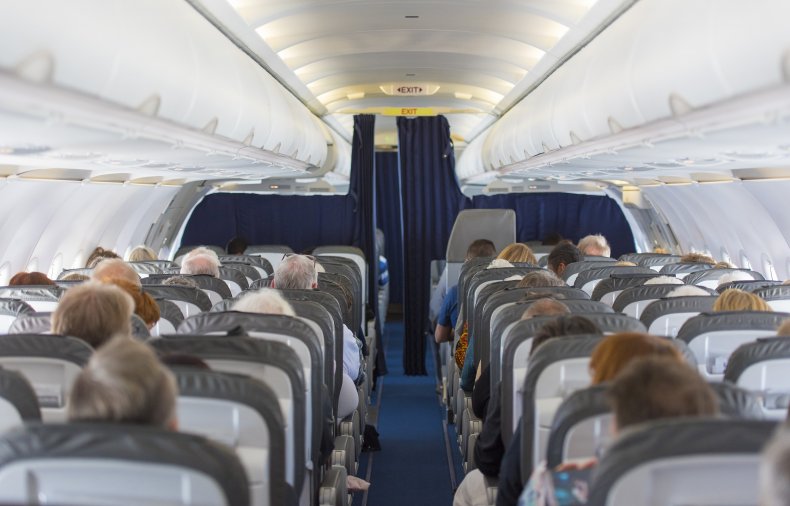 Another popular song that Miles has performed for passengers is You Are My Sunshine.
Some commenters wrote that it would have been a frustrating situation to be in.
"That would [have] been my breaking point," a viewer commented, while another claimed that would have been their "last straw."
Miles acknowledged that she received some backlash when Lowe's video was shared but said she would not let negative comments stop her from "spreading joy."
"I usually get more positive feedback than negative," Miles explained. "Those comments are what helped bring my spirit back up."
And those positive comments poured in over her performance and spirit.
"OK it's not her fault your flight was delayed," a comment read. "She's trying to spread positivity."
"I mean she killed it," Lowe wrote in the comments section, replying to another commenter.
"Why have I never been on a fun plane before," one viewer wondered.
"This actually made me really happy," wrote another. "Just some humans having a good time as they should."
A viewer declared this was the "best rendition" of If You're Happy and You Know It they've heard.
"I love the comedy, singing and all the other things they do to entertain you," a viewer wrote. "All the other airlines pale in comparison."
Though there was a mixed response, Miles said "love always prevails" when something brings joy, even in the midst of negativity.
"This video proved that when you're happy on the inside, you can bring it out and make other people happy," Miles said.
Newsweek reached out to Summer Lowe for further comment.
Other travel experiences have gone viral, including a video shared by a student who realized he was the only passenger on a flight from London to Orlando, Florida.
Another sweet video that went viral on TikTok showed a young girl complimenting and thanking the pilots as she got off the plane.
One boy who expected to travel to Chicago, Illinois, was surprised by his mother with a trip to Paris, France, in a viral TikTok video.