Flight Attendant Shares Tips for Staying Safe in Your Hotel Room
A flight attendant has gone viral for sharing the detailed steps she takes to protect herself in a hotel room.
The job of a flight attendant comes with a range of challenges. On top of on-call work schedules and long stretches of time away from home, the professionals often have to contend with aggressive and violent passengers, exacerbated by mask disputes during the COVID-19 pandemic. Between January 13 and February 15, U.S. airlines documented nearly 500 unruly passenger reports, the Federal Aviation Administration (FAA) reported.
Added to these hurdles are safety concerns that the professionals must navigate not only onboard aircraft, but also during their layovers. Flight attendants usually fly 75 to 100 hours a month and work another 50 hours on the ground, spending several nights a week in hotels, according to the Bureau of Labor Statistics (BLS).
CiCi, who shares her life as a flight attendant on TikTok under the username @cici_inthesky, has accumulated a wealth of hotel security tips that she shared in a video Monday. Her safety guide has amassed 868,000 views as of Tuesday afternoon.
"After I open my door, I prop my door open to do my checks," she demonstrated first.
She proceeded to check her hotel room closet, shower and curtains for any suspicious items or hidden predators.
Next, she advised, "Check to make sure the phone works."
Once those steps were done, CiCi shut her door and made sure to close a cover over the peephole.
"Another tip I learned, if there's no cover, just take some tissue and shove it in there so nobody can see inside your room," she added.
The flight attendant then put her "privacy" sign on the door handle outside and hung a washcloth on the inside security lock. She explained in the comments section that this was a method to prevent someone from unlatching the security lock by using a wire under the door.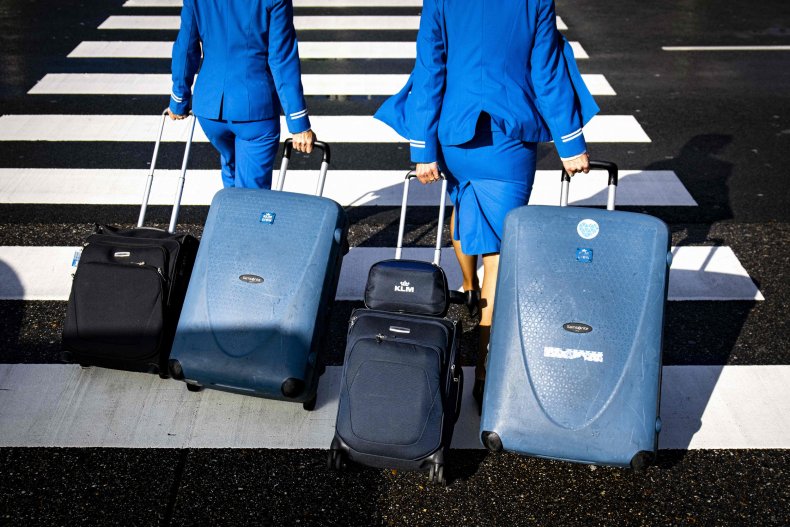 "There are videos all over the internet showing people how to unlock security latches on hotel doors from outside," she told her viewers.
To bolster the washcloth barrier, she also laid her suitcase in front of the door.
"When I leave my room, I leave my TV on with the volume up," she said next. "Not loud enough to disturb people, just a normal volume I would watch TV on regularly."
She also showed her audience an app called Presence that allowed a phone or tablet to work as a security camera.
"Another great suggestion, make sure you know where your fire exits are," she noted.
"Also, when you're checking in, make sure the front desk person does not say your room number and you don't say your room number. And always be situationally aware as you go to your room. If your gut is telling you something's wrong, follow your gut."
Many of CiCi's viewers applauded the safety guide, with some sharing tips of their own.
"I bought a doorstop alarm," one comment offered. "Cheap, loud and effective to scare away a perpetrator."
Another user said, "I always make my reservation for two. Doesn't cost any more [and] they don't know."
However, others called the flight attendant "paranoid" and "over the top."
"Oh, lord! Why add this level of anxiety to your travels?!" asked one such critic.
Newsweek reached out to CiCi for comment.