Major Airport Receives Over 12,000 Noise Complaints From One Man
One individual in Ireland apparently isn't too happy with the noise coming from his local airport and made his point by repeatedly filing noise complaints.
The Irish Independent reported that the resident from Ongar in northwest Dublin, whose name was not disclosed, issued 12,272 noise-related complaints last year to the DAA—an average of 34 complaints per day.
The DAA, previously known as the Dublin Airport Authority, is a commercial semi-state airport company that owns and operates Dublin Airport and Cork Airport. The individual was responsible for nine out of 10 complaints made to the DAA, almost all related to aircraft landing or departing from Dublin Airport.
But the complaints made by this particular person are nothing new. He filed 6,227 complaints in the year 2020 and within the first three months of this current year, he has reportedly filed 5,276 complaints—or about 59 cases per day—of a total of 5,573 complaints the DDA has received.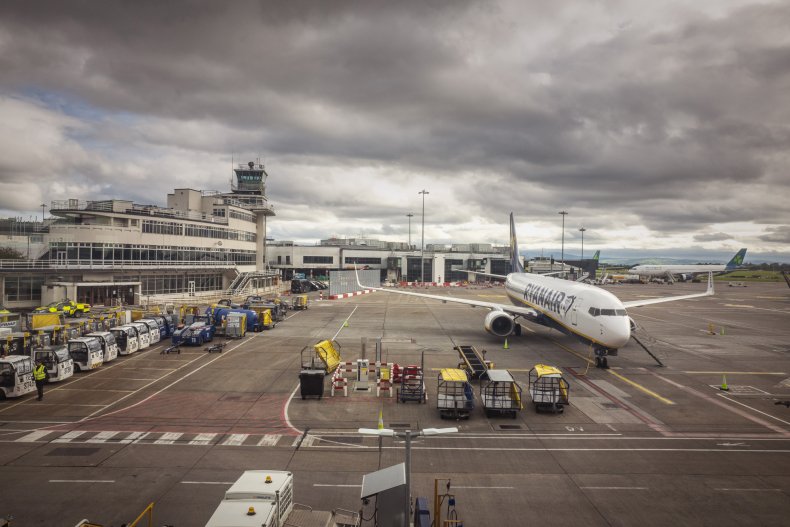 He's not the only one who lodged complaints, though. In 2020, 128 people filed complaints. In 2021, 191 people filed complaints. However, air travel was severely hindered due to the COVID-19 pandemic.
DDA data from 2020 reveals that Irish airports received only 7.9 million passengers that year, or about only 22 percent of the total number of passengers in 2019.
The DDA recently announced that nearly 1.86 million passengers traveled through Dublin Airport in March, which represents an increase of 1.7 million passengers compared to March 2021. However, it is still a 24 percent decrease compared to pre-COVID levels in March 2019.
And while the airport's approximate 4.18 million passengers through the first three months of 2022 is an increase of 844 percent compared to last year, that number is also down by just over one third compared to the first three months of 2019.
The plethora of noise-related complaints was mostly related to nighttime travel at Dublin Airport in addition to aircraft departing off the airport's main runway and traveling in a westerly direction, as indicated by the fact that most complaints were filed by residents living near Dublin Airport and on flight paths of aircraft, reports the Irish Independent, particularly Portmarnock, Swords, the Ward and St Margaret's, but complaints have also been filed by residents on Dublin's south side.
Aircraft that depart from Dublin Airport are supposed to adhere to a "noise preferential route" that involves either maintaining a straight line of travel for five nautical miles or hitting an altitude of 3,000 feet before turning.
The DDA has a noise and flight-track monitoring system that utilizes seven fixed noise-monitoring terminals around North Dublin, and data shows that about 97 percent of commercial flights through the city's airport in 2021 properly followed noise-based rules on arrivals and departures.
A DDA spokesperson told Newsweek said that the agency responds to each individual complaint filed, but would not divulge who the individual is who has made the tens of thousands of complaints.
"Dublin Airport is committed to working with the communities around the airport," the spokesperson said. "This includes reducing aircraft noise on neighboring communities, which is the joint responsibility of Dublin Airport, the Irish Aviation Authority and the airlines that use the airport.
"There are a number of noise abatement measures in place and Dublin Airport is committed to working with the industry and other stakeholders to minimize the impact of noise on our neighbors and adjoining communities."
An online WebTrak system is being lauded as helping citizens get details about flight times and noise levels.
"The introduction of a WebTrak system, an online tracking device, enables local communities to access flight paths and noise levels of aircraft using the airport," the spokesperson added. "The system provides information on flight origin, destination, aircraft type, flight path and noise level registered on the airport's noise monitoring terminals. The system also provides an additional simplified way for members of the public to submit noise complaints."
The Aircraft Noise Competent Authority (ANCA) has also looked into the noise issue, announcing on March 1 that a public consultation about Dublin Airport resulted in over 1,300 submissions. The public and stakeholders were invited to partake.
"The last four months have been a busy period for our team as we have engaged with residents, businesses, community groups and organizations who care about how aircraft noise is managed at and around Dublin Airport," said ANCA Director Ethna Felten. "We are very pleased to have received such a high volume of submissions on our proposals and are now working through the details of each submission. We do this so that we can understand the concerns of the public and explore how to balance these with the sustainable development of Dublin Airport."
Simple Flying reported in March that San Francisco International Airport received approval to utilize GPS technology already used at other U.S. airports, including Newark Liberty International and Houston George Bush International.
The Ground-Based Augmentation System in San Francisco will purportedly alleviate noise concerns, improving aircraft precision while it "can simultaneously provide up to 48 separate approaches covering all runway ends, giving ATC more flexibility during different operating conditions."
The airport previously provided over 15,000 eligible properties with sound deadening windows, doors and ventilation systems for free to reduce potential complaints.
Newsweek reached out to the DDA for comment.
Unfortunately, noise complaints are just a small portion of complaints that airlines have to deal with.
One woman claimed that a man touched her, exposed himself and masturbated on a flight.
One man threatened to sue after a flight attendant said his pro-Trump mask was offensive.
And one woman was kicked off her flight after telling the crew she had a nut allergy.