A winter storm hitting Texas is grounding flights across the state, including all flights that were supposed to come into and depart from Austin-Bergstrom International Airport on Monday.
Ahead of the storm, President Joe Biden authorized an emergency use declaration and more than 1 million people in Texas were left without power on Monday as a winter storm froze turbines and equipment. Rolling outages were expected to continue to conserve power and more than 1,000 flights were canceled.
At least 853 flights were canceled at Dallas-Fort Worth International Airport, according to Flightaware, and 297 of those flights were on American Airlines, which uses DFW as a hub. The airport closed down their Skylink Loops early Monday morning, instead directing passengers to use buses to travel between terminals.
The airport also halted all inbound flights until 11 a.m. CST and once flights resumed, DFW urged passengers to confirm their flight was still scheduled to take off before heading to the airport.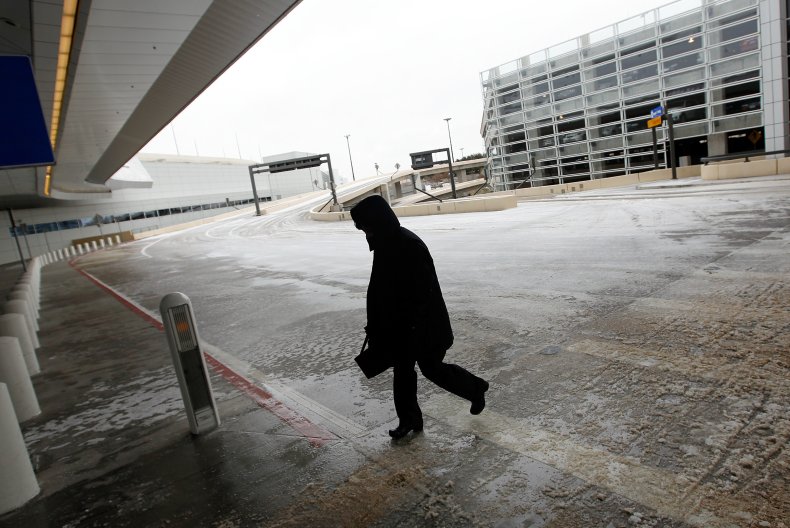 Another 838 were canceled at the George Bush Intercontinental Airport in Houston, which closed until at least 1 p.m. CST on Monday. Houston is a hub for United, which canceled about 270 flights.
"Our crews worked all through the night to de-ice our runways, but the temps got too low. Treatment of the airfield will continue throughout the day," the airport wrote on Twitter.
After warning travelers on Sunday that their flights could be impacted by the storm, Austin-Bergstrom canceled all flights for the day on Monday morning. The airport didn't rule out canceling flights for Tuesday and urged travelers to check in with their airline.
Electric Reliability Council of Texas (ERCOT) which controls about 90 percent of the state's electric load, called energy conservation "critical" during the storm. They started implementing rotating outages around 1:30 a.m. local time on Monday morning, cutting power to more than a million people.
"We are dealing with higher-than-normal generation outages due to frozen wind turbines and limited natural gas supplies available to generating units," ERCOT told Reuters on Sunday.
Texas residents are under a winter storm warning and wind chill advisory until 6 p.m. CST on Monday. The morning brought "bitterly cold and dangerous wind chills" to the Austin and San Antonio areas, according to the National Weather Service. Some areas tracked wind chill of -17 degrees and the NWS advised anyone who had to go outside to dress appropriately because hypothermia is possible.
With the wind blowing snow around the NWS warned the storm could make travel "nearly impossible." Given the issues with visibility, officials urged people to stay off the roads.