Millions of people have been hit by power outages as a huge winter storm sweeps across the southern U.S. states.
The storm has led to widespread outages as well as icy roads, traffic deaths, frozen pipes and circumstances most southerners have never seen in their lifetime.
As of Monday morning, more than 2,068,000 customers had lost power in Texas with another 18,600 in neighboring Louisiana.
The Electric Reliability Council of Texas (ERCOT), which oversees the state's electric grid, has warned of rotating outages that will last throughout Monday morning.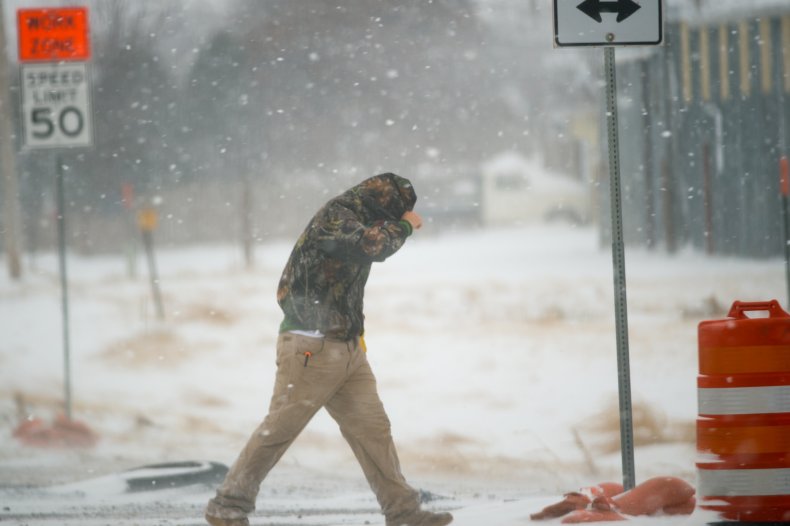 It comes as the council declared the highest energy emergency level early on Monday morning due to lower power supply as well as high demand due to the cold temperatures.
ERCOT said in a statement on Monday that extreme weather conditions have caused many generating units—across fuel types—to trip offline and become unavailable. It added that more than 30,000 MW of generation have been forced off the system.
This means rotating outages will likely last throughout the morning and could be initiated until this weather emergency end, ERCOT added.
ERCOT President and CEO Bill Magness said: "Every grid operator and every electric company is fighting to restore power right now."
In the meantime, the council's officials have been urging Texans to save energy and reduce their electricity usage.
The National Weather Service (NWS) has also been offering tips on how to stay warm without power.
How to stay warm without power:
The NWS advice includes:
Close blinds or curtains to keep in some heat.
Close off rooms to avoid wasting heat.
Wear layers of loose-fitting, lightweight, warm clothing.
Eat and drink. Food provides energy to warm the body. Avoid caffeine and alcohol.
Stuff towels or rags in cracks under the doors.
How to save power:
ERCOT's advice on reducing electricity use includes:
Here are some tips to reduce electricity use:
Turn down thermostats to 68-degrees.
Close shades and blinds to reduce the amount of heat lost through windows.
Turn off and unplug non-essential lights and appliances.
Avoid using large appliances (i.e., ovens, washing machines, etc.).
Businesses should minimize the use of electric lighting and electricity-consuming equipment as much as possible.
Large consumers of electricity should consider shutting down or reducing non-essential production processes.
The council added that any conservation methods should be implemented "safely and within reason" due to the cold weather.
This is the first time ERCOT has reached the EEA 3 emergency level in a decade, since February 2011, according to Kens5.
As temperatures dropped on Sunday, Magness said: 'We are experiencing record-breaking electric demand due to the extreme cold temperatures that have gripped Texas."
"At the same time, we are dealing with higher-than-normal generation outages due to frozen wind turbines and limited natural gas supplies available to generating units. We are asking Texans to take some simple, safe steps to lower their energy use during this time."
Governor Gregg Abbott issued a state of emergency ahead of the arrival of the storm. All 254 Texas counties under a winter storm warning for the first time ever, according to CBS.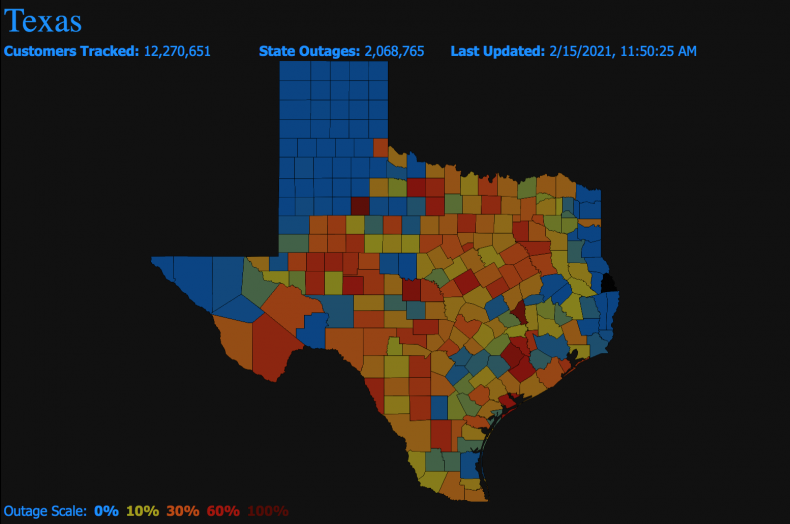 Abbott said in a statement: "Every part of the state will face freezing conditions over the coming days, and I urge all Texans to remain vigilant against the extremely harsh weather that is coming.
"Stay off the roads, take conscious steps to conserve energy, and avoid dangerous practices like bringing generators indoors or heating homes with ovens or stovetops."
He also requested a federal emergency declaration from the White House in order to make additional resources available for communities impacted by this weather event.
Texas Republican senators Ted Cruz and John Cornyn then urged Biden to approve Abbott's request.
"It is our understanding that the State of Texas, through the Office of the Governor, has made a formal request for an emergency disaster declaration as a result of severe winter weather that began on February 11, 2021 and will continue throughout the entirety of the state for several days," Cornyn and Cruz wrote in a letter to Biden.
On Sunday night, not long after the Texas senators sent their letter, the White House responded.
"Today, President Joseph R. Biden, Jr. declared that an emergency exists in the State of Texas and ordered federal assistance to supplement state and local response efforts due to the emergency conditions resulting from a severe winter storm beginning on February 11, 2021, and continuing."
The White House went on to say that funding measures will include mass care and sheltering, and FEMA is authorized to use necessary equipment and resources to help ease the impacts of the winter weather emergency.