TikToker Calls on Gen Z to Flood Glenn Youngkin's Tip Line for Reporting Teachers
A popular TikToker has called on people to overwhelm a tip line launched by Virginia Governor Glenn Youngkin's office for parents to report teachers for the teaching of "divisive" subjects and behavior they find objectionable.
Youngkin promoted the government email address during an interview with conservative radio host John Fredericks on Monday.
The goal is for parents "to send us any any instances where they feel that their fundamental rights are being violated, where their children are not being respected, where there are inherently divisive practices in their schools," the governor told Fredericks.
He added: "We're going to make sure we catalog it all. It gives us a great insight into what's happening at the school level. And that gives us further, further ability to make sure we're rooting it out."
News of Youngkin's tip line prompted a backlash on social media, with some urging people to flood it with fake tips.
Among them Olivia Julianna, a 19-year-old activist from Texas with more than 170,000 followers on TikTok. Julianna works with Gen Z for Change, a youth-oriented activist organization supporting social justice movements.
"So Glenn Yougkin wants to make a tip line to report teachers for teaching 'divisive subjects,'" she tweeted. "Well Glen, Tik Tok and Gen Z will have that tip line down before you can say 'Don't Texas our Virginia.'"
Julianna told Newsweek tip-lines do not benefit constituents, "but rather turn them against each other."
"If Glenn Youngkin wants to be a good Governor he should focus on improving funding to Virginia schools and teachers pay, not making it even more difficult for teachers—while we're still in the midst of a pandemic that's already forced them to make accommodations to their curriculum.
"The people of Virginia—especially the educators should know that Gen-Z has their back and we're grateful for their sacrifice and dedication.
Julianna said Youngkin's recent election "offered him a chance to be a decent man," but accused him of looking like "another corporate run puppet who puts his profits first and the people of Virginia last."
"If Glenn Youngkin cared about schools he wouldn't have rolled back Covid protocols while cases continued to rise. This fake outrage about critical race theory—which isn't even taught in most public schools—is nothing but an excuse for him to be a lackluster leader who doesn't put in the work."
Julianna previously led a campaign urging people to inundate an anti-abortion group's whistleblower website with fake tips.
That site had urged people to anonymously report those who violated a restrictive abortion law that went into effect in Texas last year. People attempted to sabotage the site by flooding it with fake reports, and it later became inaccessible after its domain provider warned that the site was violating its terms of service.
Virginia Senator Mamie Locke joined those criticizing the tip line.
"Youngkin is demonstrating that he is indeed a divisive force in Virginia," Locke tweeted. "A 'tip line' for parents to report teachers for divisive subjects. Seriously?"
Youngkin signed an executive order on his first day in office, banning the teaching of critical race theory in Virginia—an issue that was a major focus of his campaign.
Critical race theory, or CRT, is an academic framework legal scholars developed in the 1970s and 1980s that argues that racism is embedded in the nation's institutions.
Although it is not taught in K-12 schools, Republicans across the country have railed against it and branded it an effort to rewrite history and make white people feel they are inherently racist.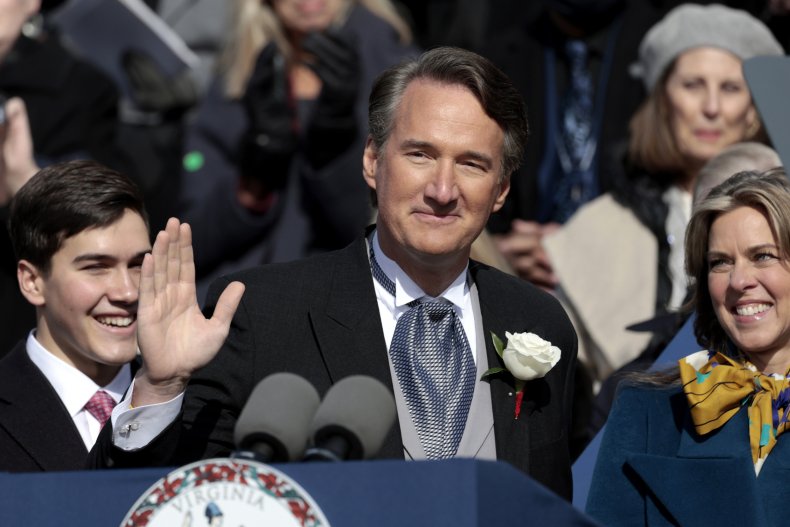 Update (1/26/2022, 7 p.m.): This article has been updated to include that Julianna works for Gen Z for Change.