Website for Reporting Texas Abortion Violations Inaccessible After GoDaddy Warning
After a warning from its initial domain provider GoDaddy, a website set up to allow Texans to report abortion law violations became inaccessible as of Saturday.
GoDaddy informed Texas Right to Life, the group behind the website, that it had violated "multiple provisions" of its terms of service—most pertinently, Section 5.2, which forbids the collection of personal information about anyone without their "express prior written consent."
Consequently, GoDaddy told Texas Right to Life to find a new host within 24 hours.
On Saturday, Texas Right to Life's website became inaccessible with the URL, prolifewhistleblower.com, taking users to a page citing an HTTP 503 error.
"Your access to this site has been limited by the site owner," the top of the page read. "If you think you have been blocked in error, contact the owner of this site for assistance."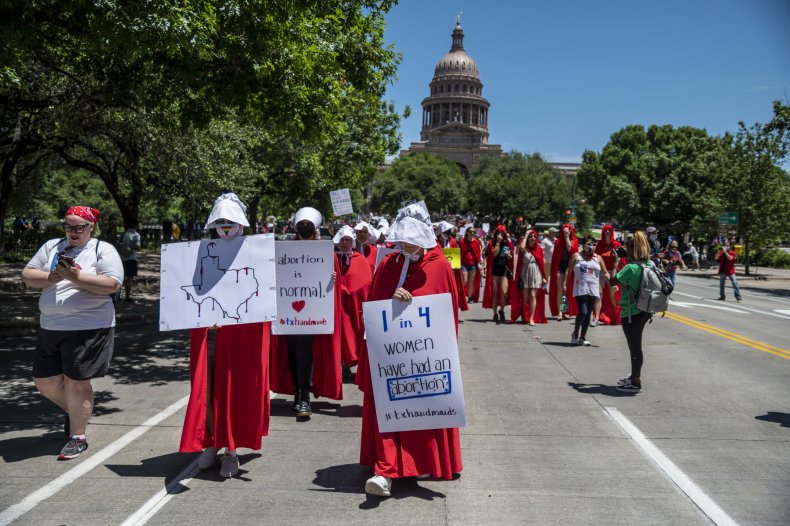 Newsweek staff members in multiple states tested the website around noon on Saturday and encountered the error page, signaling that the issue is not regional.
Near the end of the day on Friday, the whistleblower site reportedly had found a new home in Epik, which had provided emergency hosting services for numerous right-wing-affiliated websites, including social media platforms Parler and Gab, as well as the notorious hate forum, 8chan. It is unclear at this time if the deal between Texas Right to Life and Epik is still set to go through.
Newsweek reached out to Texas Right to Life about the issue and its plans for hosting and was told that Epik is planned to be the site's domain registrar, not its host, and that the organization is looking into long-term solutions.
In a previous statement, Texas Right to Life's director of media and communication Kimberlyn Schwartz said: "We will not be silenced. If anti-Lifers want to take our website down, we'll put it back up. No one can keep us from telling the truth. No one can stop us from saving lives. We are not afraid of the mob. We will not back down."
The site's issues with GoDaddy come after a Gizmodo article revealed that it might be in violation of the domain provider's policies. Prior to that, activists and concerned citizens had attempted to sabotage the site by flooding it with fake reports, up to and including ones that allegedly implicated Texas Republican Gov. Greg Abbott, according to The New York Times. One TikTok user even shared a piece of code they had written that would automatically submit fake reports to the site.
The Texas Right to Life's website had been intended to allow Texas residents to submit anonymous reports about healthcare professionals, assistants, or anyone else they suspected of providing unlawful abortions. Per the state's new legislation, abortions are banned past six weeks, or, around the time when a fetal heartbeat can usually be detected.
The legislation went into effect on Wednesday and has already caused a significant spike in abortion appointments being made in nearby states like Oklahoma.
This story has been updated to reflect a response sent by Texas Right to Life.