Oklahoma Abortion Clinic's Call Volume Spikes Over 10-Fold as Texas Law Takes Hold
Amid Texas' restrictive new abortion law, Senate Bill 8, taking effect on Wednesday, clinics outside the state have been hit with a wave of calls from potential patients. The law bans abortions in Texas after six weeks, or around the point that a fetal heartbeat is detected—well before most women are even aware of their pregnancies.
One Oklahoma clinic says it's experienced a dramatic spike in out-of-state call volume. The Trust Women clinic in Oklahoma City said that before the law's passage, it typically fielded three to five phone calls from Texas a day, according to KXAN in Texas. That jumped to 50 to 55 calls a day in the lead-up to Wednesday. Now, for the first time in its history, the clinic has been forced to cap the number of patients it accepts in a day.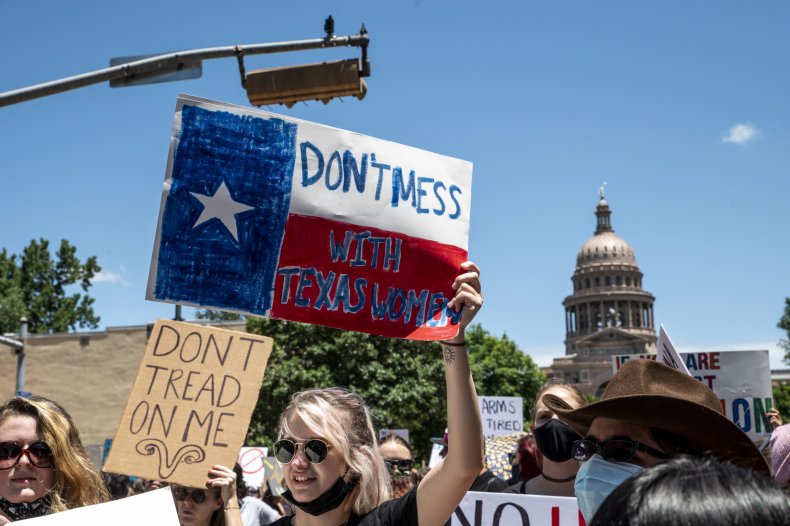 "I've already asked a few of our physicians, 'Will you come on for a third day, when you come to see us? Will you sign up for an additional shift, so that we can see more of these Texas patients?'" Rebecca Tong, the clinic's acting co-executive director, told KXAN. "Not everyone who needs an abortion at this time is going to be seen."
Newsweek reached out to the Trust Women clinic in Oklahoma City to see whether these numbers had changed as of Saturday, but did not hear back before publishing time.
"We want to emphasize, however, that people who need abortion care should continue to look to Texas funds and neighboring clinics for help," another spokesperson for the clinic told KXAN. "If we are unable to see anyone due to volume, we will absolutely help direct them to a clinic with availability."
The Planned Parenthood South Texas location also told KXAN that it was experiencing a call volume about twice as busy as usual. The patients were either attempting to get in under the wire or find out if their pregnancy qualified under Texas' new law.
"What patients are finding out as they call and seek appointments, is that in many cases we're having to tell them just up front that we are not going to be able to assist them," Sarah Wheat, a spokesperson for Planned Parenthood of Greater Texas, told KXAN. "The only thing they can do is leave the state, if they're trying to have an appointment within a health care setting."
Texas' new law allows for citizens to sue abortion providers suspected of performing services the state now deems unlawful. A "whistleblower" website was set up to allow residents to report doctors, assistants, or other individuals they believe helped someone get an unlawful abortion. The site has already ran into trouble, with GoDaddy on Friday giving it 24 hours to find a new domain host after it was found to be in violation of the company's rules.