Texas Lt. Gov. Defends Heartbeat Bill, Calls Abortion 'Ultimate' Attack on Women
Dan Patrick, the Republican Texas Lieutenant General, has said he was "proud" his state passed the country's most stringent abortion ban and added that centers are already stopping carrying out the procedure.
In an interview on Fox News, Patrick praised the passage of Senate Bill 8, which bans abortions after a fetal heartbeat has been detected, and portrayed it as a victory for women, despite outrage from rights groups.
When Fox's Jason Chaffetz asked him for his response to critics of the law believing it was "open season on women in Texas," Patrick replied, "What do those critics say when they abort little girls with a heartbeat in the womb. I would say that is the ultimate attack on women."
"The Supreme Court said in Roe v Wade," Patrick said, referring to the 1973 ruling guaranteeing a woman's right to access abortions, "that the state has a legitimate interest in protecting the potentiality of life and that's what Senate Bill 8 does.
"We want to give that little Texan in the womb who has a heartbeat, a chance to see their full potential," he said, "and so everyone who is speaking against this bill obviously for whatever their reason, (is) very comfortable with taking the life of a little Texan who has a heartbeat."
On Wednesday, the Supreme Court refused to block the Texas law, which effectively prohibits abortion after six weeks of pregnancy, although the Justices did not determine whether the law is constitutional.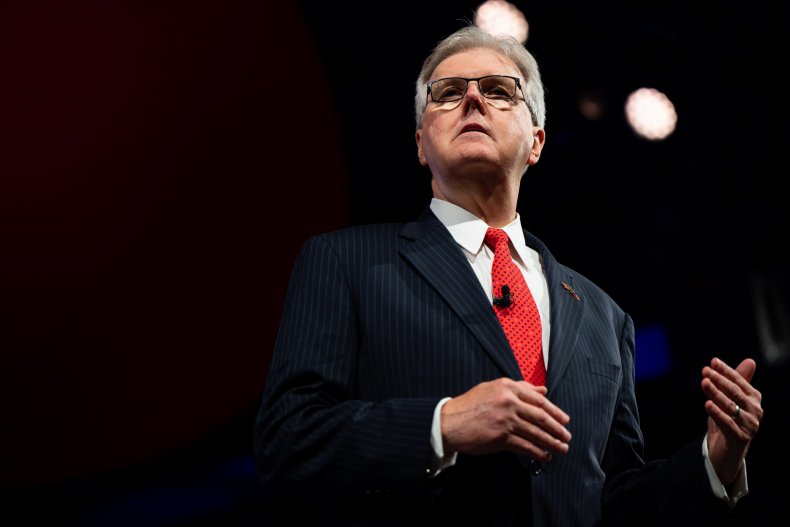 The restrictive ban also says it is unlawful for anyone to "aid or abet" an abortion, including doctors or health care workers.
Those who drive a woman to a clinic or even pay for the procedure could also be culpable and a successful lawsuit could see a reward of at least $10,000. Patrick said this has already proved to be a deterrent.
"Our bill, which has everyone apoplectic on the left, simply says that any doctor who performs an abortion, once that doctor detects a heartbeat can be sued by any citizen in Texas for up to $10,000.
"What we hear now are planned parenthood abortion centers around the state have stopped doing abortions on little Texans with a heartbeat," he said, "that's the purpose of Senate Bill 8," adding, "I'm proud that we passed it."
Planned Parenthood, which Newsweek has contacted for comment, got a narrow win after a Texas judge temporarily prevented its clinics from being targeted by lawsuits by an anti-abortion group.
Friday's ruling by Judge Maya Guerra Gamble's (D) does not invalidate the new law and only applies to the parties involved in the suit, although it was praised by Planned Parenthood who said in a statement it "offers protection to the brave health care providers and staff" at its centers.
The Supreme Court's refusal to block the Texas law could pave the way for more GOP-led states to implement more restrictive abortion laws.
Politicians in Arkansas, South Dakota and Florida are considering a version of the Texas six-week abortion ban in their states, The Hill reported.