Texas Abortion Law Suffers First Defeat in Court
A Texas state judge has stopped the anti-abortion group Texas Right to Life and its associates from suing workers at Planned Parenthood clinics under the pretext of the state's stringent new anti-abortion law, also known as Senate Bill 8 (S.B. 8).
"The Court finds that S.B. 8 creates a probable, irreparable, and imminent injury in the interim for which plaintiffs and their physicians, staff and patients throughout Texas have no adequate remedy at law if plaintiffs, their physicians, and staff are subjected to private enforcement lawsuits against them under S.B. 8," Judge Maya Guerra Gamble wrote in her Friday decision.
Her ruling only involves the parties involved in the suit and doesn't block the new law from otherwise being in effect, The Hill reported.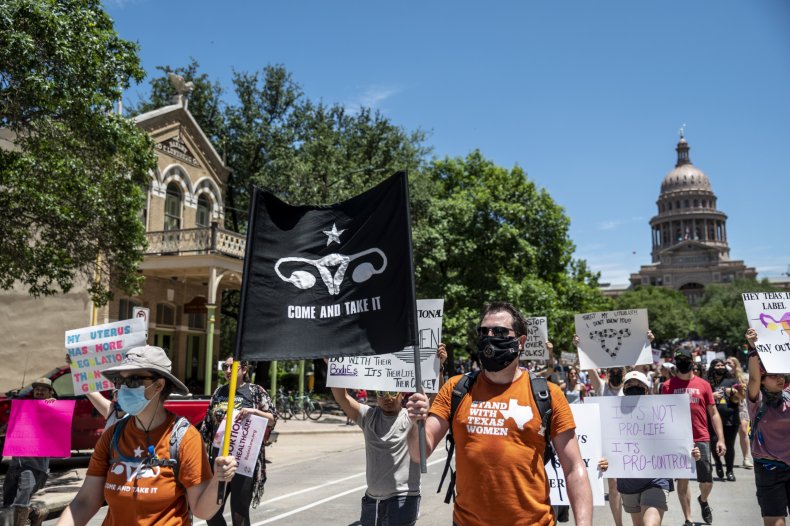 Nevertheless, Planned Parenthood praised the ruling. The organization said the ruling offers protection to its Texas staff who continue to offer care "as best they can within the law while facing surveillance, harassment and threats from vigilantes eager to stop them," Helene Krasnoff, Planned Parenthood's vice president for public policy litigation and law, said in a statement.
Responding to Judge Gamble's ruling, Texas Right to Life's vice president Elizabeth Graham said, "This lawsuit will not stop the work of Texas Right to Life.... Planned Parenthood can keep suing us, but Texas Right to Life will never back down from protecting pregnant women and preborn children from abortion."
In a statement to Newsweek, Texas Right to Life's director of media and communication Kimberlyn Schwartz said, "Other citizens can sue Planned Parenthood, and Texas Right to Life is legally authorized to sue other abortionists who violate the Texas Heartbeat Act.... We are not deterred. Planned Parenthood seeks to intimidate us but we will not back down."
The new Texas law empowers private citizens to sue any person who "aids or abets" an abortion. These aiders and abetters could include any healthcare workers, drivers or funders who'd assist a pregnant person with getting an abortion. Any private citizen who successfully sues is then entitled to at least a $10,000 reward from the person being sued.
While some Planned Parenthood locations in the state have said that they plan to continue providing abortions that comply with the new law, other locations stopped providing such services as soon as the law went into effect.
Abortion services account for 12 percent of Planned Parenthood's reproductive health services in 2013, The Washington Post reported.
On Friday, Texas Right to Life faced another challenge after its web hosting service, GoDaddy, booted the organization's website for violating its terms of service.
The website, prolifewhistleblower.com, allows people to leave anonymous tips reporting doctors, clinics or other individuals that may have helped women get an abortion after a fetal heartbeat is detected.
GoDaddy's policies prohibit sites that "collect or harvest" information about people without their consent or that "violate the privacy rights of any other person or entity." It told the organization it had 24 hours to find a new home.
Texas Right to Life has said that it has already found a new web hosting service. It expects its website to be back online within 24 to 48 hours.
Update (9/3/2021, 11:57 p.m.): This article has been updated to include a statement from Texas Right to Life.