Large portions of the U.S. are at risk of major flooding in the coming weeks because of the recent heavy rain and snow.
Nearly half of the country is at threat from these floods, which will also affect large portions of the Mississippi River Basin, with flooding forecast along the river between Minneapolis and St. Louis, according to a National Oceanic and Atmospheric Administration (NOAA) news release.
In California in particular, the record-breaking snowpack in the Sierra Nevada is set to melt, sending water flowing into the valleys.
"Approximately 44% of the U.S. is at risk for flooding this spring," said Ed Clark, director of the NOAA's National Water Center, in a statement. "California's historic snowpack, coupled with spring rain, is heightening the potential for spring floods."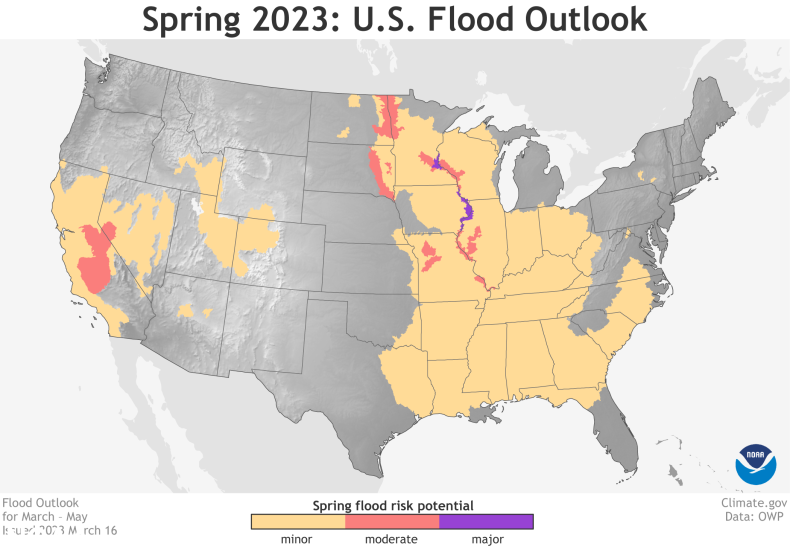 The NOAA's forecast places 146 million people at risk for flooding, which includes 1.4 million at risk for major flooding.
Flooding often occurs in the aftermath of heavy rainfall, large waves or snowmelt, due to rivers rising above their banks or the ground becoming so saturated that no more water can sink into the soil and flows over the ground instead. Flooding kills more people across the U.S. every year than tornadoes, hurricanes or lightning do, according to the NOAA.
Rainfall has been very heavy in the West, with California being slammed by numerous atmospheric river storms. Last week, flooding caused by the intense rainfall caused the deaths of at least two people.
The snow across the Sierra Nevada broke records this week, with stations in the Southern Sierra recording snowpacks 257 percent greater than the average for that day. California Department of Water Resources data shows that the snowpack has overtaken the previous record-holding year, 1982-1983.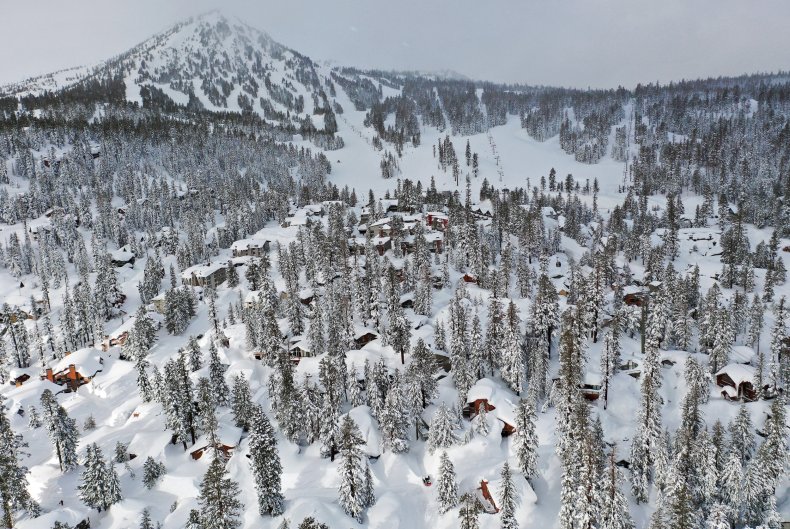 As this snow melts, the water will run down the mountains. Because California has been in a megadrought for over 20 years, the soil is very dry and hard, making it more difficult to absorb water. If all the snowpack melts at once, this can lead to flooding in lower regions.
"It's important to remember that timing and type of precipitation—rain vs. snow—is crucial for staying out of drought," Jacob Petersen-Perlman, a water resources geography expert and assistant professor at East Carolina University, previously told Newsweek. "Timing also matters: All the rain at once means that much of it will run off into the ocean instead of filling California's reservoirs."
The NOAA's forecast for flooding in the Mississippi River Basin is also due to an above-average snowpack in the mountains, combined with the soil being less able to absorb moisture because of the scorching hot summer under drought conditions.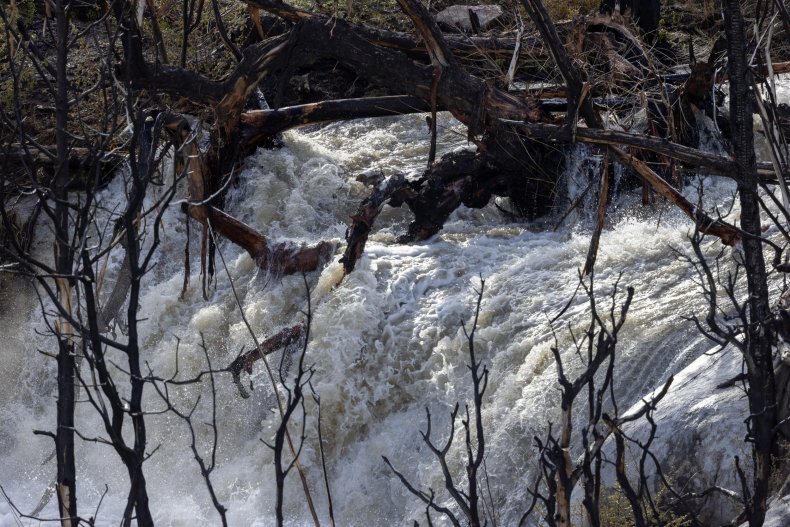 "There is a tremendous amount of snow this year, so that's very encouraging," Donald Bader, the Lake Shasta area manager for the U.S. Bureau of Reclamation, told Newsweek in January. "That will come down later in the spring when it starts warming up, so we can anticipate that and add that to our [reservoir] storage volumes because we know we've got that extra storage sitting up there in the mountains."
In California, the large amount of precipitation has helped to alleviate the state's drought somewhat, with U.S. Drought Monitor data showing that 44.66 percent of the state is free of any drought condition, having nearly doubled since a week before.
Despite this, experts say it will take several years of steady rain and snow to fully restore the state to its pre-drought conditions, as the groundwater stores must be fully replenished.
"It will take several years of above-normal precipitation—both rain and snow during the appropriate times of year," Lara Fowler, an environmental and energy issues attorney and interim director of the Penn State Sustainability Institute at Penn State University, previously told Newsweek.
She continued: "As soil moisture and surface water supplies have become depleted, more and more groundwater pumping has also led to a decline in aquifer levels in many places. Such groundwater contributes to base flows in streams. So not only would surface water—streams/rivers—need to refill, so does soil moisture and groundwater levels, the last of which can be very slow to recharge.
"It's like we've spent down our bank accounts and it will take quite a while to rebuild. One year of good snowpack helps a lot, but is definitely not enough," Fowler said.
Meanwhile, climate change is expected to alter the weather patterns across the country and could lead to worsened flooding.
"With continued climate change, we expect to see rain and snow events that are less frequent but more intense," Rick Relyea, director of the Darrin Fresh Water Institute at Rensselaer Polytechnic Institute, told Newsweek at the start of the year. "Such events can cause flash flooding, which makes it difficult for the water to slowly permeate into the soil to recharge the underground aquifers."
"Warmer storms mean more of the precipitation is rain instead of snow. Mountain snow that persists in winter and melts in spring/summer provides seasonal water storage," Roger Bales, a distinguished professor of engineering at the University of California, Merced, and an adjunct professor at UC Berkeley, previously told Newsweek.
This may mean that while there is more water falling, it doesn't get stored in reservoirs or groundwater and instead washes out into the ocean as floodwater.
Additionally, increased air temperatures due to climate change may cause the snowpack to melt more rapidly, again possibly worsening flooding across California and other areas.
"As the big snowstorms we are used to become big rainstorms in a warmer climate, we must use more of the capacity behind dams for flood control, leaving less for seasonal water storage," Bales said.
"We also get less mountain runoff in a warmer climate, as growing seasons are longer and vegetation uses more water. Wildfire and drought-induced tree mortality are feedback that partially offsets this. So it's about quantity, timing, storage and more," he said.
Do you have a tip on a science story that Newsweek should be covering? Do you have a question about flooding? Let us know via science@newsweek.com.