Florida Governor Ron DeSantis issued an executive order on Friday banning vaccine passports.
"So-called COVID-19 vaccine passports reduce individual freedom and will harm patient privacy," DeSantis declared, pointing out that vaccines are not required by any law and that vaccination records are private health information.
The governor said that Florida is "leading the effort to distribute the vaccine to elderly and vulnerable populations" but that many residents have not yet had the opportunity to get the shot or may have some health or religious region that would prevent them from getting vaccinated.
"Florida seeks to ensure that every Floridian who desires a COVID-19 vaccine can obtain one, but such vaccines will not be mandated," the order reads.
DeSantis argued that requiring vaccinations would "create two classes of citizens."
"Requiring so-called COVID-19 vaccine passports for taking part in everyday life—such as attending a sporting event, patronizing a restaurant, or going to a movie theater—would create two classes of citizens based on vaccination," the order states.
The order bans any government entity or agent in the state from issuing any type of "standardized documentation for the purpose of certifying an individuals' COVID-19 vaccination status to a third party."
It also prohibits businesses in Florida from requiring customers to provide this type of documentation to gain access to or service from the business. Businesses that do not comply will not be eligible for grants funded by the state.
DeSantis added that businesses are allowed to issue other types of COVID-19 screening protocols.
"It is necessary to protect the fundamental rights and privacies of Floridians and the free flow of commerce with the state," the order reads.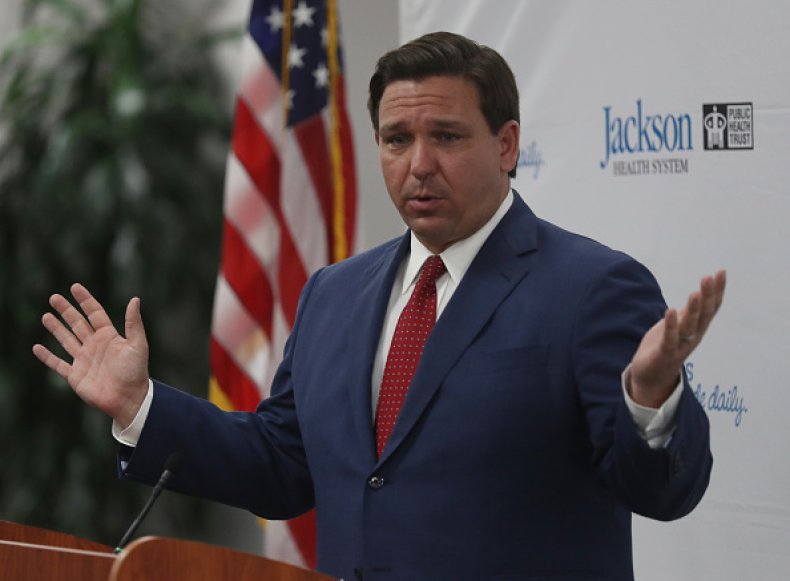 The travel industry, such as airlines, have been in favor of vaccine passports in an effort to help get customers to return to those activities by reassuring them those environments would be safe.
However, Republican leaders like DeSantis have spoken out against the possibility of implementing proof of immunization.
In a statement sent to Newsweek, the governor's press secretary Cody McCloud said, "The Governor took swift action and followed through on his commitment to prohibit vaccine passports in Florida as it is completely unacceptable for government or the private sector to impose this requirement to participate in normal society. The Governor has been clear from the beginning: receiving the vaccine is the choice of each individual and will not be mandated in any way."
New York and Las Vegas have already begun rolling out vaccine passports, but have mainly left it up to businesses to decide whether proof is necessary to access services.
Last week, New York launched a mobile app that allows users to share their vaccination and negative test results with entertainment venues and businesses. Excelsior Pass has already been used at a Brooklyn Nets game in February and a New York Rangers game in March.
In Las Vegas, a similar app was launched, with a focus on negative test results.
Newsweek, in partnership with NewsGuard, is dedicated to providing accurate and verifiable vaccine and health information. With NewsGuard's HealthGuard browser extension, users can verify if a website is a trustworthy source of health information. Visit the Newsweek VaxFacts website to learn more and to download the HealthGuard browser extension.