Florida City Spends $61K a Day to Clean Nearly 800 Tons of Dead Fish That Washed Ashore
St. Petersburg, Florida, is running low on resources after spending an estimated $61,000 a day to clean up nearly 800 tons of dead fish that have washed up along the city's shoreline over the past month.
A city official told Newsweek on Monday that over the past three weeks, St. Petersburg has spent approximately $700,000 and employed more than 150 people daily to help remove the massive amounts of decayed marine life.
"We continue to work seven days per week cleaning up dead fish from our coastal waters. In addition to 150+ city workers using nets along the shoreline, we have inshore boats in the bayous and canals. Pinellas County has large shrimp boats in Tampa Bay and the Gulf of Mexico trying to keep the dead fish from reaching the shore," Public Works Administrator Claude D. Tankersley told Newsweek on Monday.
A huge red tide is being cited as the main reason behind the influx of dead marine life, though officials said Tropical Storm Elsa is thought to have at least contributed to bringing some of the remains to the shoreline.
A red tide, also known as a harmful algal bloom, occurs where there is an unusually high level of microscopic algae, a plant-like organism, located in the water. Though naturally occurring in the Gulf of Mexico, a red tide is worsened by the presence of nutrients such as nitrogen in the water.
Experts say the unusually large tide could be attributed in part to the old Piney Point phosphate operation in Manatee County. A leak earlier this year in a reservoir at Piney Point dumped more than 200 million gallons of contaminated water into the bay, The Associated Press reported.
So far, at least 791 tons of dead marine life have been found along Pinellas County beaches, with more than 600 tons likely came from St. Petersburg's shores, the Tampa Bay Times reported. On July 14 alone, St. Petersburg officials reported that 142 tons of fish were removed.
While the majority of the dead marine life has been fish, other animals including dolphins, sea turtles, and stingrays have also been found among the killed. Officials said most of the fish are being taken to the county incinerator, but some are going to the landfill, Axios reported.
To help the costly clean-up efforts, St. Petersburg Mayor Rick Kriseman and City Council members last week requested that Republican Florida Governor Ron DeSantis declare a state of emergency.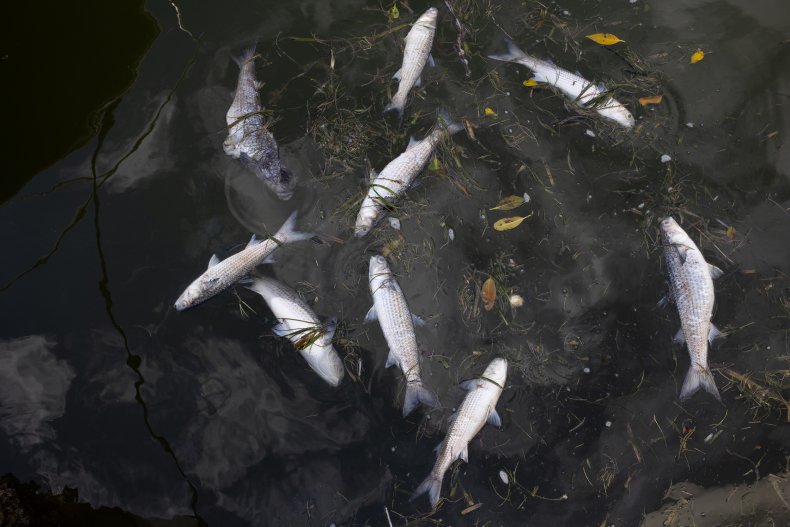 "The City does not have budgeted funds to tackle this crisis," Tankersley told Newsweek on Monday. "Help from the State of Florida is critical if we are going to continue to be the frontline on this devastating event."
Tankersley added that putting more resources into the clean-up efforts has diverted funds away from other services. Local officials estimate the city has lost up to $1.2 million from delaying other projects, Axios reported.
But DeSantis' office has so far denied the city's request, noting the Department of Environmental Protection already has funds dedicated to this type of crisis. On Monday, a spokesperson told Newsweek the state has already committed $2.1 million to reimburse Pinellas County and the city for cleanup costs.
"Since taking office, Gov. DeSantis has requested funding that can be utilized for that purpose without the need for a state of emergency. To date, the state has committed $2.1 million to reimburse cleanup costs incurred by Pinellas County and the City of St. Petersburg. The state will continue to work with local communities to provide funding as additional costs are incurred," Spokesman Jared Williams told Newsweek.
Nonetheless, over 100 protesters took part in a demonstration Saturday along the St. Petersburg waterfront demanding that the DeSantis declare a state of emergency, stop phosphate mining in Florida, and make polluting companies pay for cleanup efforts, The Times reported.
"This is not political," Aimee Conlee, who organized the event, told a crowd of protesters. "This is life. This is water, and water is life."
Tankersley told Newsweek that officials fear the red tide will be around for several months.
"While this has lasted three weeks already, we fear the red tide will be around for many months as it was in 2018. The city does not have the resources to handle this crisis alone," he said.
Updated 07/19/2021, 2:40 p.m. ET: This story has been updated to include a statement from Gov. Ron DeSatnis' office.