A mother from Jacksonville, Florida has started a GoFundMe page with the goal of raising $10,000 to give schools the equipment to create classroom barricades in the event of a shooting.
Valerie Boote has so far raised $220 in the fundraiser that was started two weeks after the mass shooting at Robb Elementary School in Uvalde, Texas, in which 19 children and two adults were killed. It was the deadliest school shooting in the United States since the 2012 massacre at Connecticut's Sandy Hook Elementary School.
"This fundraiser is to help purchase simple, effective, safe door barricades for Jacksonville, Florida classrooms that can be set up quickly," Boote wrote in a message on the GoFundMe page. "Since elementary school students and their teachers are the most vulnerable when it comes to student safety, this fundraiser will be restricted to K-5 age groups (this will also include any VPK classrooms in public school buildings)."
The barricades Boote is raising money for are sold by Fighting Chance Solutions, a company that was formed by educators in Iowa in response to school shootings.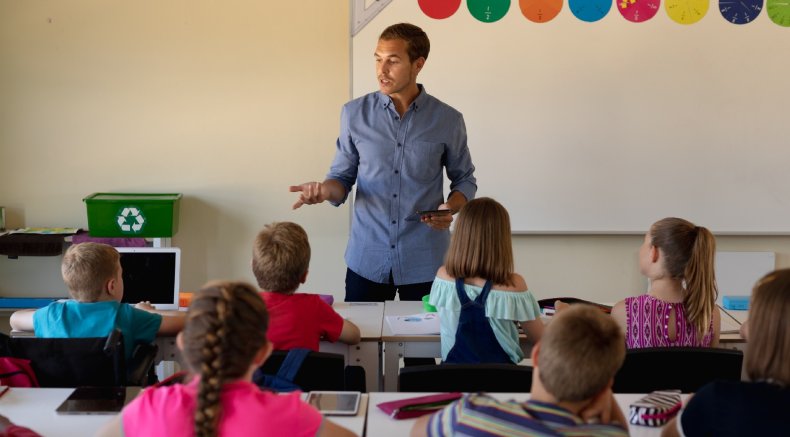 To keep an outward-swinging door from opening is a device called "the sleeve" that slips over the metal top part of a door on the inside. To keep an inward-swinging door from opening is "the rampart," a stick device that goes from the door handle to the floor to stop the door.
"I feel like I shouldn't have to do this. I don't feel like anybody should have to do this," Boote told Jacksonville's First Coast News.
First Coast News Crime and Safety Analyst Mark Baughman spoke about the importance of ensuring children's safety at school and the importance of getting the approval of the relevant school authorities.
"How are we going to make security measured hardened, at least in the classroom. No matter what you do it may not be enough, but you got to do everything you can do to protect the people inside," he said. "Whenever you do these kinds of things, you have to get permission from your school administrators or whatever it may be and that everybody signs off on it and agrees to and everybody's trained in using it.
Following the shooting in Uvalde on May 24, there have been calls to better protect children at school. These methods of protection have differed among politicians, with some calling for stronger gun control while others demand changes to schools themselves.
Some politicians have argued that mass shootings in schools could be better prevented by arming teachers or security guards. Texas Republican Senator Ted Cruz proposed stationing more armed law enforcement officers at schools, saying this would be more effective than tightening gun control laws.
The Protecting Our Kids Act, which passed the House by a vote of 223 to 204 on June 8, would raise the minimum age to purchase semi-automatic weapons from 18 to 21 years old, ban civilians from using high-capacity magazines and bump stocks, require background checks on ghost guns, "crack down" on gun trafficking and strengthen storage requirements.
Newsweek reached out to Valerie Boote for comment.