Paul Waldron—the commissioner for St. Johns County just south of Jacksonville, Florida—has tested positive for COVID-19 and is currently in the hospital in critical condition. Last week, Waldron voted against a countywide order requiring all residents to wear face masks as a way to prevent coronavirus infections.
According to News 4 Jax, Waldron wasn't "necessarily opposed" to the face mask requirement, but wanted county administrators to clarify the types of masks required and whether the county could provide sufficient supplies for employees and citizens entering government buildings.
In a Facebook post written by his daughter, she said he was in the "most critical of conditions," adding that because of "complications from the virus, he went into septic shock and many organs are struggling."
"The hospital is working hard to keep him comfortable and continuously monitoring him," she wrote in a follow-up post on Friday evening. "His blood gas levels have improved today and numbers are holding."
Waldron has served as St. Johns County Commissioner since 2016 and had planned to run unopposed for the office again in 2020.
"We are aware of Commissioner Waldron's situation and are praying for his health and his family. We also ask each of you to pray for him and his family during this time," St. Johns County Administrator Hunter Conrad wrote in a statement.
As of July 10, St. John's has has a total of 1,730 confirmed cases and 10 related deaths. Currently, the county has the 24th highest number of cases amongst Florida's 67 counties.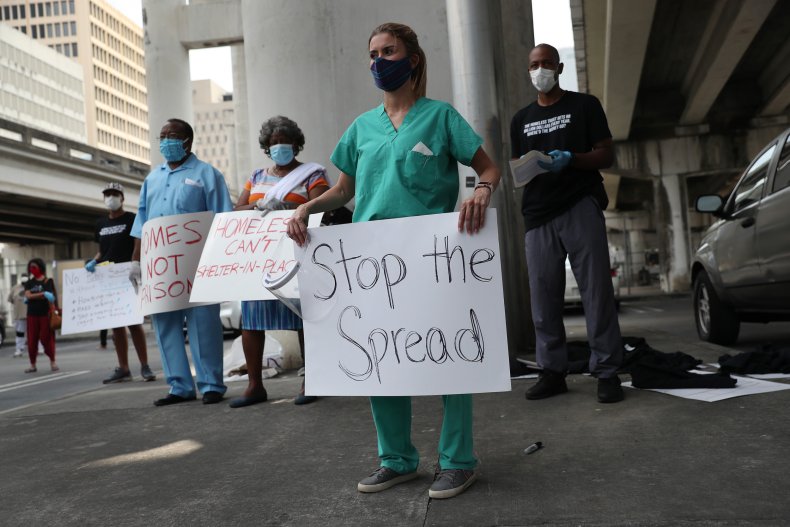 Florida has emerged as a coronavirus hotspot in the United States. As of July 10, the state ranks 4th among the states with the highest number of overall confirmed cases. The state has averaged about 9,087 new cases each day for the last seven days.
As of June 6, coronavirus cases increased to such a rate in Florida that some of the state's intensive care units (ICU) at hospitals are reporting no available beds in their units. Hospitals in Miami-Dade County have had to request 100 additional nurses to handle the resurgence of cases in their hospital network. County hospitals may need 100 more if cases continue to trend upward.
From August 24 to 27, Jacksonville is expected to host the Republican National Convention. Originally planned for Charlotte, U.S. President Trump and thousands of Republicans will pack into the Vystar Veterans Memorial Arena as he officially accepts the GOP nomination.
A mid-June poll conducted by an anti-Trump group composed of GOP figures: Republican Voters Against Trump, revealed that nearly half of Jacksonville residents don't want Trump and Republicans holding their national convention in their town.