Florida GOP Eyes Change That Would Ease DeSantis Presidential Run
The Republican leadership in Florida's state government is mulling a change to the state's election laws that would potentially ease Governor Ron DeSantis into his much-expected 2024 presidential run.
As it currently stands in Florida, elected officials are required to leave their current office when choosing to run for a new one, which is referred to sometimes as a "resign-to-run" law. During an Organization Meeting on Tuesday, newly chosen Florida House Speaker Paul Renner said that it would be a "good idea" for the state's government, now controlled by a Republican supermajority, to change the law and allow officials to remain in their current seat while running for office.
Such a change would be "a gift" to DeSantis, as noted by Florida Politics, allowing him to remain Florida's Governor even if he ran for president and failed, either in the primary or general election phase, drastically reducing the risk of such a campaign.
"You will find me to always try to hone toward being principled and consistent. This is one area that, going back in history — you don't have to go very far on a kind of two-second Google search — we've been totally inconsistent on," Renner said of his state's resign-to-run law. "If you think that's based on anything in your hypothetical, you would be right, and I'll be very open and transparent about that."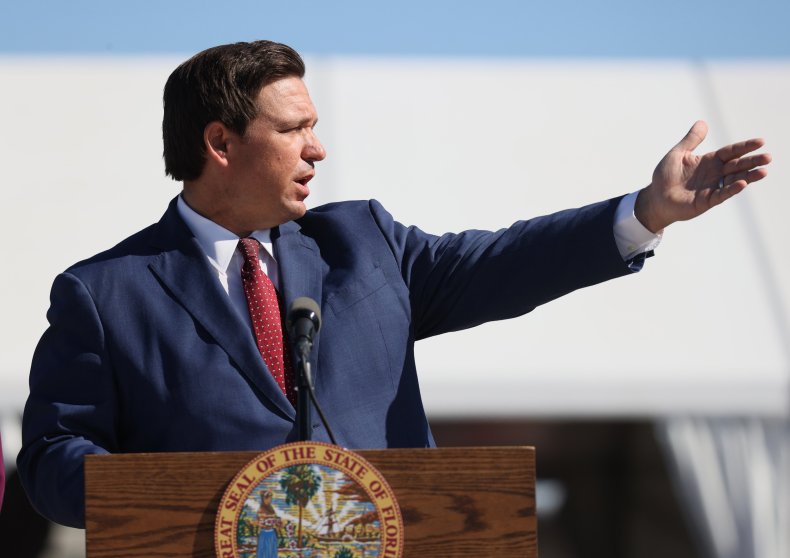 At the same session, Florida State Senate President Kathleen Passidomo concurred with Renner's thoughts on the matter.
"If Speaker Renner thinks it's a good idea," Passidomo said. "I think it's a good idea. When you think about it, if an individual who is from Florida, who is a Florida Governor is running for President, I think he should run and do it. I really do."
Florida previously made such alterations to the law in 2008, when the Republican Governor at the time, Charlie Crist, was among the figures seriously considered as the running mate for the late Senator John McCain. The law later reverted to its original state in 2010.
DeSantis has long been suspected to be planning a bid for the White House in 2024. This was bolstered earlier in the month when DeSantis handily won reelection over Crist, who ran as a Democrat, amid statewide successes for other Florida Republicans. This put the governor and his state in contrast to the rest of the country, where Republican candidates struggled and failed much more than anticipated in the midterm elections. This was especially true in key swing states and of candidates endorsed by Donald Trump, casting doubt on the former president's chances in 2024.
Despite prevailing GOP sentiments moving towards DeSantis and away from Trump, a national poll conducted by Emerson College this month found that Trump was still heavily favored for the Republican nomination in 2024, receiving more than double the support that DeSantis did. Both frontrunners, however, trailed President Joe Biden in hypothetical general election scenarios from the same poll.
Newsweek reached out to DeSantis' office for comment.