Young Republicans Flock to Trump Over DeSantis for 2024: Poll
Despite looming doubts over his influence following a bruising midterm cycle for the GOP, a new poll suggests that Donald Trump remains the favored 2024 candidate for most Republicans, especially younger ones.
On November 15, former President Trump made the long-rumored announcement that he will run for a second term in 2024.
The announcement had been timed to come after the 2022 midterm elections, with Trump expecting to ride a "red wave" of Republican success and keep the momentum going.
Despite those hopes, Democrats ended up performing strongly in the midterms, retaining the Senate and ceding only a slim House majority to the GOP. Trump's endorsed candidates also consistently underperformed, coming up short against Democrats in key swing states.
Many pundits began to deride Trump's influence in the party as toxic, calling for him to step aside and anointing Florida Governor Ron DeSantis as the new face of the party.
Whatever might change in the coming years, a new poll suggests that Trump remains the strong preference among Republican voters.
An Emerson College national poll released on Tuesday found that 55 percent of Republican respondents favored Trump to be the 2024 nominee, with DeSantis garnering 25 percent.
Other prominent names, including former Vice President Mike Pence, outgoing Wyoming Representative Liz Cheney, Texas Senator Ted Cruz, and former North Carolina Governor Nikki Haley, each received single-digit support.
Emerson's report on the poll also noted that support for Trump was stronger among "younger" Republicans, which it defined as respondents under 50. Those voters favored Trump 67 percent compared to 14 percent for DeSantis.
Education level also factored into the results, with Trump garnering more support from respondents with a high school degree or less compared to those with college or postgraduate educations.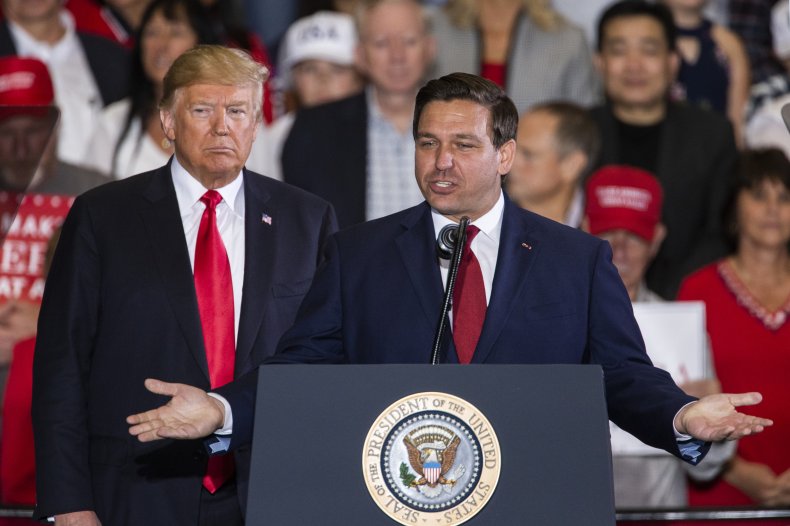 On the Democratic side, the Emerson poll found President Joe Biden's approval rating remained "underwater" at 39 percent for November, unchanged from October, though his disapproval rating dropped slightly to 52 percent in November, down a single point from the previous month.
Biden still maintained a solid level of support for the 2024 Democratic nomination, with 42 percent support from Democratic respondents. He also notched a 4-point lead over both Trump and DeSantis in hypothetical general election polls.
Emerson's poll surveyed 1,380 registered voters on November 18-19, with a 2.5 percent give-or-take margin of error. The organization has a decent reputation, garnering an A- grade from FiveThirtyEight and correctly calling 76 percent of its tracked races through 2020.
While the outlet incorrectly tipped certain 2022 races to Republicans in tight contests, it did correctly call the 2020 presidential race for Biden within only 0.3 percentage points.
Newsweek reached out to Trump's office for comment.