Ron DeSantis, Florida Democrats Blast '60 Minutes' Vaccine Corruption Report
Florida Governor Ron DeSantis described the 60 Minutes report claiming that he engaged in a COVID-19 vaccine "pay to play" scheme with supermarket chain Publix a "baseless conspiracy theory" on Monday.
DeSantis, a Republican, made the remarks during an appearance on the latest edition of Fox News' Tucker Carlson Tonight. He said that CBS News' 60 Minutes segment, which aired Sunday, had been easily debunked and was deceptively edited to exclude him explaining that other chains had been involved in the state's vaccine distribution plans before Publix. The 60 Minutes report suggested that wealthy Florida residents had benefited from a partnership with Publix, which had donated $100,000 to DeSantis' political action committee only weeks before the partnership was announced.
"Obviously, they selectively edited the background, they tried to act like there was a conspiracy with Publix," DeSantis said. "They don't believe in facts. It was a political narrative. It was done with malicious intent and a reckless disregard for the truth... They were in Florida for three months, 60 Minutes, trying to dredge up any dirt they could use to smear me."
"And the best they could come up with is a baseless conspiracy theory that was easily debunked," he added. "Not just by me, which they had to edit out, but by two very prominent Democrats in the state of Florida."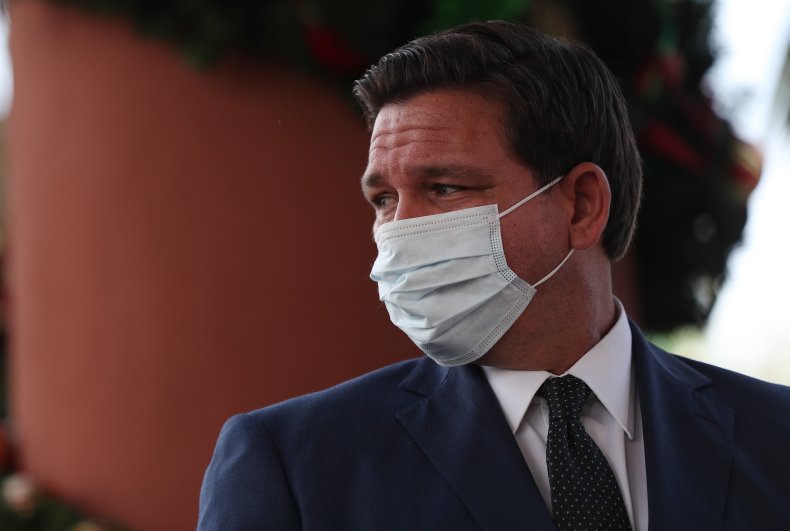 CBS said in a statement that the segment showing DeSantis answering correspondent Sharyn Alfonsi's question had been edited "as we always do for clarity," claiming there had been no intention to cut out vital information. In the portion edited out, the governor mentioned that Walgreens and CVS had distributed the vaccine before Publix.
Democratic Palm Beach County Mayor Dave Kerner said that the 60 Minutes report was "intentionally false" in a statement on Monday. He insisted that his county, not DeSantis, had asked for the partnership with Publix. Kerner said that the show had edited out critical information and refused his offer of information that would have refuted the report "because it kneecaps their narrative."
"I watched the 60 Minutes segment on Palm Beach County last night and feel compelled to issue this statement. The reporting was not just based on bad information—it was intentionally false," Kerner said. "I know this because I offered to provide my insight into Palm Beach County's vaccination efforts and 60 minutes declined."
"We asked and he delivered," added Kerner. "They had that information, and they left it out because it kneecaps their narrative... 60 Minutes should be ashamed."
Jared Moskowitz, the Democratic director of the Florida Division of Emergency Management, said that information in the report was false shortly after the segment aired. He said that the emergency management division and the Florida Department of Health had suggested Publix, rather than DeSantis or anyone from his office, because other outlets were not prepared to handle distribution efforts at the time.
"@60Minutes I said this before and I'll say it again," Moskowitz tweeted on Sunday. "@Publix was recommended by @FLSERT and @HealthyFla as the other pharmacies were not ready to start. Period! Full Stop! No one from the Governors office suggested Publix. It's just absolute malarkey."
A spokesperson for CBS News and 60 Minutes told Newsweek in a statement that both DeSantis and Moskowitz had been offered interviews but declined, while Kerner had spoken on the record despite his claim that the show refused his offer of information.
"When Florida state data revealed people of color were vaccinated at a much lower rate than their wealthier neighbors, 60 MINUTES reported the facts surrounding the vaccine's rollout, which is controlled by the governor," the spokesperson said. "We requested and conducted interviews with dozens of sources and authorities involved. We requested an interview with Gov. Ron DeSantis, he declined; We spoke to State Emergency Management Director Jared Moskowitz twice, but he declined to be interviewed on camera for our story until well after our deadline."
"The idea we ignored their perspective is untrue," they added. "Counter to his statement yesterday, we also spoke on the record with Palm Beach County Mayor David Kerner. For over 50 years, the facts reported by 60 MINUTES have often stirred debate and prompted strong reactions. Our story Sunday night speaks for itself."
Update 4/6, 4:19 p.m.: This article has been updated to include a statement from CBS News and 60 Minutes.