Florida Man Allegedly Crashed Into FedEx Truck While Receiving Oral Sex
A Florida man allegedly crashed his vehicle into a FedEx truck while receiving oral sex from a woman in the passenger seat.
According to Fort Lauderdale Fire Rescue who responded to the scene, the SUV allegedly crashed head-on into a FedEx truck on Thursday evening in Fort Lauderdale. The two individuals inside the SUV were reportedly naked.
It was discovered that the driver of the SUV was allegedly receiving oral sex from the female passenger at the time of the crash, WPLG reported.
Receiving oral sex while driving is more common than one might think, with a study conducted by researchers at the University of South Dakota revealing that nearly 37 percent of male students engaged in some manner of sex while behind the wheel.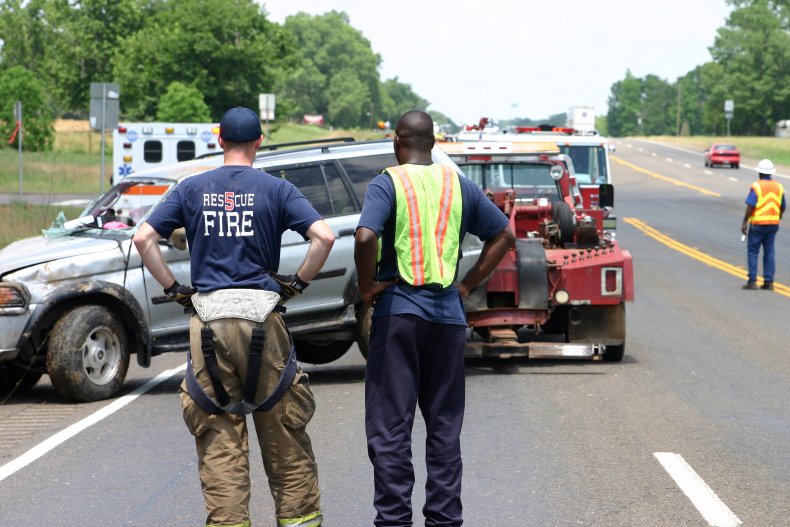 Two of the students surveyed also reported nearly hitting another vehicle while engaging in sexual activity while driving. One-third of respondents reported speeding while engaging in these activities and 11 percent reported letting go of the steering wheel.
WPLG reported that two individuals were inside the FedEx vehicle during the crash but sustained minor injuries.
The driver of the SUV suffered unspecified injuries to his groin area, according to WPLG.
It is still unclear if anyone will be charged for the collision.
Newsweek reached out to Fort Lauderdale Fire Rescue for comment.
Back in 2017, a Washington couple found themselves in a similar situation after they allegedly crashed their car while having sex.
When state troopers arrived, they allegedly found the couple naked and drunk with a 3-month-old baby in the back.
While the baby was unharmed, the female passenger suffered broken bones. The driver was arrested on charges of child endangerment, vehicular assault, and suspicion of driving under the influence. The man reportedly already had three prior DUIs.
More recently, a Florida couple was allegedly caught performing oral sex in the backseat of a police car.
A Florida Highway Patrol trooper said the two were caught on camera after being placed in the car for allegedly driving with a suspended license.
Another Florida couple was allegedly caught having sex in the backseat of a police vehicle after being arrested for allegedly driving under the influence.
One man in California was charged with vehicular homicide after allegedly crashing into a bar and hitting three restaurant patrons and killing a woman.
Witnesses told officials that the man was allegedly intoxicated and engaged in a sex act in his truck during the crash.