Naked Florida Man Performs 'Strange Dance' at McDonald's Before 'Trying to Have Relations With a Railing'
A Florida man stripped naked, did what the arresting officer described as a "strange dance" at a McDonald's restaurant, and was seen "trying to have relations with a railing" by a witness to the bizarre incident.
A day prior to Sunday's disturbance, John Francis Morgan, 62, had told a Collier County Sheriff's Office deputy that he intended to go to the McDonald's in Naples, where he had been banned over a similar previous outburst.
The officer warned him not to go there and Morgan said he would not. But Morgan did not heed that warning and the following day went to the McDonald's restaurant on Tamiami Trail East anyway.
"I was dispatched to McDonald's in reference to a white male wearing white shorts taking their clothes off and doing a strange dance," said Morgan's arrest report, written by Officer D. Grossklass.
"The caller stated that they believed the male to be possibly on drugs. The male was doing this near the front door of the McDonald's.
"While I was on my way to McDonald's it [was] also stated that the male pulled his pants down, but put them back on. Lastly, the caller stated that it looked as though the male was trying to have relations with a railing."
According to Collier County Sheriff's Office, Morgan is charged with one count of trespass of a property and is in custody. He will appear in court on July 3.
Morgan has a number of previous arrests, including one last month for battery. He is due up in court on Wednesday to face that charge. Other arrests have been on charges including breach of peace, several for trespass, drinking alcohol in public and disorderly intoxication.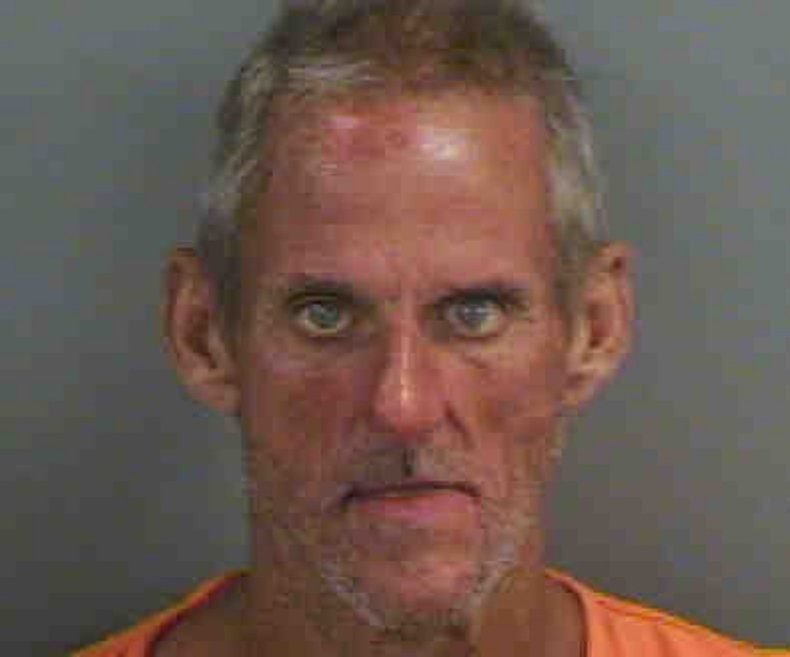 Earlier in June, Florida man Peter Wagman, 37, from Pinellas Park, was charged with domestic battery for pouring tomato sauce all over his sleeping girlfriend following an argument about infidelity.
Wagman, who pleaded not guilty, was allegedly heard at around 4:45 a.m. yelling "that's what you get, b****h" as he covered her in the red condiment. The couple reportedly had a history of police callouts for domestic incidents.
Last Tuesday, Escambia County deputies arrested Keriah Renea Giomi, 25, of Cantonment after she allegedly tried to stab a man in the stomach with a hunting knife while she was naked and yelling "Jehovah" at him. Giomi faces felony charges of aggravated battery.
The victim claims Giomi locked him in her house to prevent him fleeing during the attack. He managed to then lock her in a room before calling a friend and escaping to a hospital, where he was treated for injuries to his hands and back. Giomi is due in court on June 21.
In another Florida incident during June, Katie Lee Pitchford, 21, of Indian Harbour Beach, was charged with domestic battery after allegedly beating her boyfriend with a brush and squeezing his testicles so hard that they bled.
This article was updated to include more information from Morgan's arrest report.