Florida Man Pays $50 Daily Fine to Hang 'Trump Won' Banner, Plans 'Let's Go Brandon' Sign
A Florida man faces a $50 daily fine for displaying a banner outside his home proclaiming "Trump Won," a reference to Republican former President Donald Trump.
Walton County, Florida, will charge part-time resident Marvin Peavy $50 a day starting October 25 if he doesn't remove the "Trump Won" banner from outside of his home.
Peavy said he plans to also put up a banner that says "Let's Go Brandon," a phrase that conservatives have conflated with "F*ck you, Biden," an insult referencing Democratic President Joe Biden.
County officials said Peavy's banner violates signage regulations for the 30A scenic corridor, where Peavy's home resides. The corridor is part of a beachside route known for its natural beauty.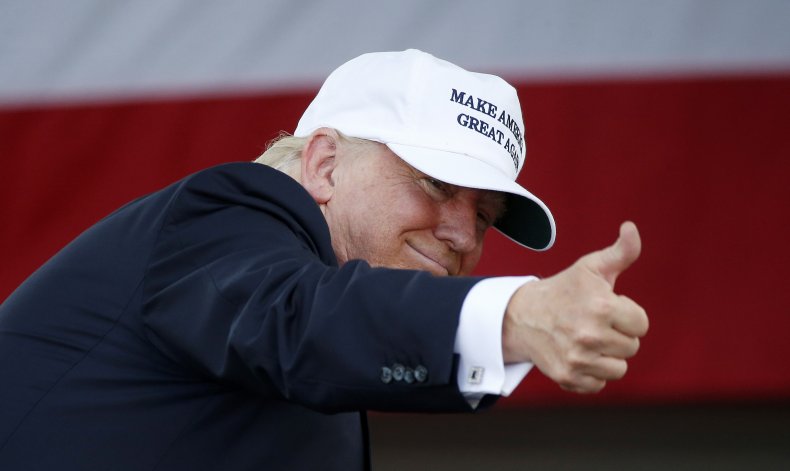 The county's legal code says that political signs must be removed 15 days after the end of a political campaign.
However, county officials say Peavy's banner actually violates another part of the code forbidding homes from displaying "(s)treamers, feather flags, pennants, ribbons, spinners and other similar devices" that might detract from the corridor's scenic beauty.
Peavy said he has no intention of removing his banner, the Northwest Florida Daily News reported. He said that he can easily pay the fine and added that others have also offered to pay the fine on his behalf.
However, his attorney reportedly told Walton County Code Enforcement Officer Charles Cronin that Peavy was aware of the violation and would remove the banner soon, Cronin said.
Peavy said he displayed the banner to irk "seaside liberals" and "the 1 percent leftists," He has claimed that his banner may refer to Trump's self-proclaimed golfing championships rather than the last election. He also said it may refer to someone other than the former president.
"How many Trumps do you know?" he asked the Daily News.
He also said the banner is "just a statement" and "not political." He plans to sue the county for infringing upon his First Amendment rights.
Peavy said he also plans on hanging another banner outside his home that says, "Let's go Brandon." The phrase is understood by conservatives as a covert way to say, "F*ck you Biden."
NASCAR fans began chanting "F*ck you Biden" during the October 2 NASCAR Xfinity Series Sparks 300 race at the Talladega Superspeedway in Alabama. During the race, sportscaster Kelli Stavast mistakenly believed the crowd was chanting, "Let's go Brandon" in support of the race's eventual winner, Brandon Brown.
Donald Trump Jr., the National Rifle Association and other conservative figures on social media began to repeat the phrase as a way to express displeasure with Biden.
During the 2020 campaign season, Peavy donated over $9,000 to various Trump- and Republican-related organizations, Federal Election Commission records revealed.
Trump and many of his supporters have baselessly claimed that he actually won the 2020 presidential election. Trump's victory was "stolen" from him, they have claimed, due to an unprecedented nationwide conspiracy of voter fraud.
Trump's former attorney general, his head of U.S. cybersecurity and statewide audits have all found no evidence that the 2020 election was stolen.
Trump has advised Republicans not to vote in upcoming elections until more is done to safeguard elections from voter fraud.
Newsweek contacted Walton County for comment.