Florida Man Wearing Captain America T-shirt Who Masturbated in Front of Female Community Guard Before Walking Off Is on the Run
A Florida man stripped naked and masturbated in front of a community security guard while wearing Captain America-branded clothing this week, police say.
The incident took place on Monday in the Pierpointe community of Pembroke Pines at roughly 3:40 a.m. Officers from the Pembroke Pines police responded to a complaint about a "suspicious person" last seen close to the community guard house, which is at 11900 NW 11th Street.
The victim, a female guard, told police she had spotted the suspect walking into the community and approaching a dumpster. He was described as being late 20s to early 30s, wearing a blue Captain America T-shirt, a blue Captain America baseball hat and khaki cargo shorts.
The man was behaving strangely and staring at the victim in the guard house, police said. The suspect then approached the guard house, removed his shirt and shorts and allegedly started to masturbate. He made no attempt to enter the building or speak to the woman, it was noted.
He left the community on foot approximately five minutes after his arrival. Surveillance footage released to the public yesterday showed the man casually strolling past a set of gates with what appeared to be his clothing bundled up in his hands. He was still wearing the baseball hat.
The suspect was last seen heading westbound along Johnson Street. Patrol officers said they conducted an extensive search of the location but the man had not been found.
Anyone with information regarding the incident is asked to contact Pembroke Pines police at 954-431-2200 or Broward Crime Stoppers at 954-493-TIPS. The hunt now continues.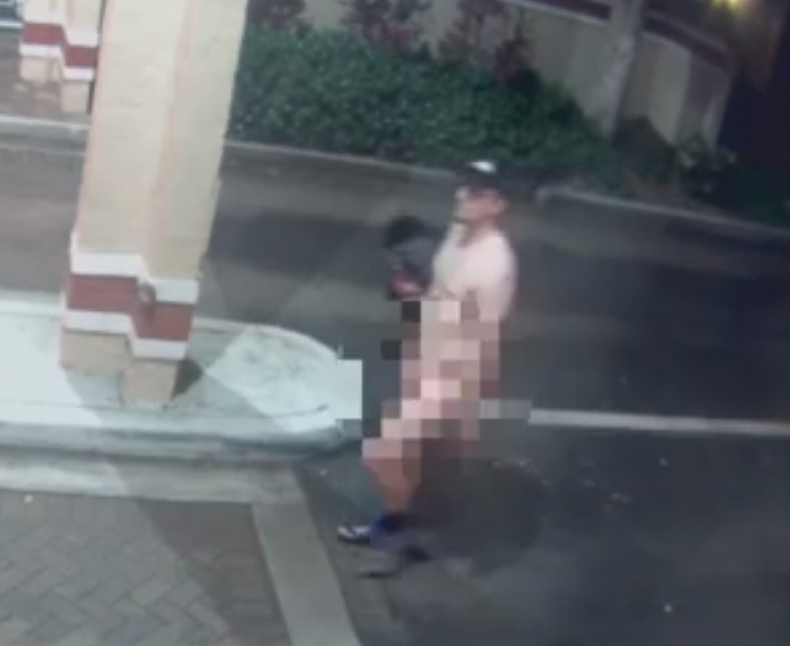 According to its website, Pierpointe is a "lakeside community of 676 residences comprised of condos, townhomes and single family homes." The area is gated with "24-hour security staff plus an evening rover guard to insure peace of mind for every resident," an about page reads.
Last week in Florida, a man who was seen masturbating in a Pensacola Walmart's parking lot allegedly grabbed a sheriff's office deputy's buttocks while he was being arrested. The suspect, Trenton James Rich, said "let me just feel it" as he resisted being detained by the officer.
A police incident report penned at the time said the 19-year-old at one point placed his hands into a karate chop stance and started to swing them at the deputy, who was unharmed.
Last month, a Florida woman was arrested after allegedly stabbing her boyfriend with a steak knife. The Broward Sheriff's Office said the suspect, Nicole Marion Pelletier, 18, had attacked her partner after he taunted her by saying: You don't have the balls to do it." A murder charge was later downgraded to aggravated battery.