A Florida woman was arrested and charged with attempted first-degree murder last Friday after being accused of stabbing her boyfriend in the chest with a steak knife, police said.
Nicole Marion Pelletier, age 18, threatened her partner during an argument at their home in the 200 block of Northeast 10th Avenue at Pompano Beach. She believed he had been cheating on her and after grabbing the weapon said, "I will kill you and everybody in this house," local media outlet WPLG reported.
According to the Broward Sheriff's Office, the suspect knifed the 23-year-old boyfriend after he taunted her by saying: "You don't have the balls to do it." He was stabbed on the left side of his chest, police said.
After the knife was thrust into his body, the boyfriend—who has not been named—fled into a bathroom. The victim and Pelletier used a towel to apply pressure to the wound and called 911, WPLG reported. The couple's six-month-old daughter was in the apartment at the time but was not harmed, police noted.
The arrest report said the boyfriend suffered injuries to his heart and lungs and was taken into surgery at the North Broward Medical Center, where he remained for approximately seven hours.
According to inmate records posted by the sheriff's office, Pelletier was initially being held at the Paul Rein Detention Facility without bond. Filings confirmed she was in custody this week while pending trial.
But Pelletier's charge was downgraded to aggravated battery with a deadly weapon and $3,000 bond in a Saturday court appearance, WPLG reported. She was also ordered to stay away from the victim.
Hussein & Webber, a criminal defense law firm in Jacksonville, says online Pelletier's charge is defined as "the intentional touching of another person with the intent to inflict great bodily harm or to use a deadly weapon." Penalties include mandatory prison with a maximum penalty of up to 15 years—or more.
Deputies recorded in the arrest report that Pelletier initially claimed the boyfriend had a seizure and fell on the knife, causing the injury, the Miami Herald reported. The man suffered damage to his pulmonary artery.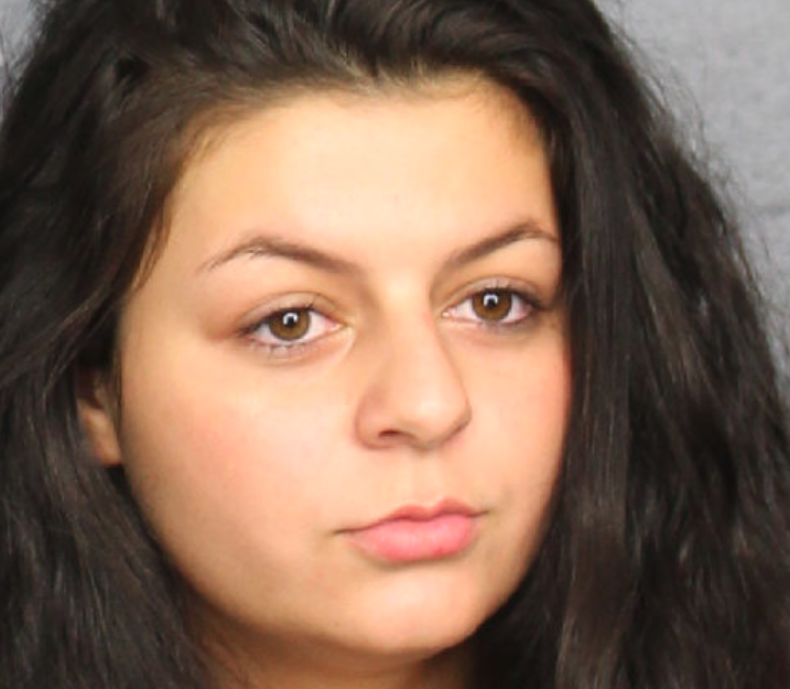 Last month, a Florida woman was arrested by deputies from the Escambia County Sheriff's Office after trying to stab a man with a hooked hunting knife. The suspect was identified as Keriah Renea Giomi, 25.
The male victim told police he exited the bathroom in a Cantonment residence when Giomi approached him without clothing, yelled the word "Jehovah" and attempted to slash him in the stomach.
In May, a Florida woman was charged with aggravated assault after hitting a man with a coconut because he was filming her outside a strip club, police said.