Florida Man Upset About Recent Gun Violence Walks Into a Walmart and Asks for Something That 'Would Kill 200 People'
A man in Florida caused alarm after he walked in a Walmart and asked a sales clerk about purchasing a weapon which would kill a large amount of people.
The man, later identified as Philip Attey, admitted to walking into a Port St. Lucie Walmart and asking for a gun that "would kill 200 people" on August 7 as part of a joke to highlight the "toxic climate" of gun violence in the country.
In a press conference, Port St. Lucie Assistant Police Chief Richard Del Toro confirmed that officers did not arrest the anti-gun activist once they identified him after ruling he did not pose a real threat.
"They have made contact with him at his residence, they have determined him not to be a credible threat to anybody," Del Toro told a press conference, reports CBS12. "He did confirm he is anti-gun, and that he is trying to further this platform."
Despite not pressing any charges, Del Toro still condemned the actions of Attey. "I think we're in a day and age now where you can't take any comment like that lightly."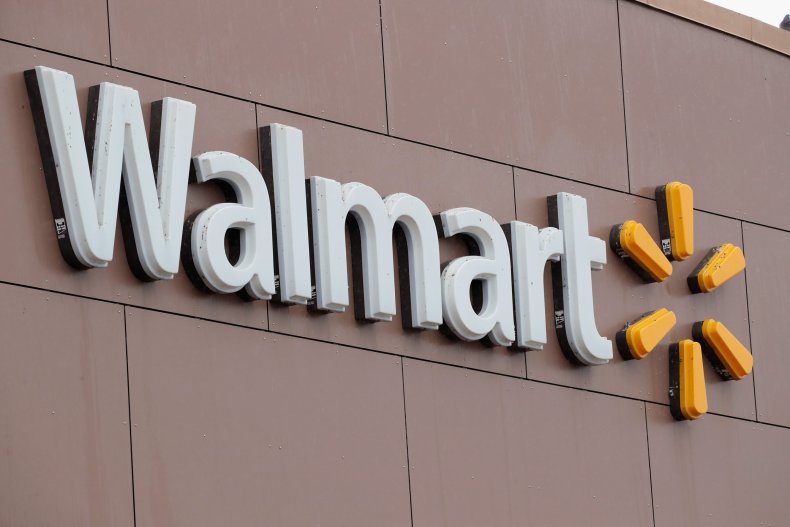 The incident occurred just days after 22 people were killed in a mass shooting at a Walmart store in El Paso, Texas. Two Walmart employees were also killed at a shooting at a store in Southaven, Mississippi on July 30.
Walmart are facing continuing pressure to fully cease the sales of guns in their stores in the wake of more mass shootings in the U.S. One employee even sent a memo to thousands of fellow workers urging them to stage a walkout until the company stops selling guns and ammunition.
"Of all the gun tragedies, this hit the closest to home for a lot of us," Thomas Marshall told CNN in the wake of the El Paso massacre. "I felt like I had to do something or else I would really be complicit in a company that was continuing to sell firearms."
An online petition urging the end of gun sales at Walmart set up in the wake of the El Paso and Southaven shootings has also attracted more than 50,000 signatures.
"We value Walmart and our fellow associates, but we are no longer willing to contribute our labor to a company that profits from the sale of deadly weapons," the change.org petition states.
The graphic below, provided by Statista, illustrates how the pro-gun lobby outspends those calling for gun control.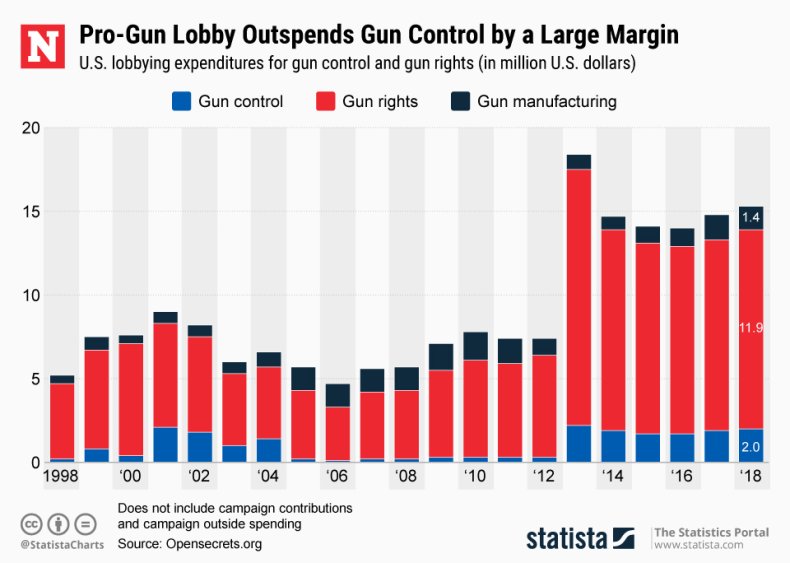 The company previously announced they stopped selling assault-style rifles in their stores, as well as raising the legal age to purchase a firearm from 18 to 21. Despite continuing pressure, Walmart said they have no intention to stop selling guns entirely.
"Our focus has always been on being a responsible seller of firearms," company spokesman Randy Hargrove said in a statement.
Speaking to reports outside him home, Attey said: "What I did last night in Walmart was in poor taste.
"I'm at Walmart a few days after El Paso, and I'm seeing a white nationalist looking guy purchase a gun and I got mad. He knew that what I was doing wasn't an attempt to harm anyone. It was to get them to wake up and think about their role in the gun violence toxic climate that we have."