Florida Mother Passes Away From COVID Shortly After Having Second Child
A young mother in Florida died from COVID-19 on Sunday, a little less than a month after giving birth to her second child.
Greyzie Miller, 31, of Jacksonville gave birth to her daughter, Evie, via an emergency C-section on July 18, a week after being admitted to the hospital with the virus, WJXT reports. Evie was born nine weeks earlier than her original mid-September due date.
"She was 31 years old—31—young, healthy, in great shape, energetic and active," David Miller, Greyzie's husband, told WJXT. "The things we're seeing shared are not just a great photo that a friend took out at dinner or a gathering. It's text messages from other mothers that Greyzie reached out to just to say I have a support system just because I have been going through what you're going through without being reached out to just to let them know that's what she's here for."
David Miller explained that while his wife was unvaccinated, the couple did not take the threat of COVID-19 lightly. She had not gotten a shot yet, he explained, only due to her pregnancy.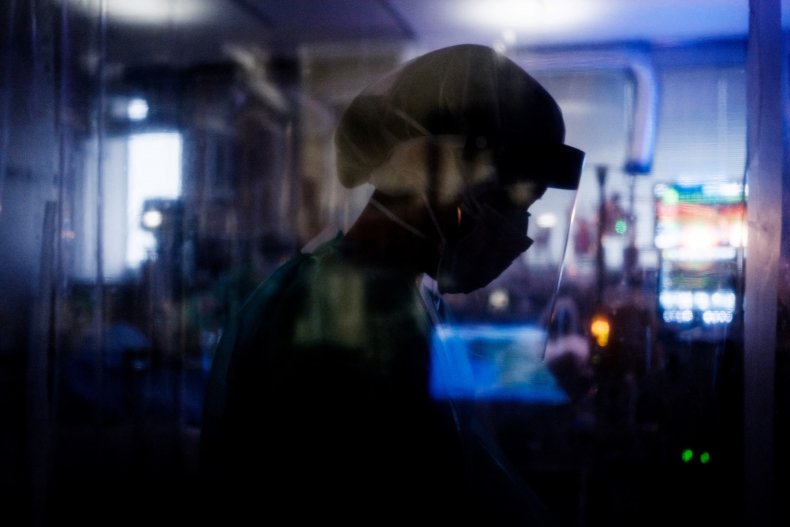 The couple had to make the decision about Greyzie going on a ventilator over FaceTime following the birth of their daughter. She was intubated for 19 days before she passed away.
The family has set up a GoFundMe page for people to help them cover the hospital bills, funeral costs, and the costs of taking care of Evie and the couple's two-year-old son, Silas. So far, it has raised over $43,000 of its $75,000 goal and has been shared over 1,900 times.
"My God, thank you," David Miller wrote in an update on the GoFundMe page. "There's nothing that can replace Greyzie, as my wife or as the mother of my children, but the support that you're providing our family, helping out with, it makes a world of difference. Medical bills aside, finances aside, this gives us the ability to make sure our children are supported properly during this situation whether that's making sure medical bills are covered, having child care if needed to take care of needed [sic], whatever is needed, it's alleviating that pressure and thank you for that."
Miller's story is tragically similar to that of another young mother in Florida who died from COVID shortly after having her first child. Kristen McCullen, 30, of West Melbourne, Florida, died from the virus on August 6, only days after her daughter, Summer Reign, was born. Just like Miller, she was admitted to the hospital for COVID-19 and had her child via an emergency C-section birth. Doctors believed that she had become ill with the more infectious Delta variant.
Wednesday, the Centers for Disease Control and Prevention (CDC) announced that the COVID vaccine showed no increased risk of miscarriage when taken by pregnant people. The CDC urges all pregnant people to get vaccinated.