A Florida woman passed away from COVID-19 on Friday, only a few days after giving birth to her daughter, Fox 5 Atlanta reported. Kristen McMullen, 30, of West Melbourne, Florida, had shown symptoms of the virus around three weeks before her due date and was admitted to the hospital out of fear for her unborn child. Family members described her as "active, healthy, and full of life."
McMullen's initial hospital stay lasted only four days before she was sent home. Less than two days later, she was back, having degraded to the point where she had significant difficulty breathing. Shortly after being readmitted, her husband, Keith McMullen, was called to the hospital while an emergency C-section birth was performed.
McMullen successfully gave birth to her daughter, Summer Reign McMullen, but was only able to hold her briefly before being taken to the Intensive Care Unit. The remainder of her interactions with her child were done virtually through a video chat app. Doctors believe she had been infected with the more virulent Delta variant of COVID-19.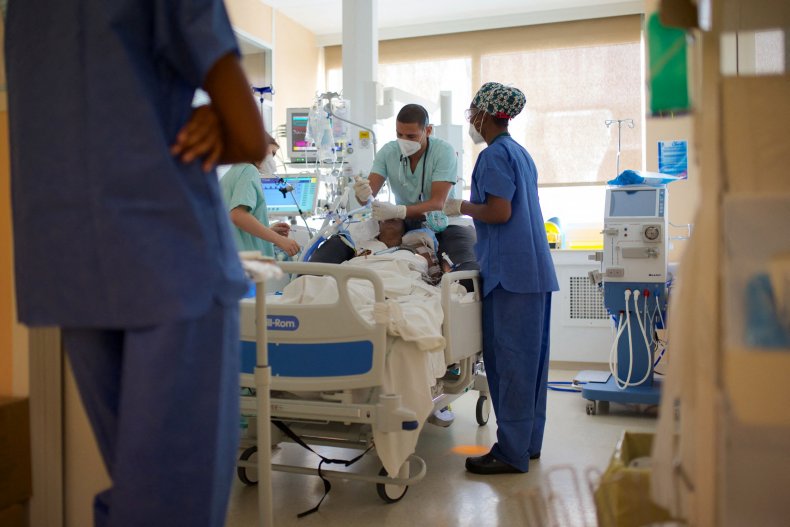 "There are many tragedies that happen like this every day," Melissa and James Syverson, McMullen's aunt and uncle, told Fox 5. "A lot of people have reached out to us saying their family member is in the same situation, but they've actually lost the baby—their sister or friend are fighting for their life."
In the wake of his wife's passing, Keith McMullen has taken up a second job to help support his newborn daughter. The family has also established a GoFundMe page to help raise funds prior to McMullen's death. It is still active and accepting donations to help Keith and Summer McMullen during this tragic time. As of August 10, it has raised just over $24,000 of its $100,000 goal and has been shared over 5,400 times.
"How do you write an update to something that [is] unimaginable? I was hoping I would wake up and the nightmare would be over," Melissa Syverson wrote in an update to the GoFundMe on Saturday.
"Yesterday, Kristen took her last breath" she continued. "A 30 year old bright, beautiful, vivacious girl with the world ahead of her. She leaves behind her husband and best friend Keith and a beautiful one week old baby girl, Summer Reign. The loss of Kristen; wife, mother, granddaughter, niece, aunt, friend, and so much more... is devastating to our family and we can't imagine life without her... We're so thankful for the time we had with her and thank God for the blessing of her little girl that she left behind."
Florida has become the epicenter of the current resurgence of COVID-19 in the U.S., with a death rate higher than 32 other states combined. According to the CDC, the state has seen over 157,000 new cases of the virus in the last seven days.
The West Melbourne area itself was also once in the spotlight for anti-COVID-relief behavior from some residents. In September 2020, the Westside Sports Bar and Lounge announced its intention to throw out any patrons wearing masks at the establishment.
About the writer
Thomas Kika is a Newsweek weekend reporter based in upstate New York. His focus is reporting on crime and national politics. In the past, he has also focused on things like business, technology, and popular culture. Thomas joined Newsweek in 2021 and previously worked at the International Business Times. He is a graduate of the University at Albany. You can get in touch with Thomas by emailing t.kika@newsweek.com. Languages: English.