Florida Reports Highest Daily Increase in Coronavirus Cases Since Outbreak Began
New cases of the novel coronavirus reached a record single-day high in Florida on Thursday, according to state's Department of Health.
Its latest update, which confirmed 1,698 additional cases diagnosed over the last 24 hours, followed more than one week of reports that show rising numbers. Outside of Monday's virus update--which identified 966 additional cases--Florida's health authorities have confirmed at least 1,000 new positive tests every day since June 3.
Thursday's increase came one week after the Department of Health reported the state's previous single-day high of 1,419 additional cases--the same number it confirmed on April 17--during the peak of the United States' virus outbreak. Florida has now confirmed close to 8,900 new cases over the last seven days, with a weekly average of 1,269 diagnoses per day, its highest to date.
A University of South Florida public health expert suggested higher case counts reported since the start of June were related to recent reopening procedures during an interview with WTVT (Fox 13) Tampa Bay earlier this week, saying the latest data should serve as a "wake-up call" that encourages continued mitigation efforts. Florida began to reopen businesses and public areas last month, and Governor Ron DeSantis permitted bars, movie theaters and amusement parks in more than 50 counties to resume customer services last Friday.
In comments to Newsweek on Thursday, a spokesperson from the Florida DOH pointed to the state's expanded capacity for diagnostic testing as an explanation for the surge in numbers.
"Florida is actively searching for residents who may test positive for this virus," the spokesperson said, adding that new testing sites were established across the state last week.
According to the department's daily reports, Florida has administered almost 300,000 tests for the novel virus since June 1. Overall, the state has tested more than 1.3 million people since the start of the pandemic as of Thursday, denoting a case positivity ratio of about 5.3 percent. Addressing the upward trend in new diagnosis, the DOH spokesperson said recent spikes in positive cases "should not be viewed in a vacuum," given health officials' heightened efforts to test and trace virus infections.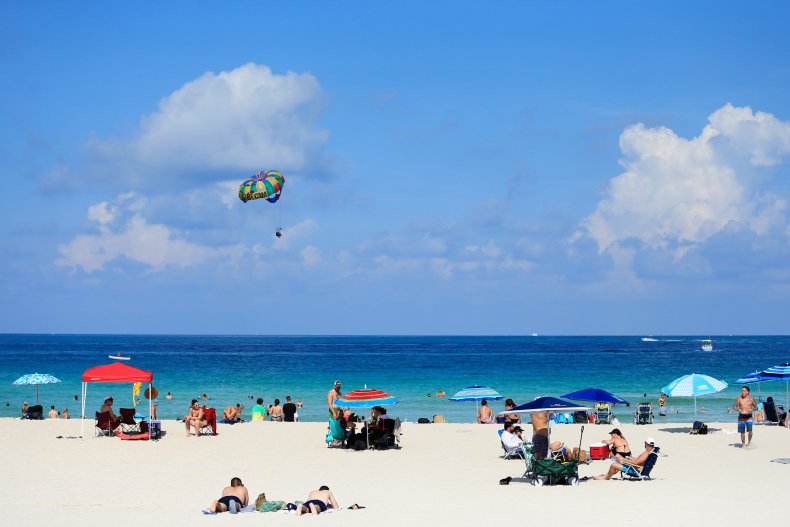 As a result, the spokesperson said DOH anticipates individuals will test positive for the virus in higher numbers, which could be beneficial in terms of early patient treatment and authorities' ability to manage the illness' further spread. They also noted that daily fatality counts decreased this week, while the number of available intensive care unit beds and ventilators remained steady.
"This could mean that individuals who are testing positive for COVID do not have underlying health issues, and/or we are getting better at treating this disease," the spokesperson continued.
Florida has reported the United States' eighth-highest incidence of positive cases throughout the pandemic, according to Johns Hopkins University's tracker. Overall, more than 69,069 people in the state have contracted the illness as of Thursday, and 2,848 have died as a result.
Newsweek reached out to DeSantis' office for comments regarding Thursday's virus figures, but did not receive replies in time for publication.