Florida Republicans Send Dire Warning to Party—Change Immigration Policy or GOP Will Die
Florida's prominent Republicans warn that without a major change in immigration policy, GOP wins may be a thing of the past. And it is anything but a lightly veiled message to Senator Rick Scott.
Those with ties to Florida's immigration business community who have long supported Republicans said they are furious with Scott, one of the Sunshine State's newest members of Congress, and the Republican Party's refusal to support legislation that would make inroads with Latino voters just months before a major election.
Instead, they said, they want Scott and other GOP lawmakers to take a cue from Florida's other Republican senator: Marco Rubio.
"The party needs to understand what America will look like in 10 to 20 years and stay relevant," said former Florida Republican Party Chairman Al Cárdenas, a Cuban-American. "I don't think we're doing a good job on policy, tone, content and inclusiveness."
So far, the Republican operatives say their forewarnings have fallen on deaf ears.
John Rowe, chairman emeritus of Exelon Corporation and a longtime GOP donor, was more blunt about what's at stake.
"The Republican Party has no future in Florida unless it starts reaching out more definitively to Latino groups and other immigrant groups," Rowe said. "There's a real disconnect between hardened conservative voters and the economic needs of the state."
Cárdenas, Rowe and other board members of the American Business Immigration Coalition's Florida chapter, IMPAC Fund, told Newsweek that absent reform on immigration issues, they fear Republicans in Florida will soon be dead in the water.
The son of Cuban immigrants and a Miami resident, Rubio's approach to immigration is not just compassionate, argued Rowe and others, but it also makes sound economic sense.
Rubio has pushed GOP leaders in the Senate—so far unsuccessfully—to get behind his legislation to make U.S. citizens in mixed-status families, where a spouse is undocumented, eligible for the $1,200 individual stimulus checks. There are an estimated 228,000 American citizens in Florida and a total of 1.7 million nationwide who could benefit from Rubio's bill, according to the National Immigration Forum.
But with stimulus negotiations stalled in Congress, more aid for Americans from lawmakers appears unlikely.
"Rick Scott has had his soul surgically removed," said former Carnival Cruise Line CEO Bob Dickinson. He stopped donating to the Republican Party with Trump's rise to power. "They're all whistling his tune. And they don't apologize for it... I worship the quicksand [Trump] walks in."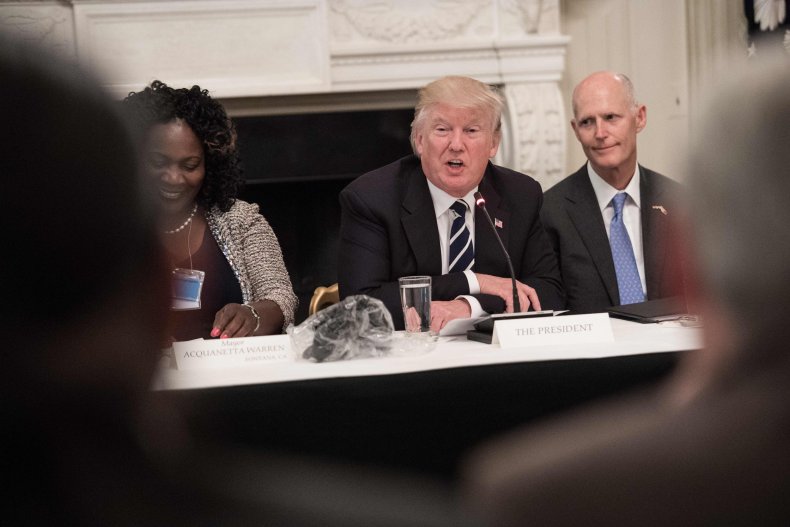 Scott has so far declined to offer specifics about what remedy he could support for mixed-status families.
In a statement to Newsweek, Scott press secretary Sarah Schwirian said it's "disturbing" that U.S. citizens in those families were excluded from stimulus checks under the CARES Act and that Scott "is looking at every option to make sure American families and businesses are directly getting the help they need."
Cárdenas suggested that Scott not officially backing Rubio's bill is because of his philosophical beliefs that align more closely with his conservative colleagues who are weary of more pandemic-related spending.
Last month, Rubio suggested his proposal was commonsense policy. "It is the right thing to do," Rubio told Newsweek at the time. "What's the remedy, you divorce them?"
Similar alarms about the GOP's future viability in the state have been raised in the past, given the demographic trend that suggests the South Florida regions large Latino population could help tip the state toward Democrats. Still, Florida Republicans continue to triumph as more elderly residents help offset the growing minority population, even if the margins of victory are razor-thin. In 2018, Ron DeSantis defeated Democrat Andrew Gillum to become governor and Scott unseated Senator Bill Nelson, a Democrat.
The wins were major victories for Republicans, given Democrats' dominance at the ballot box in countless other states. But the victory margins for DeSantis and Scott—0.8 percent and 0.2 percent, respectively—would have been far greater if Republicans deployed better outreach tactics to immigrant communities, Rowe said. And Republicans lost important congressional seats in South Florida that were already represented by Republican Latinos but were flipped by Democrats Donna Shalala and Debbie Mucarsel-Powell.
"As I see them turn their back on future voters, they're in fact turning their backs on the party," said Mike Fernandez, a Florida health care executive and who, like Rowe, Dickinson and Cárdenas, helps lead the American Business Immigration Coalition's Florida chapter. Fernandez is a Republican-turned-Independent and a former prolific donor to Scott's political campaigns. Federal Election Commission records show he wrote a $2,800 check for Democrat Joe Biden's presidential campaign in April.
"This issue is one of discrimination," Fernandez added of immigrant issues and Scott's muteness. "The party today is very short-sighted."
Florida is also a key presidential battleground state, often acting as an unofficial election forecaster. The 1992 election against George H. W. Bush and Bill Clinton was the last time a presidential candidate—Bush—won the state but lost the general election to their opponent—Clinton.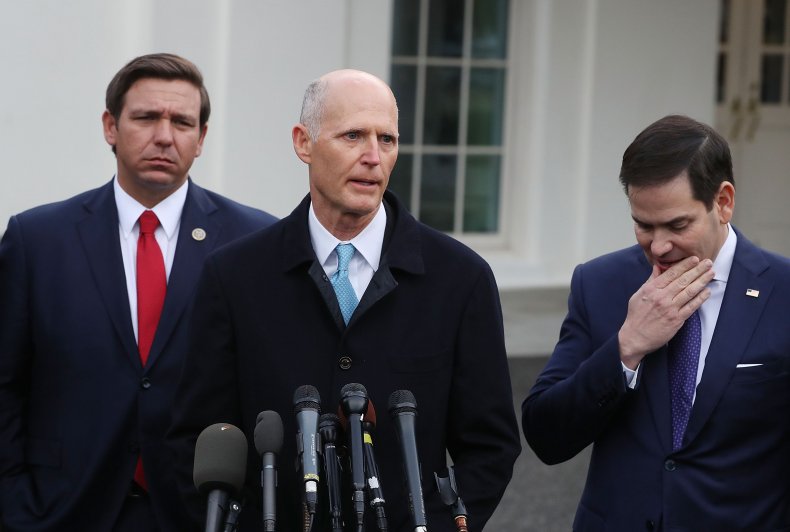 Rowe has made his pitch for a more inclusive GOP to many of the party's most prominent members whom he hopes will listen: Senate Majority Leader Mitch McConnell (Ky.), Senators Lindsey Graham (S.C.), John Cornyn (Texas), Cory Gardner (Col.) and Susan Collins (Maine), former House Speaker Paul Ryan (Wis.) and House Minority Leader Kevin McCarthy (Calif.).
As of Tuesday, Collins and Cornyn were among the half-dozen GOP senators who have endorsed Rubio's bill. The other four were Senators Thom Tillis (N.C.), Bill Cassidy (La.), Lisa Murkowski (Alaska) and Martha McSally (Ariz.).
Still, the party's official position has not gotten any closer to backing the inclusion of mixed-status families. And Democrats want future relief measures to go one step further by making tax-paying undocumented immigrants eligible for individual checks, not just the U.S. citizen spouses to which they might be married to.
Whether Trump shoulders at least some of the blame for the GOP's continued hardline immigration stance depends on who you ask.
"I think it's solely on Trump. I never saw any sense of divisiveness [from Scott as governor]," Dickinson said, who added he has not recently spoken with Scott. "Now, he's following the Trump path as he sort of perceives it...It's just dog whistles to the far-right."
Rowe feels otherwise. He said while Trump "makes it so much harder," the party should not get a pass just because of the president's rhetoric.
"Trump was tapping into a deep concern among Republican primary voters," Rowe said. "This is a problem I see all the time in Washington: Democrats going further left, Republicans further right and the constructive center gets smaller and smaller."
This story was updated to include a statement from Sen. Scott's office.