Florida Senator Rick Scott Urges States to Send 'Wasteful' COVID Relief Back to Congress
Republican Senator Rick Scott of Florida called on states to send "wasteful" funds from President Joe Biden's $1.9 trillion coronavirus stimulus plan back to Congress on Wednesday.
In an open letter sent to governors and mayors after the House of Representatives approved the $1.9 trillion stimulus bill, Scott called the legislation "massive, wasteful and non-targeted."
He then urged states to send a message to Congress to "quit recklessly spending other people's money."
"By rejecting and returning any unneeded funds, as well as funds unrelated to COVID-19, you would be taking responsible action to avoid wasting scarce tax dollars," Scott wrote in the letter. "After all every dollar in this package is borrowed."
Scott then called his request "simple and common sense," adding that the money going to state and local governments is "wholly unrelated to responding to the pandemic."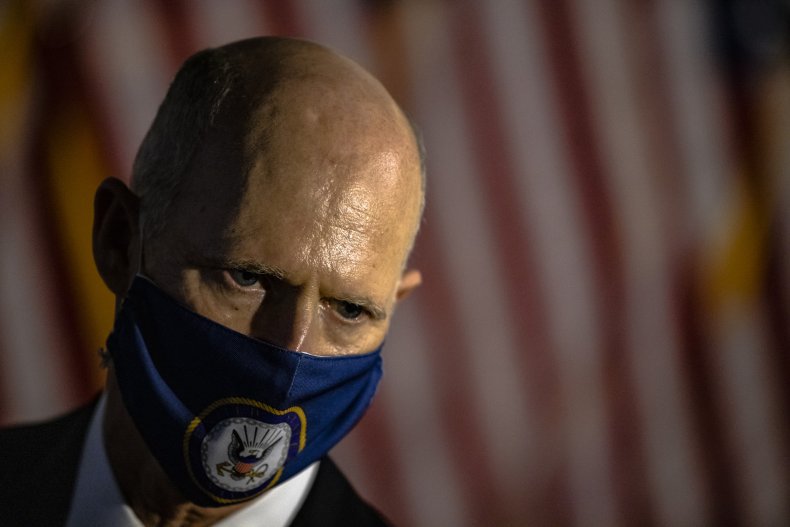 While Scott urged state governors and mayors to send the funds back to Congress, Florida Governor Ron DeSantis announced that he had plans for the stimulus money. DeSantis also blamed Congress for not giving Florida more of the funds.
"The Senate didn't correct the fact that Florida is getting a lot less than what we would be entitled to on a per capita basis," DeSantis said at a press conference on Monday.
He criticized the fact that the stimulus money is distributed to the states based on factors such as unemployment rates rather than the area's population. According to DeSantis, this means that Florida will be "penalized" for having lower rates of unemployment.
DeSantis also shared his plan to use the money for the Resilient Florida Plan, an effort to combat the effects of climate change such as rising sea levels and flooding in the state.
The House of Representatives passed an amended version of Biden's American Rescue Plan on Wednesday, and the president is expected to sign the legislation on Friday.
The legislation includes $1,400 stimulus payments for individuals making less than $75,000 a year, an increase in the child tax credit and direct funding to state and local governments—as well as hundreds of billions of dollars for school reopenings, aid to small businesses and coronavirus vaccine rollouts.
States and cities are slated to receive a collective $350 billion from the package. This was a point of contention for Republicans, who opposed such funding, suggesting the move was a "bailout" for Democrats-run areas that they claimed had been run poorly amid the coronavirus pandemic.
A representative from Scott's office told Newsweek that he had no further comments at this time.
Update: This story has been updated with note from the representative of Scott.