Florida Student-Athletes Are Now Being Asked to Report Their Periods Online
A registration form for Florida's student-athletes is raising alarm among parents and doctors, as the menstrual history of female athletes is now being stored online—in a state with a 15-week abortion ban.
The annual physical form is not new, nor are its questions about menstruation. For two decades, female students in Florida have reported when they got their first period, how many weeks have passed between periods and when they had their last period, among other questions. They submitted these answers together with other medical questions on written pieces of paper.
But when some of Florida's school districts moved the form to a digital third party called Aktivate this school year, some families and doctors were alarmed.
Dr. Chris Koutures, a pediatrician who served on the committee that wrote the national medical eligibility form, told Newsweek there is a good reason for questions about menstrual history. The regularity of a student's period serves as a marker for bone health and energy levels.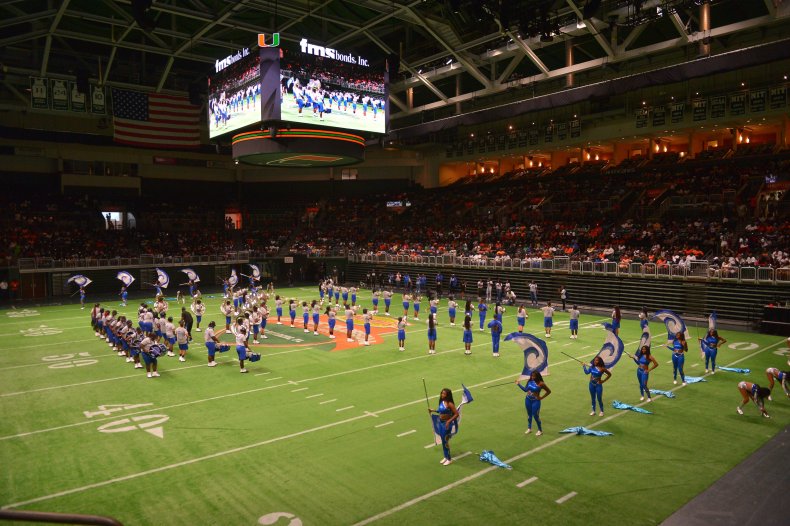 Still, he said the American Academy of Pediatrics did not intend for this information to be shared and stored with school districts—only with specific medical staff.
"We have a whole booklet that accompanies the form and there's a huge discussion of privacy," he said. "It should not go to the school."
But states and school districts often modify the national form. Florida's form was created by the Florida High School Athletic Association (FHSAA), which told Newsweek that schools retain medical history for the event of a student's illness or injury.
SUBSCRIBE TO THE PARTING SHOT WITH H. ALAN SCOTT
ON APPLE PODCASTS OR SPOTIFY
Reproductive Privacy After Roe v. Wade
Koutures also acknowledged that the overturning of Roe v. Wade in June has changed how families view these medical forms.
"Obviously the current political climate is so different than when we wrote this up. When people don't understand the rationale, they may get very nervous and rightfully so," he said.
The fall of Roe v. Wade shifted the ground under women and girls who record data about their periods. In the aftermath of the Supreme Court's Dobbs v. Jackson Women's Health Organization decision, abortion rights activists urged women to delete their period-tracking apps and social media messages about their reproductive health.
Their fears materialized in August when Nebraska police used Facebook messages to charge 41-year-old Jessica Burgess and her daughter Celeste Burgess over an abortion. The mother allegedly procured and gave abortion pills to her then-17-year-old daughter.
The Family Educational Rights and Privacy Act (FERPA) requires schools to obtain permission from a parent or student to release personally identifiable information. However, the law also says that "non-censual disclosures" can be made to comply with a subpoena.
Florida Governor Ron DeSantis enacted a 15-week abortion ban in April, without exceptions for pregnancies resulting from rape, incest or human trafficking. The law is being challenged by abortion providers.
Outcry From Families
When the School District of Palm Beach County announced it was moving all its health forms online, parents were worried. They raised their anxieties in a school board meeting on August 17.
"I feel you're coercing parents into an agreement with a third-party vendor whose terms and policies I do not agree with," said parent Yvette Avila, according to the Palm Beach Post. "Your policy violates my child's personal medical data [privacy] and I do not agree nor consent. You're forcing the relinquishing of parental rights over my children."
After this meeting, the district gave families of student-athletes the option to continue filling out paper forms. All of the forms, whether paper or digital, are subject to subpoena.
"Although the question regarding menstruation is optional, our District has recently inquired about having this question removed," a spokesperson for the School District of Palm Beach County told Newsweek. "The District will continue to explore other options, such as lobbying for revisions to this form and/or limiting the information provided to schools to solely the physician's approval or disapproval of the student athlete's medical clearance."