Police have questioned a man who is alleged to have pulled a gun on another shopper in a Florida Walmart over an argument about wearing masks.
The Palm Beach County Sheriff's Office had requested the public's help in identifying the suspect seen in surveillance footage arguing with another man at the Walmart in Royal Palm Beach on Sunday, July 12.
The suspect, who was not wearing a mask at the time, was seen pushing another male in a wheelchair inside the store, who was holding a red neckerchief over his face.
The suspect was then approached by a masked man and an argument broke out. During the dispute, the suspect makes an obscene gesture towards the masked man before pulling a handgun from his waistband and threatening to kill him, the Sun-Sentinel reported.
The footage shows a young girl reaching for the masked man's hand to pull him away while another man in a mask steps in to intervene.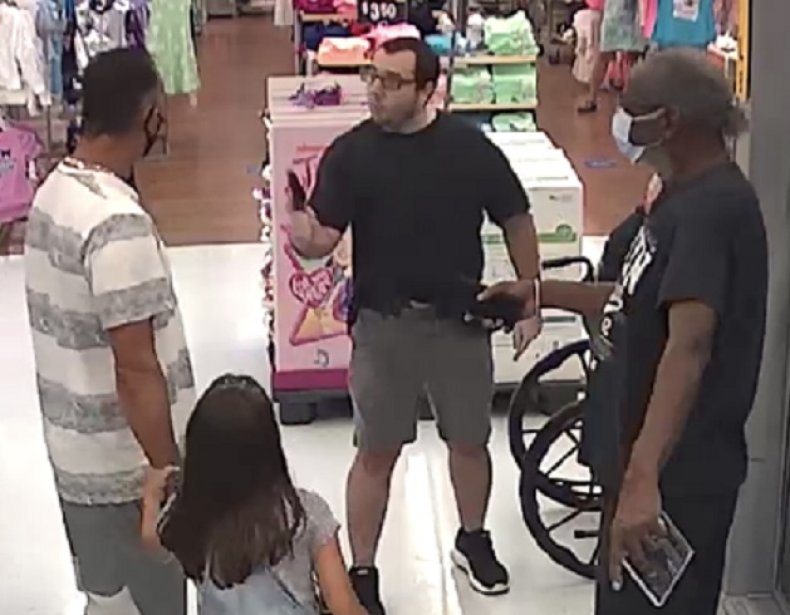 "You think you're big and bad because you pull out a gun?" the Palm Beach County Sheriff's Office posted on social media.
"PalmBeachCounty, we need your help to find this individual wanted for Assault with a Firearm at a local Walmart in Royal Palm Beach. He left the store in a white Chevy Equinox. This took place on July 12, 2020."
Police said they have now identified the gun-wielding man in the surveillance video.
"The suspect has been identified and is cooperating with the investigation," sheriff's spokeswoman Teri Barbera, told the Sun-Sentinel. "The investigation is still open and active."
Police also thanked the public for their help on social media after identifying the suspect.
Detectives have not revealed the suspect's name or confirmed the charges he is facing.
The Palm Beach County Sheriff's Office has been contacted for further comment.
The incident occurred as Walmart confirmed that they will be requiring all shoppers to wear a face covering inside their stores from Monday, July 20.
"While we're certainly not the first business to require face coverings, we know this is a simple step everyone can take for their safety and the safety of others in our facilities," Walmart said in a statement.
"According to the CDC, face coverings help decrease the spread of COVID-19, and because the virus can be spread by people who don't have symptoms and don't know they are infected, it's critically important for everyone to wear a face covering in public and social distance."