Florida Alone Just Exceeded the Entire U.K. in Confirmed Coronavirus Cases
Health officials in Florida reported on Wednesday that more than 10,000 additional residents had tested positive for the coronavirus in the past 24 hours, bringing the state's total to 301,810.
The state now has more virus cases than the 291,911 reported in the entire United Kingdom, a statistic only two other U.S. states—California and New York—reached in mid-July. Though the states' case numbers are higher, their combined number of virus deaths is still thousands below that in the U.K., which had reported 45,053 deaths as of Wednesday.
According to data compiled by Johns Hopkins University, the number of cases in Florida also exceeds those in all countries except Brazil, India, Russia, Peru, Chile and Mexico. The U.S. has more virus cases than any other country in the world, with more than 3.4 million reported by Wednesday.
Florida surpassed 300,000 total cases just one day after recording its highest number of COVID-19 deaths in a single day, with more than 4,500 deaths reported statewide by Wednesday. State health officials over the past several weeks have reported thousands of new cases every day. Officials added a record 15,300 new cases to the state's tally this past Sunday, which broke a record New York set in April for the most new cases a single state reported in one day.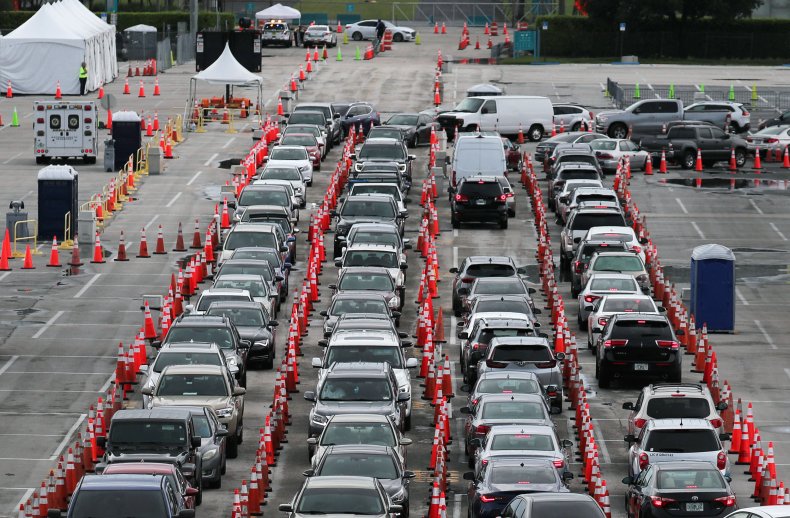 Florida was one of the first states to reopen after the pandemic triggered economic shutdowns across the country in the spring. Dr. Anthony Fauci, the director of the National Institute of Allergy and Infectious Diseases and a member of the White House's coronavirus task force, identified Florida as one of the states that did not meet all of the federal government's guidelines for safely reopening before lifting its restrictions in early May. But the state's Republican governor, Ron DeSantis, pushed back against Fauci's criticism last week, saying there was "really no justification to not move forward."
The state's Department of Business and Professional Regulation ordered all bars to stop selling alcohol on June 26 to discourage Floridians from congregating in settings where social distancing was difficult to maintain, and some of the state's mayors introduced mask mandates in efforts to prevent further spread of the virus. But DeSantis repeatedly defended the state's path to reopening, despite criticism from hecklers at news conferences and calls from government officials in Miami-Dade County, where the virus is currently booming, to change tactics.
"We have to create a greater sense of urgency," Miami Beach Mayor Dan Gelber told DeSantis during a public roundtable meeting on Tuesday. The inconsistency of the federal government's messaging about the pandemic and the threats it poses to Americans was further complicating the state's efforts to manage the virus' spread at the local level, Gelber said. He also emphasized the importance of wearing masks, which Miami Beach mandated last month, and contact tracing.
"I feel as though we need an enormous army of contact tracers right now," Gelber said, adding that he wanted the counties and cities to have more power in deciding how their leaders respond to the pandemic.
Newsweek reached out to DeSantis' office for comment but did not receive a response in time for publication.