Florida's coronavirus cases have jumped in the state's highest daily count since early March, as spring break crowds continue to flood the state's beaches, streets and bars.
Cases have jumped by 630 in the past day alone, according to data from the Florida Department of Health and The New York Times. On Thursday, the state reported 5,773 new cases, up from 5,143 the day before.
The number of coronavirus-related deaths has risen slightly too, with 107 deaths reported on Thursday, according to the South Florida Sun Sentinel. That number comes after weeks of the state reporting fewer than 100 fatalities per day, and after just 30 new deaths were reported a day earlier.
New cases were reported in each of Florida's major metropolitan areas: Miami, Tampa and Florida. Additional data has shown that in each city, cases have begun to rise particularly among younger people aged 25 to 49.
In Miami-Dade County, one of the state's most popular destinations for spring break travelers, the testing positivity rate is 5.48 percent. Public health experts have warned that the virus is not considered under control unless the positivity rate is below 5 percent, according to the Sun Sentinel.
The county, which is the worst hit area in the state, reported 1,252 additional cases and 16 new deaths on Thursday.
Overall, Florida ranks third out of the states with the highest number of reported coronavirus cases, according to the Times. Over 2 million people have contracted the virus in Florida, and 32,849 have died since the start of the pandemic.
The new rise in cases is happening amid a surge in tourism across the state, where coronavirus restrictions are nearly nonexistent. Governor Ron DeSantis, a Republican, was one of the first state leaders to reopen bars, restaurants and beaches at full capacity in September. Early in the pandemic, DeSantis also refused to implement a statewide mask mandate and instead said he preferred to let city leaders decide whether to implement mandates locally.
But even in places where local leaders have required face coverings, such as Miami Beach, spring break tourists have largely been seen ignoring the rule. For weeks, the state has been flooded with thousands of unmasked tourists packed into large crowds.
In the past week alone, over 1,000 arrests have been made in Miami Beach, with partygoers engaging in unruly behavior. Half of those arrested had come from out of state, and there were 42 felony charges and 100 confiscated guns, Miami Beach police said.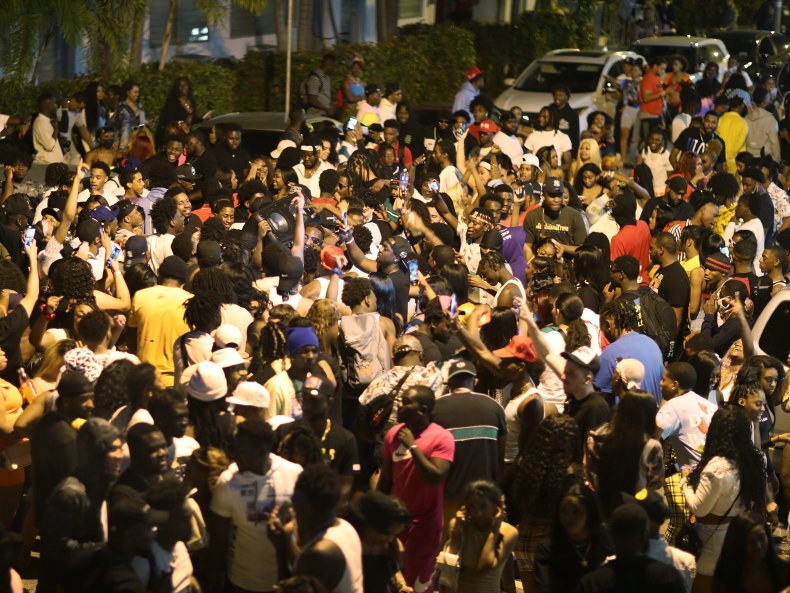 Miami Beach responded to the spring break problems by imposing an 8 p.m. curfew in its entertainment district, as well as other "emergency measures."
"Too many are coming, really, without the intention of following the rules, and the result has been a level of chaos and disorder that is just something more than we can endure," Miami Beach Mayor Dan Gelber told CNN this week.

Despite the increase in new virus cases, DeSantis said earlier this month that Florida would never reenter lockdown.
"To even contemplate doing any kind of lockdown, honestly it's insane, so that's not going to happen in the state of Florida," he said on March 12. "We like the fact that people have been able to work here...so we're going to continue doing what works, but under no circumstances would we entertain doing anything of the sort."
The new numbers come as Florida announced Thursday that it will expand vaccine access to all adults by April 5. So far, 24 percent of the state's residents have received at least one dose of a vaccine, while 13.4 percent have been fully vaccinated, according to a Times database.
"We have made great progress, and I look forward to continuing to work hard to make sure everyone in Florida who wants a shot can get a shot," DeSantis said Thursday.
Newsweek reached out to the Florida Department of Health and DeSantis for additional comments but did not hear back in time for publication.