Spring Break Photos Show Huge Maskless Crowds Partying in Florida
Maskless crowds of spring breakers have been photographed in Miami Beach, Fort Lauderdale and Panama City Beach in Florida.
Several groups are seen socialising in close proximity on beaches and packed bars despite the COVID-19 pandemic, in the Getty images shown below.
A video shared by ABC News also showed crowds of people without face coverings outside busy bars in Fort Lauderdale amid spring break celebrations.
A crowd of topless men at a beach in Fort Lauderdale was captured throwing a "college athlete" wearing a bikini up in the air. In Miami Beach, several posed for pictures along the coast, while groups of people were also seen at a bar on March 5, according to images from Reuters.
In Panama City Beach, one beachgoer was captured lying on a hammock as the sun went down, while a group of young men was seen at a pier around sunset on March 7, according to Reuters.
Police presence has been ramped up in Miami Beach, where Mayor Dan Gelber told CBS This Morning: "If you're coming here to get crazy, go somewhere else. You're going to be arrested."
Miami Beach's city manager, Raul J. Aguila, said last month: "We have zero tolerance for street fights, theft of any kind and illegal drug use. That simply puts our visitors and residents at risk of serious injury, or worse. If you plan to vacation on Miami Beach, do so responsibly or be arrested."
From late February, enhanced safety measures were imposed in Miami Beach in anticipation of the spring break crowds. They include capacity limits on public beaches as well as some streets and a ban on "all direct or indirect consumption of alcohol" on public beaches, the city government said.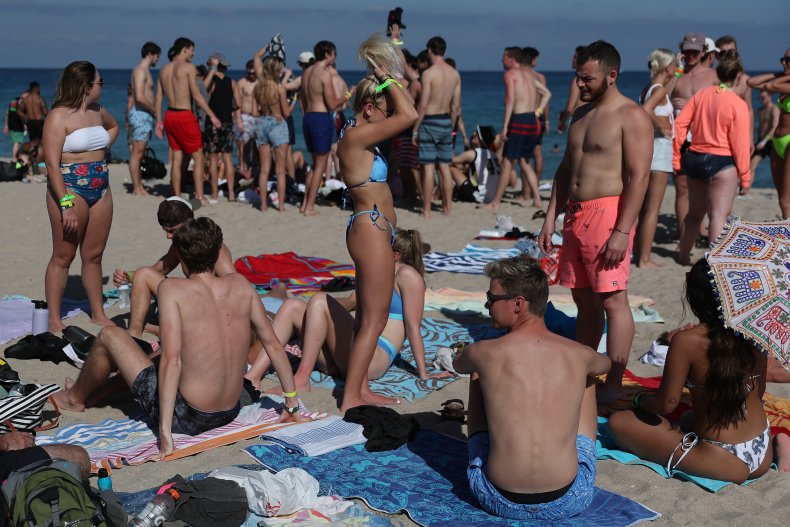 "A countywide curfew remains in place from 12 a.m. to 6 a.m. in response to the COVID-19 public health emergency. All package liquor sales will cease citywide in Miami Beach after 10 p.m. and after 8 p.m. in the ADCD [Art Deco Cultural District]," it added.
These measures will be in place throughout the "high impact period" until April 12.
On Monday, the U.S. Centers for Disease Control and Prevention (CDC) warned that spring break crowds could lead to another rise in infections.
During a White House briefing, CDC Director Dr. Rochelle Walensky said: "Every time there's a surge in travel, we have a surge in cases in this country."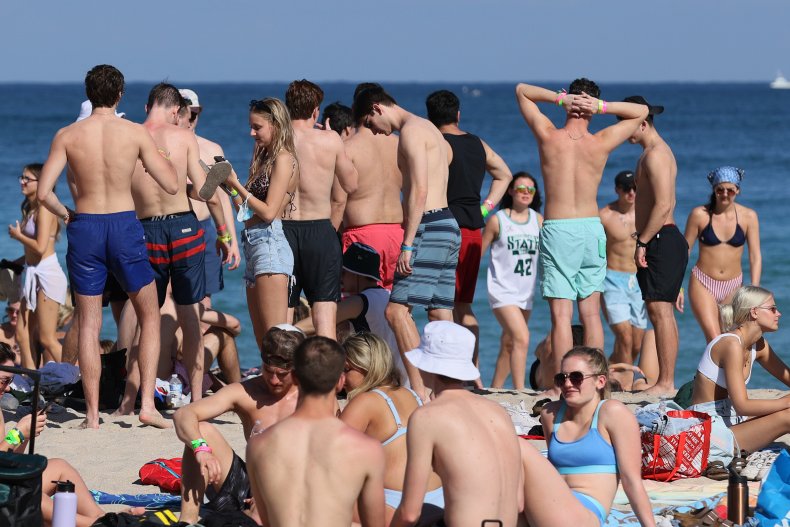 Gelber said: "We are worried that there's going to be a convergence of people here and a real problem in the aftermath.
"It's really the bars and those other kinds of gatherings that might become the types of super-spreaders that I think we saw a year ago," he added.
Florida does not have a statewide mask mandate, but local orders are in effect in Miami-Dade, Broward (whose county seat is Fort Lauderdale) and Orange counties.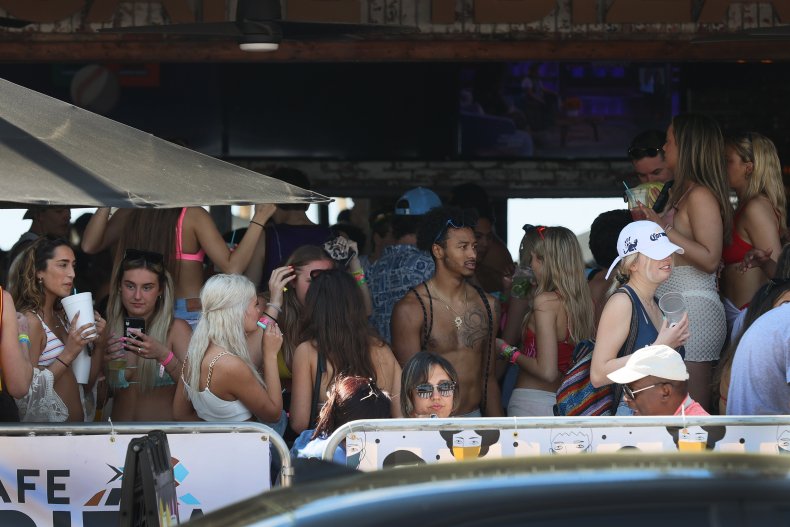 Last September, Florida Gov. Ron DeSantis issued an executive order barring individuals from being fined for not wearing masks. He also lifted restrictions on businesses including restaurants, which may operate at 50 percent capacity.
"Every business has the right to operate," DeSantis said at the time. "Some of the locals can do reasonable regulations. But you can't just say no."
Florida's seven-day average of new cases decreased from mid-January, while the seven-day average of deaths also declined from late January, according to Worldometer data.
More than 5.9 million COVID-19 vaccine doses have been administered across the state as of Tuesday, said the CDC.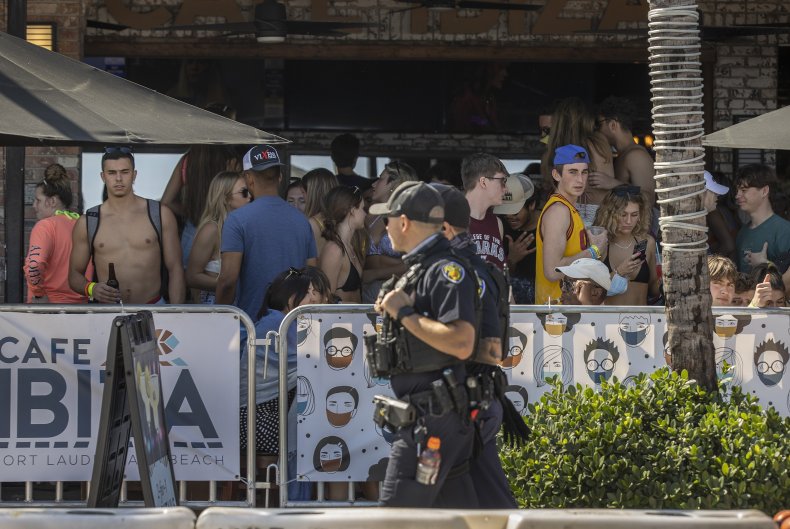 Walensky said last month: "The continued proliferation of variants remains a great concern and is a threat that could reverse the recent positive trends that we are seeing.
"Please continue to wear a mask and stay 6 feet apart from people you don't live with. Avoid travel, crowds and poorly ventilated spaces and get vaccinated when it's available to you."
The CDC website warned in February: "COVID-19 cases, hospitalizations and deaths are extremely high across the United States.
"Travel increases your chance of getting and spreading COVID-19. CDC recommends that you do not travel at this time. Delay travel and stay home to protect yourself and others from COVID-19."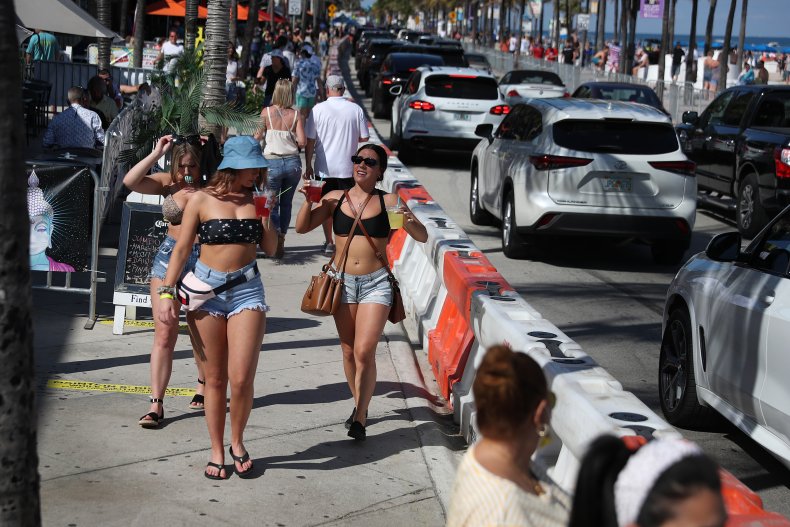 The wider picture
Coronavirus has infected more than 117.7 million people, including over 29 million in the U.S., since it was first reported in Wuhan, China.
More than 2.6 million people have died worldwide and more than 66.7 million have recovered as of Wednesday, according to Johns Hopkins University.
The graphic below, produced by Statista, illustrates the spread of COVID-19 cases in the U.S.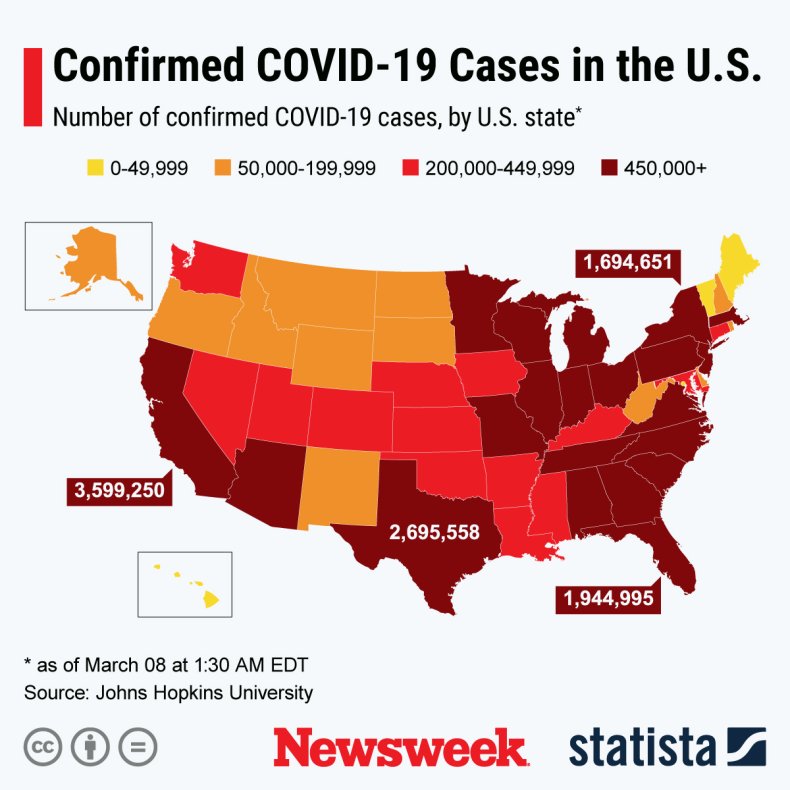 The graphic below, produced by Statista, illustrates countries with the most COVID-19 vaccine doses administered per 100,000 people.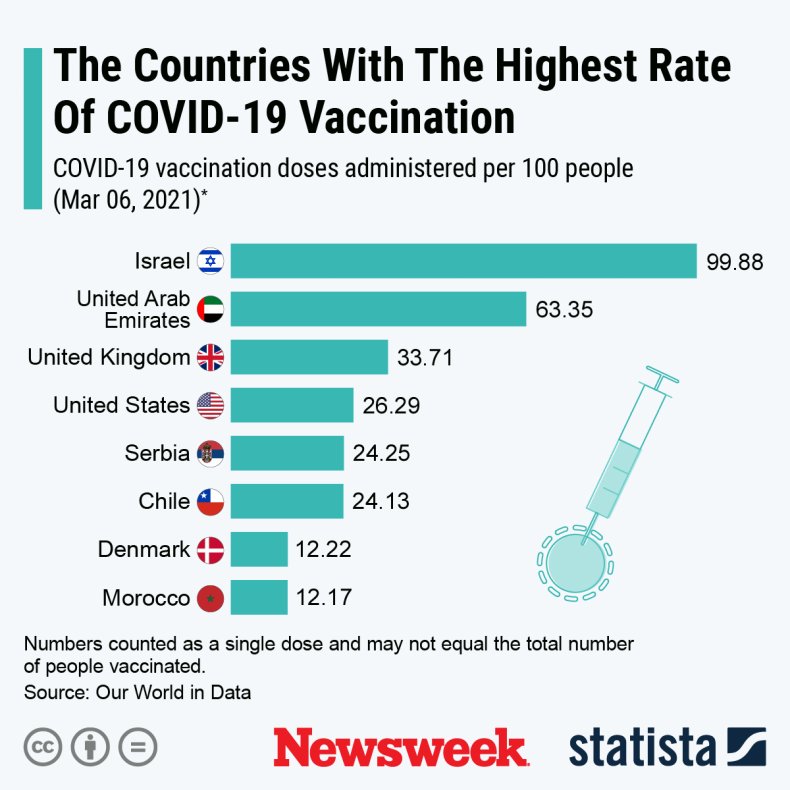 Newsweek, in partnership with NewsGuard, is dedicated to providing accurate and verifiable vaccine and health information. With NewsGuard's HealthGuard browser extension, users can verify if a website is a trustworthy source of health information. Visit the Newsweek VaxFacts website to learn more and to download the HealthGuard browser extension.