With students arriving in Florida for spring break amid the ongoing COVID-19 pandemic, the U.S. Centers for Disease Control and Prevention (CDC) and city officials fear the crowds could become "super-spreaders," causing a spike in cases.
CDC Director Dr. Rochelle Walensky warned: "Every time there's a surge in travel, we have a surge in cases in this country," at a White House press briefing Monday.
"We are really trying to restrain travel at this current period of time, and we're hopeful that our next set of guidance will have more science around what vaccinated people can do," she added.
Miami Beach Mayor Dan Gelber said: "We are worried that there's going to be a convergence of people here and a real problem in the aftermath.
"It's really the bars and those other kinds of gatherings that might become the types of super-spreaders that I think we saw a year ago," he added.
Dr. Ron Elfenbein told CBS News on Monday: "It's kind of like the perfect storm—you're going to have a mix of alcohol, young kids and a potentially deadly virus that don't all mix well.
"The problem is that there is this variant we have been talking about sometimes, this B.1.1.7 variant, the U.K. variant, that is 50-60 percent more infectious than the 'usual' variant we have been talking about for so long.
"There is so much fatigue and people are so happy. You see on Facebook everyone is posting, 'I got my shot!' They are super excited — and rightly so. But it is not a get-out-of-jail-free card," Elfenbein warned. "Everybody just has to wait until everyone else has been vaccinated."
A Journal of Urban Economics study published on the Social Science Resource Network last November said: "Estimates imply that counties with more early spring break students had a higher growth rate of cases than counties with fewer early spring break students.
"The increase in case growth rates peaked two weeks after spring break. Effects are larger for universities with students more likely to travel through airports, to New York City, and to popular Florida destinations," the study noted.
There is no statewide mask mandate in Florida but local mask requirements are in place in some areas, such as in Miami-Dade County, Broward County (whose county seat is Fort Lauderdale) and Orange County (home to the Disney World theme park).
In late September, Florida Gov. Ron DeSantis issued a new executive order barring any individuals from being fined for not wearing masks and lifted restrictions on all businesses, including restaurants, which may operate at 50 percent capacity.
"Every business has the right to operate," DeSantis said at a news conference at the time. "Some of the locals can do reasonable regulations. But you can't just say no."
Maskless crowds of spring breakers have already been pictured in Miami Beach, Fort Lauderdale and Panama City.
Raul Aguila, Miami Beach's city manager, said during a city council meeting earlier this month: "If you are coming here with an anything-goes party attitude, change your flight reservation now and go to Vegas. Miami Beach is not going to tolerate anarchy."
Florida currently has the country's third-highest number of confirmed cases. The state's total case tally is approaching two million, with 31,889 total reported deaths as of Wednesday, according to Johns Hopkins University.
The state's seven-day average of cases declined from mid-January, while the seven-day average of deaths dropped from late January, according to data compiled by Worldometer.
A total of 5,961,421 COVID-19 vaccine doses have been administered across the state, as of Tuesday, according to the latest report from the CDC.
Last month, Walensky warned: "The continued proliferation of variants remains a great concern and is a threat that could reverse the recent positive trends that we are seeing.
"Please continue to wear a mask and stay 6 feet apart from people you don't live with. Avoid travel, crowds and poorly ventilated spaces and get vaccinated when it's available to you," she added.
On Monday, the CDC issued new guidelines, saying those who have been fully vaccinated can ease up on some COVID-19 precautions, especially when interacting with other vaccinated people.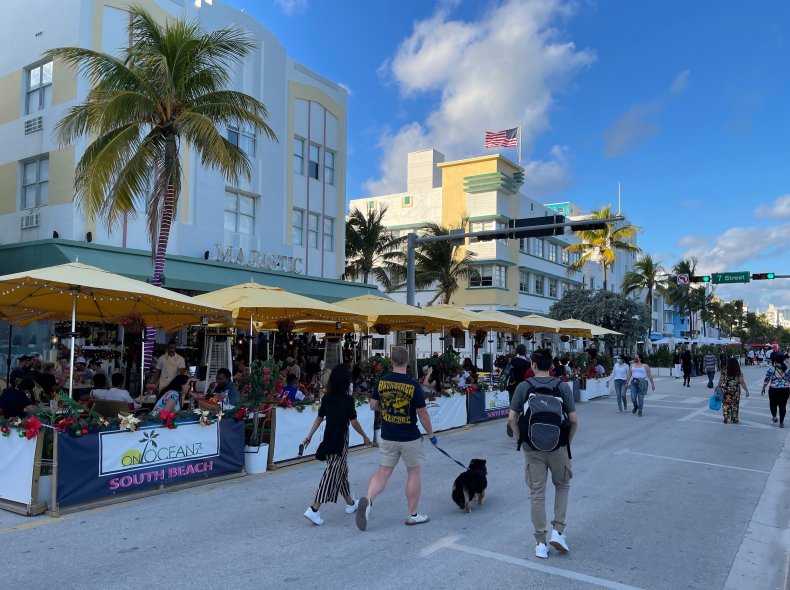 The wider picture
Coronavirus has infected more than 117.2 million people, including over 29 million in the U.S., since it was first reported in Wuhan, China.
More than 2.6 million people have died worldwide and more than 66.4 million have recovered as of Wednesday, according to JHU.
The graphic below, produced by Statista, illustrates countries with the most COVID-19 vaccine doses administered per 100,000 people.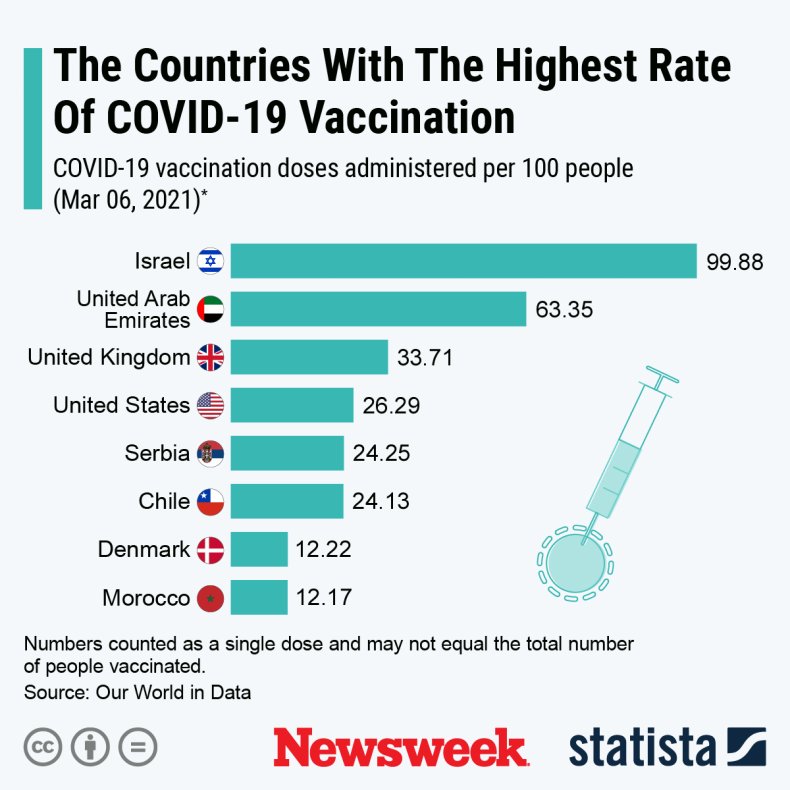 The graphic below, produced by Statista, illustrates the spread of COVID-19 cases in the U.S.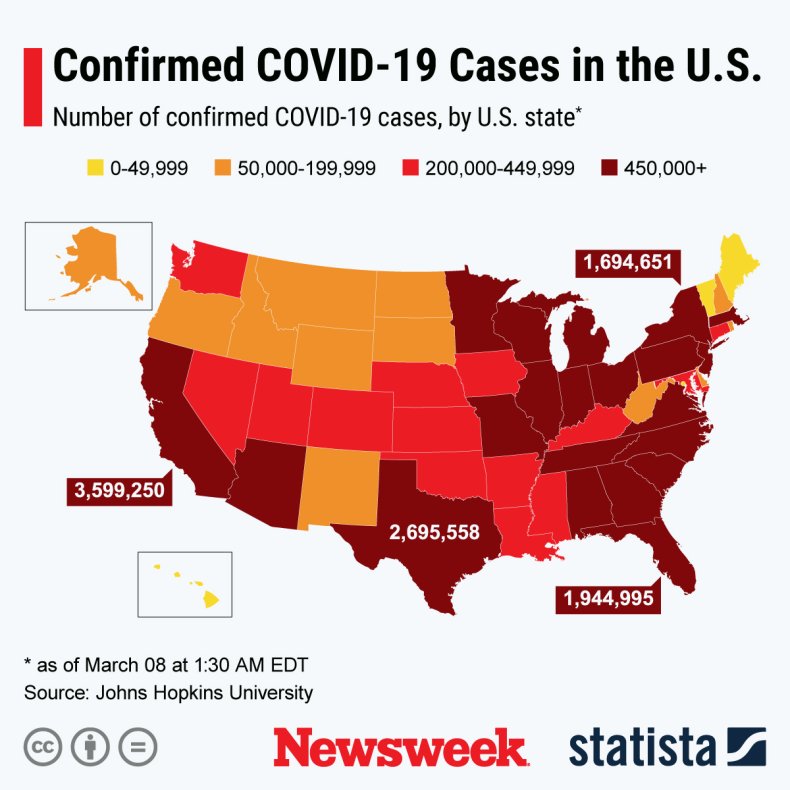 Newsweek, in partnership with NewsGuard, is dedicated to providing accurate and verifiable vaccine and health information. With NewsGuard's HealthGuard browser extension, users can verify if a website is a trustworthy source of health information. Visit the Newsweek VaxFacts website to learn more and to download the HealthGuard browser extension.
About the writer
Soo Kim is a Newsweek SEO Reporter is based in London, UK. She reports on various trends and lifestyle stories, from health, fitness and travel to psychology, relationships and family issues. She is also a South Korea expert who regularly covers Korean culture/entertainment for Newsweek, including the latest K-dramas, films and K-pop news, and is the author of the book How to Live Korean, which is available in eight languages. Soo also covered the COVID-19 pandemic extensively from 2020 through 2021 after joining the general news desk of Newsweek in 2019 from the Daily Telegraph (a U.K. national newspaper) where she was a travel reporter/editor from 2010. She is a graduate of Binghamton University in New York and the journalism school of City University in London, where she earned a Masters in international journalism. Languages spoken: English and Korean.
Follow her on Twitter at @MissSooKim or Instagram at @miss.soo.kim
You can get in touch with Soo by emailing s.kim@newsweek.com