Miami Beach Mayor Dan Gelber Blames Gov. Ron DeSantis For Spring Break Chaos
Democratic Miami Beach Mayor Dan Gelber has blamed Republican Florida Governor Ron DeSantis for contributing to the largely unmasked and non-socially distanced spring break crowds that descended last week on the oceanside vacation spot. Their presence resulted in over 100 arrests.
In a Tuesday interview with Fox Business anchor Neil Cavuto, Gelber said that DeSantis reopened the state's business and vacation spots without clearly stating the COVID-19 prevention measures that visitors should observe.
"I don't think we've done a great job statewide," Gelber told Cavuto. "What I think we didn't do well enough was really preach to people with one voice that they need to wear a mask and be smart.... [Visitors] were not getting that here. They were getting a lot of mixed messages, and I think that hurt us."
During the pandemic's beginning months, DeSantis refused to implement a statewide mask mandate. He said he preferred to let city leaders decide whether to implement them locally. Miami Beach has such a mask ordinance in place.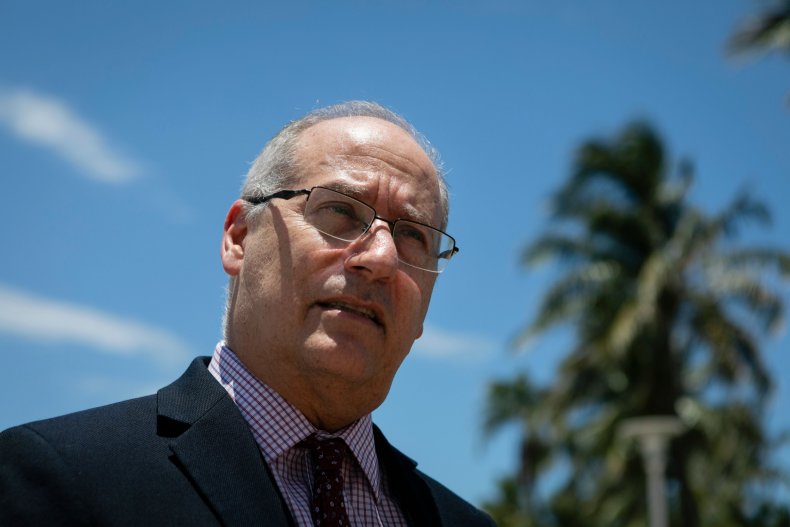 But while cities may still maintain their own face mask ordinances, the state's reopening orders forbid cities from issuing any fines or other penalties to enforce them.
DeSantis was also one of the first governors to reopen his state. Florida entered Phase 3 of its reopening on September 25, 2020. Phase 3 allows restaurants, bars, retail businesses, cosmetology services, gyms, entertainment venues and beaches to operate at full capacity with limited social distancing protocols. It also requires them to maintain "adequate sanitation practices."
"We are worried that there's going to be a convergence of people here and a real problem in the aftermath," Gelber previously said about waves of spring breakers expected in his city. "It's really the bars and those other kinds of gatherings that might become the types of super-spreaders that I think we saw a year ago," he added.
Raul Aguila, Miami Beach's city manager, said during an early March city council meeting, "If you are coming here with an anything-goes party attitude, change your flight reservation now and go to Vegas. Miami Beach is not going to tolerate anarchy."
Nevertheless, over 1,000 arrests occurred in Miami Beach during the past week—half of the arrestees had come from out of state. The arrests included 42 felony charges and 100 confiscated guns, Miami Beach Police said.
By Sunday, Miami Beach officials said that unruly crowds gathering by the thousands had become a serious threat to public safety. People had been fighting in the streets, destroying restaurant property and refusing to wear face coverings.
Miami Beach responded by imposing an 8 p.m. curfew in its entertainment district and other "emergency measures."
As of March 23, Miami-Dade, the county containing Miami Beach, has had the highest overall number of confirmed COVID-19 cases and deaths out of first Florida's 67 counties. The county has had over 436,000 COVID-19 cases and 5,742 related deaths.
On March 12, DeSantis said that the state would never reenter lockdown, even if its COVID-19 case numbers significantly worsened. As of March 23, Florida ranks third out of the states with the highest overall number of COVID-19 cases.
Newsweek contacted DeSantis' office for comment.