Florida's Daily Coronavirus Cases Triple From When State Began Reopening
Coronavirus cases in Florida have reached at least 80,109, with around 2,800 new infections reported Tuesday, according to the latest figures from Johns Hopkins University.
Tuesday's daily case count more than tripled the figure reported May 4, when Florida began the first phase of its reopening, with 819 new cases recorded that day.
New infections reported Tuesday more than doubled the figure recorded June 5, when Florida entered the second phase of its reopening, with around 1,300 new cases reported that day, according to the latest figures from Johns Hopkins University.
New cases in Florida have been on a mostly increasing trend in the last week from June 8 to 16. Over the weekend, the state reported more than 2,000 new cases on both Saturday and Sunday.
Earlier this month, the state reported a daily case count of over 1,000 new infections on six occasions over the course of a week about a month after reopening.
On Monday, a new U.S. death toll projection from the Institute for Health Metrics and Evaluation (IHME) at the University of Washington noted Florida is expected to be among the worst-hit states. An estimated 18,675 COVID-19 deaths are projected by October 1 in Florida, up 186 percent from the previous estimate of 6,559 deaths made on June 10.
Nearly a week after most of the state counties entered phase two of reopening, at least three bars were temporarily closed after patrons tested positive between Friday and Sunday. The Florida Department of Health confirmed record increases in new infections following days of similar numbers.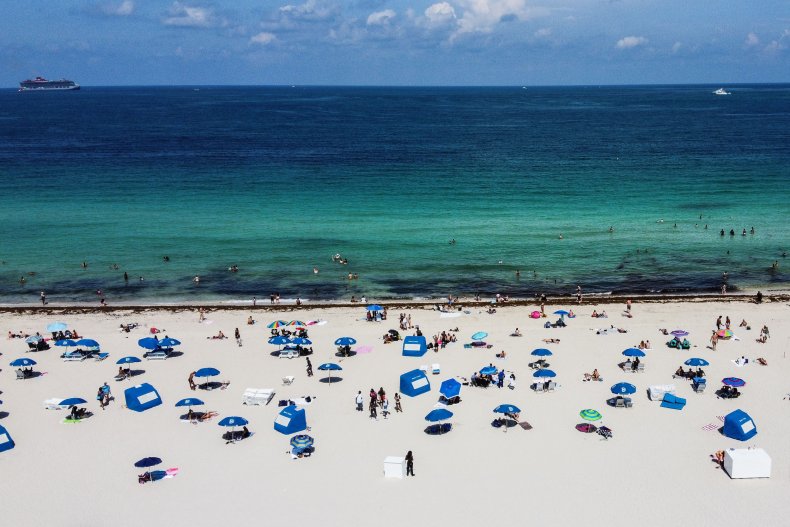 Under phase two of the reopening, bars, taverns and pubs were allowed to operate at 50 percent capacity in every Florida county except for Miami-Dade, Broward and Palm Beach counties, where local officials are issuing their own reopening timelines.
At a press conference earlier this month announcing phase two of the reopening, Florida Gov. Ron DeSantis said: "Now, the virus isn't gone. I think that we're testing a lot. We are identifying cases, particularly in prisons, amongst agriculture workers, amongst areas where you have a lot of congregation, close quarters for a long period of time.
"And so we're going to continue to keep an eye on that, continue to test in those areas. But I think we have an opportunity to continue to move forward in a safe, smart, step-by-step approach, and I think it gets more people in Florida more opportunities," he added.
The novel coronavirus, which was first reported in Wuhan, China, has spread to more than 8.1 million people across the globe, including over 2.1 million in the U.S. Over 444,100 have died globally, while more than 3.9 million have reportedly recovered from infection, as of Wednesday, according to the latest figures from Johns Hopkins University.
The graphics below, provided by Statista, illustrate the spread of COVID-19 in the U.S. and the worst-affected countries.