Flotation Device Shipment to Texas Delayed Before Soldier Drowned: Military
The National Guardsman who died attempting to save migrants from downing did not have the proper water rescue equipment, which didn't arrive due to global supply chain issues, according to the Texas Military Department.
National Guard Specialist Bishop Evans' body was recovered from the Rio Grande river Monday, three days after attempting to rescue drowning migrants. A new report from the military states that Evans did not have the equipment he needed at the time, due to delays and item shortages.
Evans jumped into the river without a flotation device, knowing the risk was great. Within the past month at least 23 migrants had drowned in the same raging waters, according to the Army Times.
"The incident is still under investigation, however, we do not believe SPC Evans had a floatation device at the time of death," the Texas Military Department told the Army Times Tuesday. "We only received about 25 percent of the requested equipment due to delays from the vendor and global supply chain issues."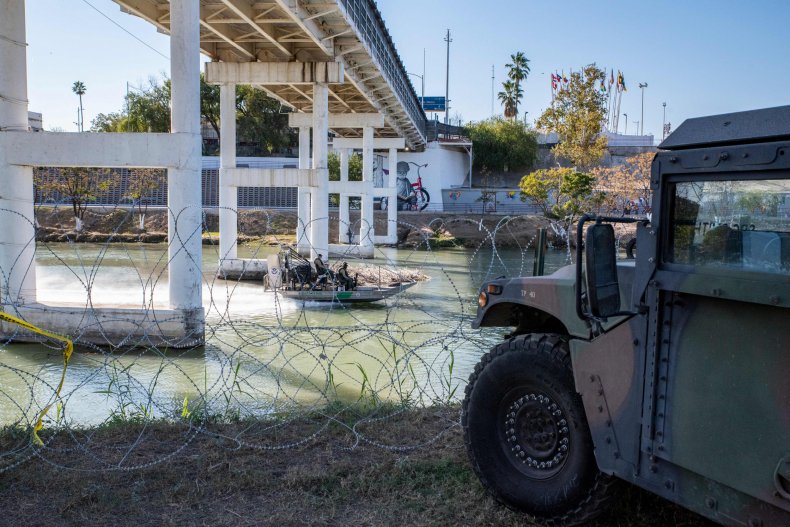 The Texas Military Department reportedly ordered rescue ropes and hundreds of ring buoys in February to increase the safety of water rescues. However, the equipment had not made it to their facility at the time of Evans' death.
Evans joined the Texas National Guard in 2019 serving as a field artilleryman in Arlington. He was later assigned to border patrol in Eagle Pass in late 2020 as part of Governor Greg Abbott's Operation Lone Star initiative to secure the border.
The Operation Lone Star mission began in March 2021. The Army Times said it is not currently clear why the rescue equipment wasn't ordered until nearly a year later.
Texas lawmakers are now calling for an investigation into the lack of equipment.
"For any member of our Guard or DPS [Department of Public Safety] who are sent to the border along the river to not be assigned basic, inexpensive safety equipment is unforgivable," said Texas Senator Roland Gutierrez in a statement. "We believe the death of Bishop Evans was avoidable if he had been provided with the proper equipment."
Gutierrez said he has requested information on whether service members have access to water equipment. He added that he believes Abbott's hastiness in implementing Operation Lone Star attributed to the military not being prepared.
"Specialist Evans is a hero and I have an informed reason to believe that he was sent to that riverside without the proper equipment," Gutierrez said. "Specialist Evans deserved better, his family deserves answers, and I intend to make sure if Abbott is going to send my people into harm's way, we are going to make damn certain they have the proper safety equipment."
Newsweek reached out to the Texas Military Department for comment.