Who is Bishop Evans? Missing Texas Soldier Who Tried to Rescue Migrants
Officials have released the identity of the Texas National Guard member who is feared to have drowned after jumping into the river along the U.S.-Mexico border to help two migrants.
Specialist Bishop E. Evans, 22, went missing in Eagle Pass, Texas, on Friday "following his selfless efforts to rescue two migrants who appeared to be drowning while crossing the river from Mexico into the U.S.," the Texas Military Department (TMD) said in a statement Sunday.
Evans is a field artilleryman from Arlington assigned to A Battery, 4-133 Field Artillery Regiment in New Braunfels, the department said.
He joined the Texas Army National Guard in May 2019. Evans returned to Texas in the fall of 2020 after taking part in Operation Spartan Shield in Kuwait.
"During this mobilization his dedication, talents and tactical prowess led his leadership to regularly assign him to operations in Iraq in support of Special Operations Forces for short periods of time, while then rotating back into Kuwait," the department said.
Officials said Evans was assigned to Texas Governor Greg Abbott's controversial border security mission, known as Operation Lone Star, that has placed thousands of National Guard troops at the border.
An investigation by The Texas Tribune, ProPublica and The Marshall Project last month revealed that the numbers the state reported as evidence of the initiative's success included arrests that had nothing to do with the border.
Meanwhile, the two migrants that Evans was trying to rescue have been detained by U.S. Customs and Border Patrol, the TMD said. According to the department, authorities believe they were involved in drug trafficking.
The department said multiple agencies have been "tirelessly" working to locate Evans.
Dive teams were forced to halt their search operations on Saturday evening because of the river's strong current. Search and rescue operations began again early on Sunday morning, with the aid of three airboats from the Texas Department of Public Safety.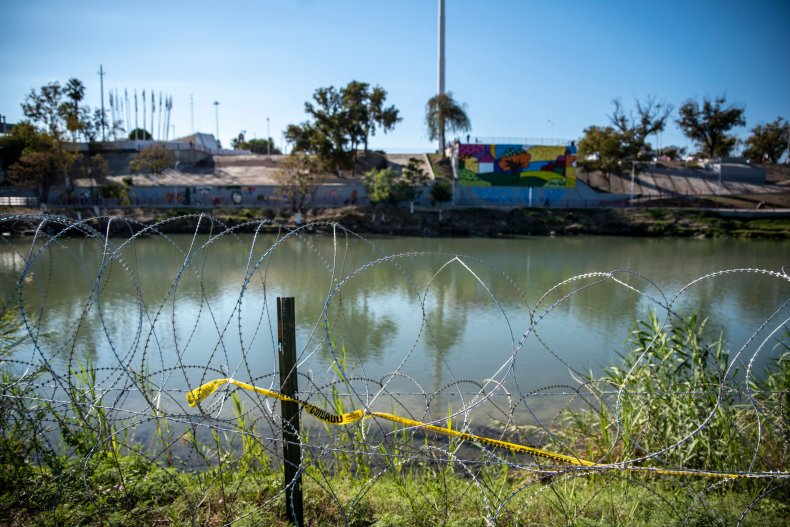 "The search for the missing TMD soldier will continue until we have exhausted all available resources," the department said.
"The TMD is thankful to all interagency partners for their continued support in this operation to locate our missing soldier. Our thoughts and prayers remain with the family of the soldier."
The TMD, Texas National Guard and Texas Department of Public Safety have been contacted for comment.
Evans' disappearance comes months after a 7-year-old girl from Venezuela drowned while attempting to cross the Rio Grande.
Officials said in January that they were notified by a Venezuelan woman that her child had been swept away by the current while they were crossing the river.