U.S. Governors Create Strike Force to 'Secure' Southern Border With Mexico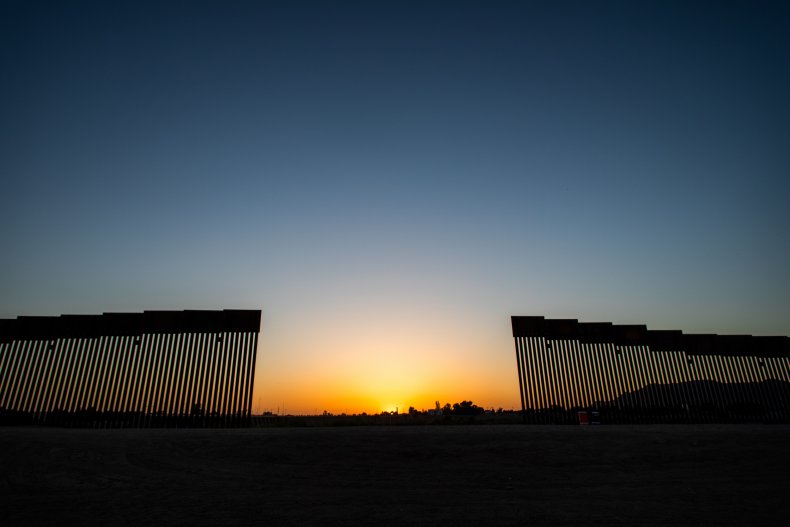 Republican governors of 26 states have announced creation of a group to "secure" the U.S.-Mexico border.
Arizona Governor Doug Ducey and Texas Governor Greg Abbott said in a Tuesday press release that the American Governors' Border Strike Force would "take action" on border security "while the White House turns a blind eye." The announcement came one day after U.S. Customs and Border Protection (CBP) data revealed a roughly 33 percent surge in southern border crossings over the previous month.
The collaboration is modeled on the Arizona Border Strike Force—a group that Ducey said seized 985 pounds of fentanyl, 13,100 pounds of methamphetamine, 1,704 pounds of cocaine and 801 pounds of heroin since being formed in 2015. The new group says it will help secure the border with methods that include "sharing intelligence" and "strengthening cybersecurity."
"What we're doing in Arizona works," Ducey said. "But this is not just an Arizona issue, it's a national issue. If our entire southern border isn't secure, our nation isn't secure. As dangerous transnational criminal organizations continue to profit from holes in the border and fill our communities with drugs, it's no coincidence that we're seeing historic levels of opioid-related deaths."
"The American Governors' Border Strike Force will serve as a force multiplier in the fight against criminal activity directly tied to our border," he continued. "My thanks to my fellow governors who saw the problem and chose to be part of the solution."
In addition to Arizona and Texas, the Strike Force includes 24 other Republican-led states, none of which share a land border with Mexico. While the new group focuses exclusively on the Mexican border, several of the member states share a border with Canada instead—North Dakota, Ohio, Montana, Idaho and Alaska.
The other member states include: Alabama, Arkansas, Florida, Georgia, Indiana, Iowa, Maryland, Mississippi, Missouri, Nebraska, New Hampshire, Oklahoma, South Carolina, South Dakota, Tennessee, Texas, Utah, Virginia, West Virginia and Wyoming.
"Border security has always been a federal responsibility until the Biden Administration," Abbott tweeted after the announcement. "I'm proud to join my fellow governors in launching the American Governors' Border Strike Force. States are stepping up to secure the border in the federal government's absence."
"We are partnering with 25 other states to disrupt and dismantle cartels and criminal networks to stop the drug flow into Ohio and communities across the country," Ohio Governor Mike DeWine added in a reply to Abbott's tweet.
Republicans have been highly critical of federal immigration policies since President Joe Biden took office. Multiple GOP governors have attempted to intervene at the border regardless of federal policies. Ducey publicly announced that he was teaming up with Abbott to work on the national Strike Force in January.
Last year, Abbott began a highly publicized effort build a state-funded border wall following the cancellation of former President Donald Trump's border wall project. He also launched the controversial Operation Lone Star, which placed thousands of Texas National Guard troops at the border.
Republican criticism of the Biden administration increased earlier this month when it announced plans to rescind Title 42, a Trump-era policy that was enacted at the beginning of the COVID-19 pandemic and can prevent people from entering the country when "any communicable disease" could be spread.
Newsweek reached out to CBP and the White House for comment.
Update 4/19, 6:59 p.m. EST: This article has been updated to include tweets from Abbott and DeWine.