Flu Season Has Claimed the Lives of 30 Children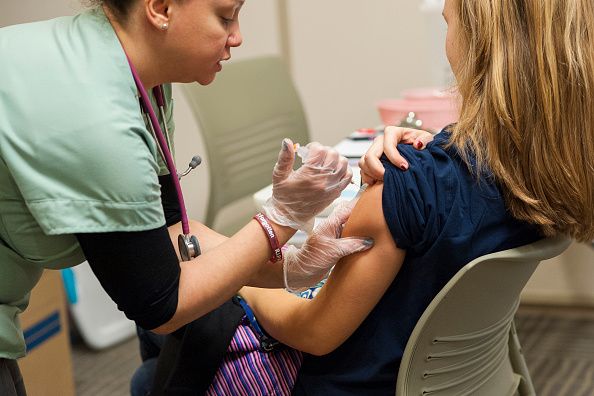 This year's flu season has ramped up to epidemic proportions, with 30 pediatric deaths caused by influenza since October, according to data from the Centers for Disease Control and Prevention released Friday.
Ten children died of influenza-associated symptoms between Jan. 6 and Jan. 13, indicating that the flu is still on the rise. Last week, the proportion of deaths linked to the flu and pneumonia has crossed what the CDC sets as its "epidemic" threshold in every region in the nation. 8,990 laboratory-confirmed flu-related hospitalizations have been reported since October.
Whether or not flu season has reached its peak and will begin to improve on a weekly basis now is slightly unclear.
A total of 110 died during the 2016-17 flu season, and this year is shaping up to be even more severe. The number of people visiting doctors for flu-like symptoms is double that of last year's, and is more comparable to the 2014-2015 flu season.
"Nationally, the flu season may be peaking now," said Dr. Brenda Fitzgerald, the director of the CDC, during a media briefing last week. "However, we know from past experience, it will be many more weeks for flu activity to slow down."
But in some regions, antiviral drugs are running low, and the CDC has been working to make sure the most affected areas don't run out, especially in the wake of the particularly deadly past week.
The effectiveness of this year's vaccines are lower than last year, since the strain of influenza A responsible for most of the illness this year, H3N2, is more difficult to target and leads to more drastic symptoms and a higher death rate. According to some estimates, the vaccine may only be 10 percent effective. A second wave of influenza B will likely still circulate after this strain dies down.
This year's flu is particularly contagious, doctors told CBS. It can spread more easily just through breathing, rather than coughs and sneezes. At least 70 deaths related to flu symptoms have been reported in California, and 79 have been reported in Indiana.
The government shutdown will not close down the CDC's influenza program, though it could slow its ability to respond to a more severe outbreak.