Late Foo Fighters Drummer Taylor Hawkins Wins 3 Posthumous Grammy Awards
Foo Fighters won a clean sweep of Grammy Awards just over a week after the death of their drummer, Taylor Hawkins.
They won all three of the awards in the categories they were nominated for: Best Rock Performance, Best Rock Song and Best Rock Album..
Hawkins died on March 25 at the age of 50. He was found unresponsive in his hotel room in Bogotá, Colombia. An early a urine toxicology test found 10 different drugs in his system.
The day before Hawkins' death, Foo Fighters were announced as one of the bands due to performance at the main ceremony for the 64th Annual Grammy Awards. On March 31 the band canceled their performance and instead a tribute to the former band member is planned for the ceremony.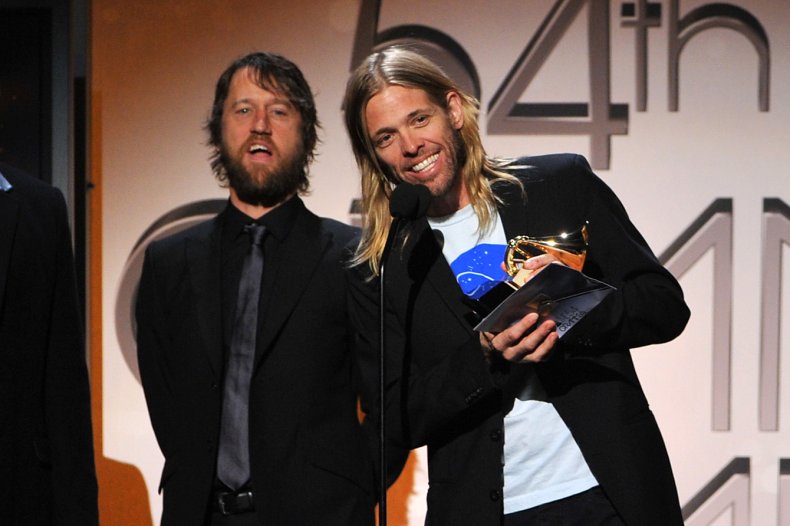 Dave Grohl, nor any other member of the Foo Fighters were present at the Grammy Awards to collect the award, which was announced during the "premiere ceremony" where the majority of winners are announced.
Their latest three awards takes the Foo Fighters total number of Grammy Award wins to 12, from 29 nominations.
At the 64th Annual Grammy Awards they won Best Rock Performance for their song "Making a Fire," Best Rock Song for "Waiting on a War" and Best Rock Album for their 10th studio album, Medicine at Midnight.
Foo Fighters' first Grammy nomination came in 1996 for Best Alternative Music Performance where ironically they lost out to Nirvana. The band won their first Grammy in 2001 when There is Nothing Left to Lose won Best Rock Album.
As well as canceling their live performance at the 2022 Grammy Awards, Foo Fighters have also canceled all of their upcoming tour dates. They announced on March 29 that it was because of the "staggering loss of Taylor Hawkins." They told their fans, "Instead, let's take this time to to grieve, to heal, to pull our loved ones close and to appreciate all the music and memories we've made together."
Many of the tour dates had already sold out and would have taken the band around the world to countries including the United States, United Kingdom, Italy, Australia, and France.
Following the announcement of his death in late March, the music world mourned and paid tribute to the Foo Fighters drummer. While fans remembered Hawkins, a video of him meeting a star-struck fan just days before his death went viral. He was best known for being in Foo Fighters, but he also worked with Alanis Morissette, Coheed, and Cambria, and he also fronted his own band Taylor Hawkins and the Coattail Riders.
The Foo Fighters official social media accounts have yet to react to the news of their latest Grammy Award win.