'Oh My God': Footage of Woman Falling Over 100ft Down Water Slide Goes Viral
Footage of a woman falling more than 100 feet down a waterslide has been watched millions of times online, with people branding the scene "terrifying."
Nata_lele filmed herself taking on Poseidon's Revenge, at the Aquaventure Waterpark, located in Atlantis Dubai, sharing the first-person perspective to TikTok.
The unconventional ride sees thrill-seekers standing on a clear trapdoor, in one of two capsules, which then gives way.
Riders plummet 101-feet straight down in a freefall, before being turned upside down as they cascade through loops and turns in the 380-foot-long tubes, reaching speeds of 38mph per hour.
Nata_lele's heart-stopping video, shared at the end of last month, has been viewed a staggering 57 million times. The video was simply captioned "would you like to repeat?" and can be seen here.
She shared a longer post—and video—to Instagram in Russian, which translates to: "My heart almost stopped. It's a sin not to leave such a video here. Thanks @aquaventuredubai, really high. I've never had such adrenaline. So what do you think? Would you take the risk?"
Guests are instructed to assume a safe position before dropping down, as Nata_lele confirmed: "You also need to cross your legs."
Atlantis dubbed the ride "the most frightening waterslide in the Middle East," saying it's "not for the faint-hearted."
"Poseidon's Revenge will have your pulse pounding and your adrenaline going into overdrive," their official blog says, adding the set-up is "quite different from a standard slide."
Aquaventure Dubai's official Instagram posted their own clip of the slide, also filmed from the rider's point of view, to the site last month. They joked: "Mind the drop."
Commenting on the tourist's clip, people branded the footage anxiety-inducing.
Tayyybaee admitted: "I would definitely wanna go on this but would be scared last min."
Liv claimed: "I've done this before and yes it's as terrifying as it looks, but you fall really fast and the water hits you hard in the face."
"My claustrophobia is screaming," Rayan Hayek joked.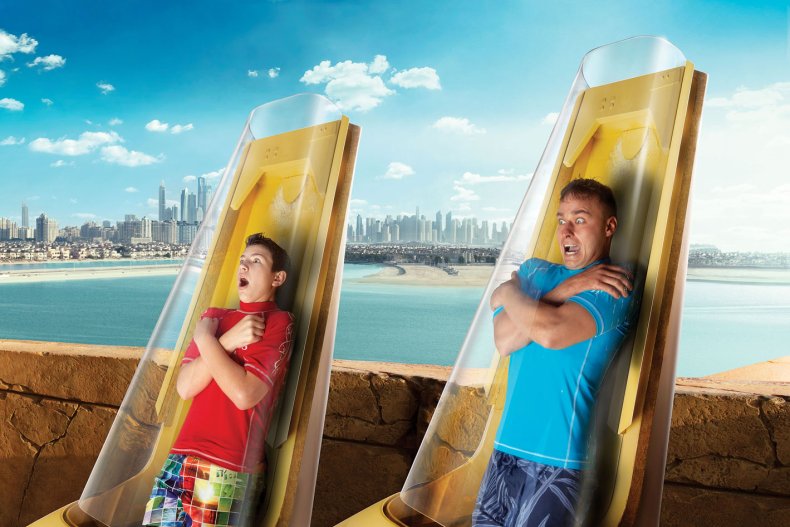 Moran reckoned: "I will go on any waterslide ever... just not one where you get in and the floor drops."
Xena added: "My claustrophobia and fear of heights says no."
Peppa>you stated: "My anxiety when she fell. Yeah I'm never gonna try that!"
Katt Wiltzius simply said: "Oh holy mother of no."
Andrea Gutirrez2166 revealed: "I did that and couldn't freaking breathe the entire time I was terrified."
While Zoe added: "This gave me major anxiety."
Newsweek has reached out to Nata_lele and Atlantis Dubai for comment.