Ford CEO Doesn't Deny Report of 8,000 Job Cuts to Ramp Up Electric Push
Ford CEO Jim Farley did not deny a report regarding mass job cuts as the auto giant plans to shift toward electric vehicles, according to a video message.
The Detroit Free Press reported that the message from Farley was sent to Ford employees early Thursday morning addressing plans that the company was aiming to cut 8,000 North American employees, and that Farley did not deny the rumors.
Farley allegedly said in the video that he was aware that the job-loss reports created high anxiety and added that the company needs to reduce structural costs to be a runner in the competitive market.
Ford reportedly confirmed the video's contents to the Free Press, which were not released to the public.
The report signaling 8,000 job cuts came first from Bloomberg on Wednesday, citing unnamed sources close to the issue, but a Ford spokesperson, Mark Truby, told the Free Press that he could not confirm the Bloomberg report.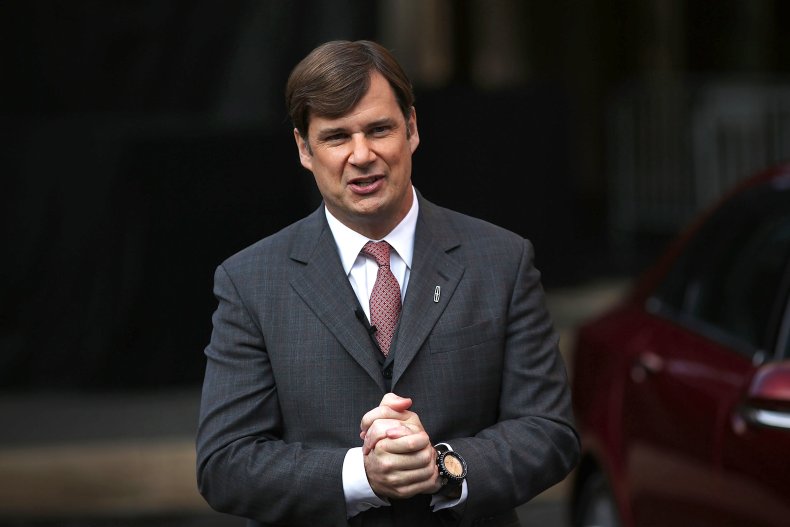 Lisa Drake, vice president of electric vehicle industrialization at Ford, told the Free Press that their teams move fast as "bureaucracy" is cut. Drake said that decisions have been made with four to five key decision-makers in only a matter of days, according to the Free Press report.
While the reports of job cuts are unconfirmed, the company is moving ahead with several other deals to push the company toward electric vehicles. Ford announced its plan to reach an annual global electric vehicle production rate of 600,000 by late 2023 and hopes to have more than 2 million by the end of 2026.
"Ford's new electric vehicle lineup has generated huge enthusiasm and demand, and now we are putting the industrial system in place to scale quickly," Farley said in a statement on Thursday. "Our Model e team has moved with speed, focus and creativity to secure the battery capacity and raw materials we need to deliver breakthrough EVs for millions of customers."
Ford also announced new battery material deals, saying it would be adding lithium iron phosphate cell chemistry and nickel cobalt manganese for electric vehicle batteries.
Unfortunately, Ford isn't the only auto company to consider mass layoffs.
An auto parts manufacturing plant in North Carolina, Hitachi Metals, plans on shrinking its workforce by 81 employees starting in September. The plant in China Grove will shut down operations after 31 years, and the Worker Adjustment and Retraining Notification Act (WARN) filing did not include a reason for the decision.
Elon Musk's Tesla corporation has also undergone layoffs in recent weeks, the latest of which was the company's largest in several years, as 229 employees at the San Mateo office in California were let go as the site prepared to shut down.
Newsweek has reached out to Ford for additional comment.