The Ford F-150 is Getting Outsold by the Toyota Prius at Auction
Electric vehicle sales are up across the country, including at wholesale auctions, where they and other hybrids are now outselling America's trucks.
Gas prices may have ticked down in the past few weeks, but they're still at record averages for most of the country. President Biden just called on Congress to suspend the gas tax, which would take the price down 18 cents per gallon for regular grade. As gas prices have risen dramatically over the last six months, buyers have been increasingly turning to fuel efficient vehicles as their next purchase, whether new or used.
According to data from ACV Auctions, an online car wholesaler, the Toyota Prius now has a bigger sell through rate than the Ford F-150 on its digital platform. Electric vehicle sales overall are up 25 percent in May compared to January at ACV.
For dealers and wholesalers, sell-through rate is key. That's the amount of units received divided by the amount of units sold. The automotive market counts 30 days so if a dealer bought 100 cars and sold 75 in a month, it would have a 75-percent sell-through rate.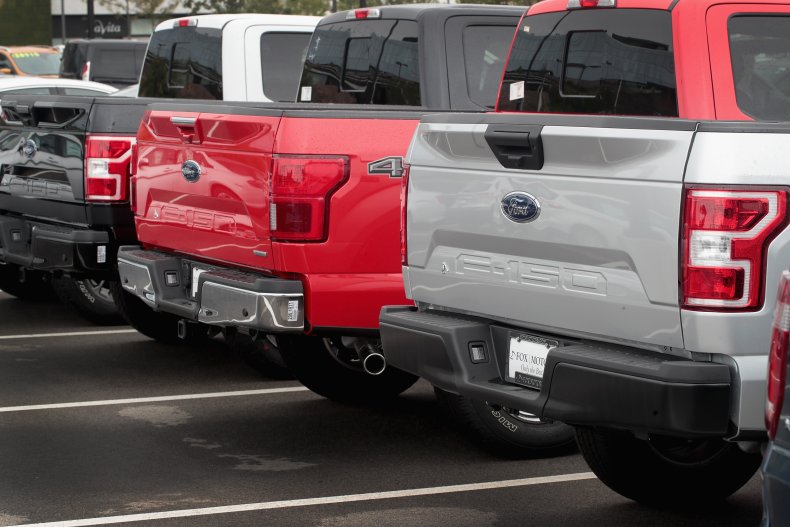 "Last year, the uptick started in March of 2021. The EV sell-through rate peaked in April 2021 at 66 percent, and there was an increase of 32 percent from January 2021-May 2021 as compared to a 25 percent increase this year," an ACV analyst told Newsweek. "However, in the first five months of 2022, we've seen a 224-percent increase in EV sales compared to the same time period last year."
Fuel efficiency is now the most important factor when purchasing a vehicle, according to a Statista Global Customer Survey. And that depends on the powertrain and whether it's gas, hybrid or electric. Safety comes in second on buyers' lists, followed by price, suitability and quality.
"When the uptick in EV sales started in March of 2021, the average gas price was $2.89, which was a $0.31 increase from the prior month. There has been a steady increase in gas prices since the beginning of 2021," said an ACV spokesperson.
"Interestingly, December 2021 saw a slight decrease in gas prices, and EV sell-through rate was slightly below average. The only other months in this timeframe that saw a gas price decrease from the prior month were March and April of 2022, where EV sell-through rates were above average."
The market has seen some of this before. Big trucks and SUVs take a dip when gas prices go up and come back almost instantaneously. But the current market is especially volatile, considering the challenges mentioned above.
"Last year we've seen the SUV segment being more active during the spring and fall season with a moderate decline in the summer months. This year the elevated gas prices haven't affected SUV sales rates as much as one can expect. However, current macroeconomic trends represent unique market conditions," said the company's spokesperson.
Despite the trend, today's SUVs and trucks are more efficient, and therefore cheaper to own, than they used to be. That's why some analysts predict they'll be around for the long haul.
"Technology has enabled the fuel economy of vehicles of all types to improve enough over the past decade that consumers are no longer forced from SUVs to passenger cars because of high fuel prices as they were in 2008, or even 2012," AutoPacific president and chief analyst Ed Kim told Newsweek in February.
"Thanks to impressive improvements in efficiency, today's consumers enjoy a similar level of fuel economy as they did ten years ago even though they are much more likely to be driving light truck products today," said Kim. "This is a major factor behind why SUVs are here to stay; they simply don't require a big sacrifice at the pump in the way that they used to."