Ford F-150 Lighting More Powerful and Capable Than Previously Disclosed
Ford will begin shipping the 2022 Ford F-150 Lightning, the all-electric version of its top-selling F-series of pickups, to customers in the coming days, and they're going to get a surprise bonus.
Ford now says that the standard-range 98-kilowatt-hour (kWh) battery pack produces 452 horsepower and 775 pound-feet of torque. That's up from the originally quoted 426 horsepower. The extended-range 131-kWh pack has been lifted to 580 horsepower from 563. Torque again stays at 775 pound-feet.
Payload numbers have also received a boost. According to the company, a properly equipped Lightning can now haul 2,235 pounds, a 235-pound increase from original estimates.
Ford already sandbagged on the all-electric range. The F-150 Lightning Platinum had an original estimate of 280 miles while the XLT extended range had a 300-mile prediction. In March Ford said that final testing revealed longer ranges of 300 and 320 miles, respectively.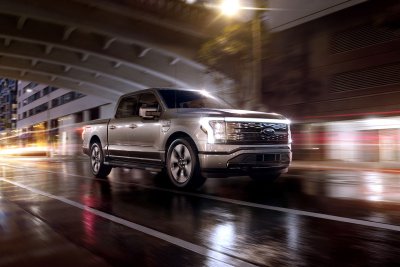 "We were seriously focused on raising the bar on this truck, including after we revealed it, so we can deliver more for our customers," F-150 Lightning vehicle engineering manager Dapo Adewusi said in a press release. "And our drive for continuous improvement will get a big boost when we start getting feedback and ideas from customers when they receive their Lightnings."
Ford included the caveat that these numbers have been calculated based on peak performance of electric motors at peak battery power.
The company will start deliveries with the Pro version of the truck that's geared towards fleet customers. That variant starts at $39,974. The XLT trim, the start of the consumer-focused line, starts at $52,974.
This is the third electric vehicle in the company's portfolio. Last year, it debuted the 2021 Ford Mustang Mach-E, an SUV bearing the high-performance name. It also went to market with the 2022 Ford E-Transit, an all-electric version of its van for commercial customers.
The 2022 Ford F-150 Lightning is now the third electric pickup to reach the public in the last year. Last fall, startup Rivian released the 2022 Rivian R1T truck that now starts at $67,500. General Motors released the 2022 GMC Hummer EV pickup at the end of 2022, which retailed for $110,295 for a first edition model.
Next year, Chevrolet expects to sell the 2024 Chevrolet Silverado EV with a starting price of $39,900 for a base model. Earlier this week, the GM said that the truck had 140,000 reservations.